Background Image Alternative Text: decorative
Mississippi State University has returned to full campus operations and in-person instruction. Our safe operations plan will promote healthy operations and mitigate some risks of COVID-19 infection and spread among our students and employees. At this stage of the pandemic, we are all aware of the importance of taking personal responsibility for our own health AND understanding how our actions affect the health of our community. The details of our plans for screening, testing, and contact tracing are outlined here.
Background Image Alternative Text: lee hall in distance with myrtle tree blossom
Screenings are non-intrusive health checks on a regular, consistent basis. Screenings will include temperature checks and self-reported health questionnaires based on Centers for Disease Control and Prevention and Mississippi State Department of Health suggestions. 
Screening activities can be facilitated by the Everbridge SAFETY CONNECTION platform discussed in more detail below along with temperature check-in stations such as those shown below which will be placed in locations across campus. 
All residential students should complete a temperature screening every 24 hours along with the self-reported health questionnaire. Residential students are required to use the Everbridge SAFETY CONNECTION platform. 
All non-residential students are strongly encouraged to complete a temperature screening and health questionnaire daily.
All employees will be required to conduct a self-screening daily prior to coming to work. This should include an "at home" temperature check and a review of potential symptoms of COVID-19 including cough, shortness of breath or difficulty breathing, chills, muscle pain, sore throat, and a new loss of taste or smell. The CDC offers a self-screening tool at https://www.cdc.gov/coronavirus/2019-ncov/index.html for employees who would rather use that than the Everbridge SAFETY CONNECTION platform.
If an employee has any of these symptoms or a fever of greater than 100.4 degrees, the employee should stay at home and may take leave, medical or personal, unless the employee is able to telework and has a telework agreement on file. Guidance regarding leave is available on the HRM website. 
Testing
Testing for COVID-19 has been and will continue to be facilitated through the Longest Student Health Center. PCR nasal swab is currently the standard for diagnosing acute infections. It should be the first test considered and likely the most accurate at this time. Where screening indicates a spread of COVID-19, community testing may be required. The Longest Student Health Center can facilitate additional types of COVID-19 testing when medically necessary.
Everbridge
SAFETY CONNECTION

Platform
Mississippi State University will use the Everbridge SAFETY CONNECTION platform to facilitate screening for students and employees.
First the Student/employee completes self-check Everbridge SAFETY CONNECTION. If no symptoms, no contact - proceed with activities. If self-check issues concerns - follow instructions to stay at home or contact medical professional. Medical Advice to evaluate symptoms or exposure leads to testing and possible quarantine or return to activities.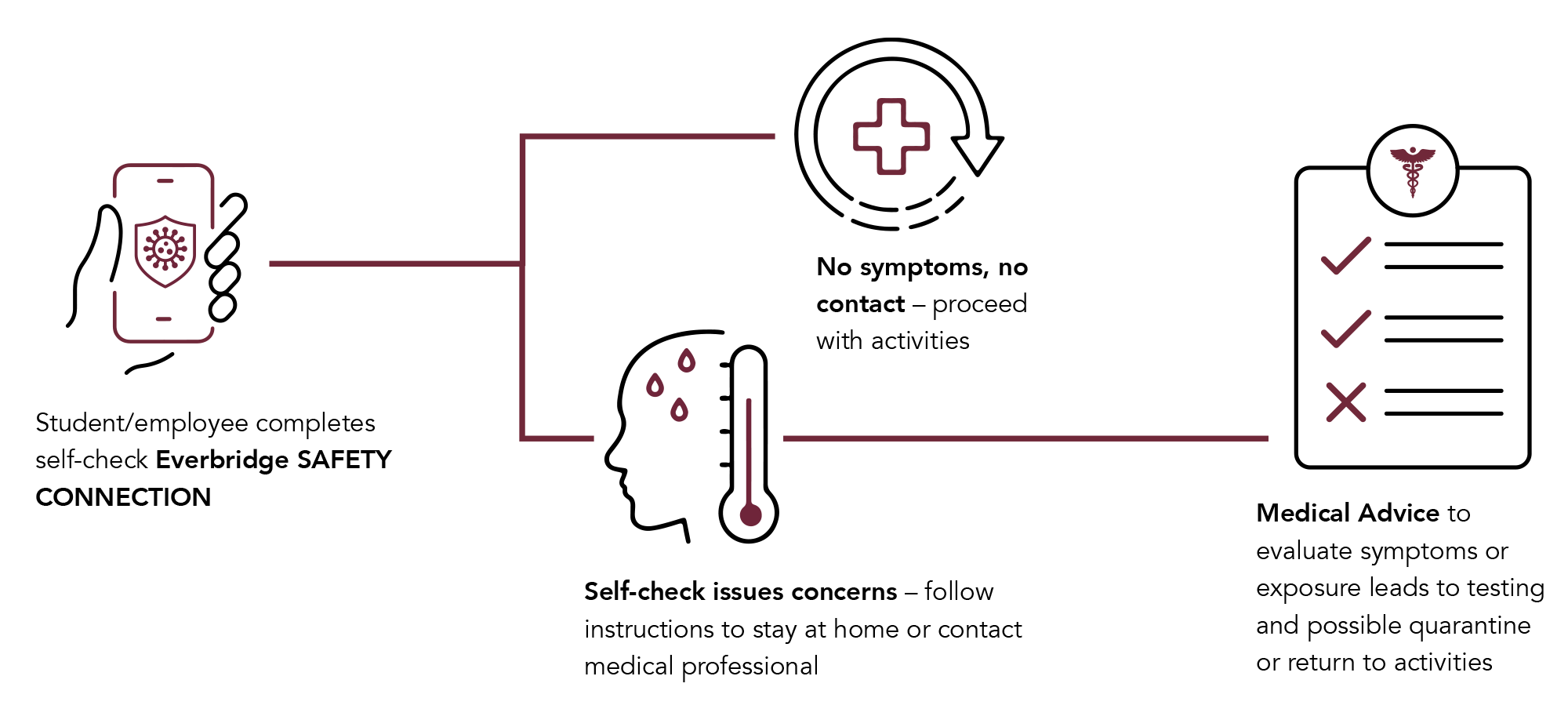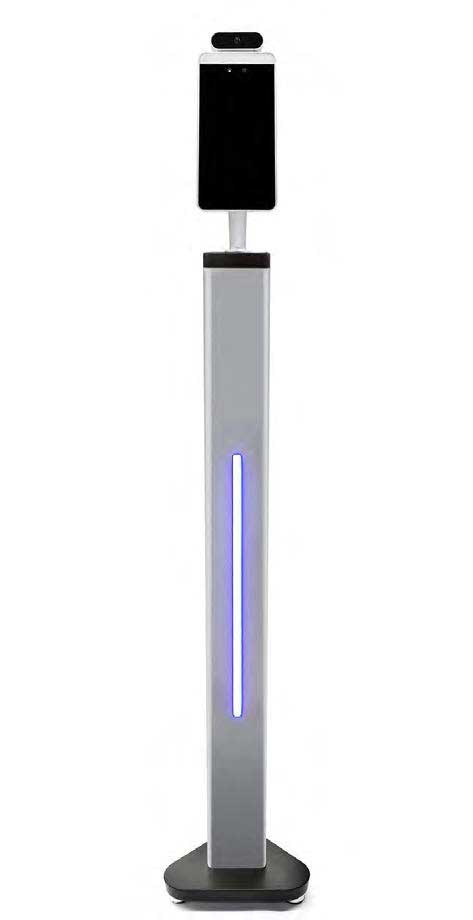 Temperature Testing Kiosks
Temperature testing kiosks are placed in locations around campus to enable our students and employees to easily take their temperature throughout the day in a touchless manner. These kiosks guide individuals on where to stand and reports their temperatures within seconds.
Medical Protocol Based upon Testing, Reported Symptoms, and/or Exposure
Symptomatic
Asymptomatic
Symptomatic Confirmed Positive
Symptomatic Confirmed Negative
Asymptomatic Confirmed Positive
Asymptomatic Close Contacts of COVID-19 Positive Cases

Immediate isolation for a minimum of 10 days since symptoms began. You must be symptom free for at least the last 24 hours of the isolation. 

Active monitoring by University Health Services. 

Immediate isolation until at least 24 hours have passed since last symptoms or fever without the use of fever-reducing medications.

Immediate 10-day isolation from date of test and compliance with local public health quarantine orders.

Self-monitor for symptom development, check temperature (subjective or measured) twice daily.

Active monitoring by University Health Services. 

Immediate 14-day self-quarantine regardless of test results unless released earlier by University Health Services.

Self-monitor for symptom development, check temperature (subjective or measured) twice daily. 
*14-day quarantine exists for asymptomatic close contacts to include the mean incubation period for the infection. The minimum time before a test may be considered should be no less than 4 days after suspected exposure.

Ongoing Evaluation by Crisis Action Team
MSU's Crisis Action Team regularly monitors infection data for the campus and enables rapid decision making in the case of community spread of COVID-19. The team will maintain direct lines of communication with health care providers, the Mississippi State Department of Health, and local emergency management agencies as additional support is needed. Metrics will include screening data [number of persons participating in voluntary screening]; persons who are participating in required screening; number of positive cases; cluster/group infections by location. 
Face Coverings
Beginning May 6, face coverings will be optional in some indoor locations including offices and public spaces such as hallways and restrooms. Face coverings will still be required inside classrooms, laboratories, and studios. Mississippi State will provide N95 masks for any employee or student who wishes to have one. Employees can receive a N95 mask by contacting their department head. Students can pick up a N95 mask at the YMCA Building, 2nd Floor. Other face covering types continue to be available as well.

Current CDC data suggests that a cloth face covering may protect the wearer and prevent the spread of the virus to others. Visit CDC's DIY Cloth Face Coverings to see CDC guidelines on the use of face coverings.
Cleaning and Sanitization
All Campus Services cleaning staff have been trained on enhanced cleaning and sanitization procedures. All classroom facilities will be deep cleaned in the overnight hours. High-touch areas including doorknobs, common areas, light switches, handrails, etc. will be cleaned frequently throughout the day. When positive cases arise, Environmental Health and Safety will determine where additional cleaning and disinfecting is required. 
Employees should clean and sanitize their personal workspace. Sanitizing spray and/or wipes have been made available to each department. Classrooms will be outfitted with additional cleaning supplies that can be used by students and/or faculty members who desire to clean their individual spaces before class periods. 
Signage and Education
Signage providing instructions on enhanced safety and health measures will be deployed across campus. Floor markings will be used where needed to indicate proper physical distancing and flow of traffic in dining facilities, residence halls, and other points of ingress and egress. Each building manager has been notified regarding the available signage and can order whatever signage is necessary for their particular building/space. 
A comprehensive health campaign aimed at students is under development and will be deployed this summer and into the fall semester. All first-year students will complete an online module related to COVID-19 spread reduction techniques. 
Individuals Returning from
TRAVEL, DOMESTIC OR INTERNATIONAL, PERSONAL or UNIVERSITY BUSINESS
There is ongoing transmission of COVID-19 within the United States and in destinations throughout the world. Although a quarantine is not required in Mississippi at this time, you may have been exposed to COVID-19 on your travels (domestic and/or international). Regardless of where you traveled or what you did during your trip, take these actions to protect others from getting sick:
When around others, stay at least 6 feet from other people who are not from your household. It is important to do this everywhere, both indoors and outdoors.
Wear a mask to keep your nose and mouth covered when you are outside of your home.
Wash your hands often or use hand sanitizer.
Watch your health: Look for symptoms of COVID-19, and take your temperature if you feel sick.
Decision Triggers for Scale-back of Campus Activities
Based on guidance from medical professionals and scientific data/literature, the following guidance has been developed for MSU closure or partial closure plans:
Criteria considered in decisions will include:
Number of active positive cases in the student body
Number of active positive cases for university employees
Trajectory of positive cases over time
Number of outbreaks in clusters on campus
Capacity of healthcare system locally and statewide
Overwhelmed ability to conduct testing and contact tracing locally
Insufficient isolation and quarantine capacity
Executive orders from governor or mandate from IHL Board of Trustees
Changes in guidance from the CDC and Mississippi Department of Health
This is not an exhaustive list, and there is not one specific trigger or threshold for campus partial or complete closure.  All of the factors listed above will be considered to ensure decisions are made with as much forethought and planning as possible.
Possible Actions
Response will be tailored to the specific situation and will be as localized as appropriate.  Appropriate clusters will be identified (e.g. class, portion of residence hall) and relevant actions will be targeted to that cluster. Actions will be for a defined period of time appropriate to the situation. Following are examples of possible actions:
Temporarily shift an in-person class to online-only based on multiple positive cases in a short period
Temporarily close a portion of an on-campus group facility based on multiple positive cases in a short period
Temporarily close a building or portion of a building based on multiple positive cases in employees or students in a short period
Temporarily transition to all online-only learning, with all other functions remaining open
Cluster testing of specific groups