March 5, 2021




1:30 pm to 4:30 pm
About this event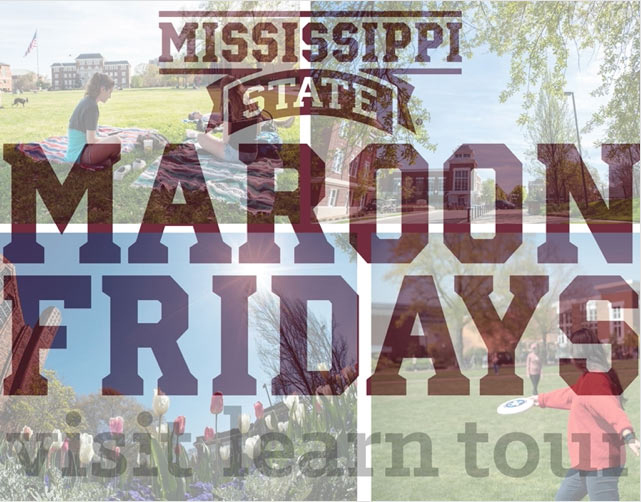 Mississippi State's Office of Orientation and Events is hosting a Maroon Friday event to connect prospective students with the College of Architecture, Art and Design. 
Due to COVID-19 guidelines, the face-to-face event will have limited capacity and will be filled on a first-come, first-served basis.
Registration is $10 and includes a T-shirt, information packet and a voucher to use in Starkville for dinner at participating local restaurants. Register here
Check-in will begin at 1:30 p.m.
Attendees will tour campus with the MSU Roadrunners recruiting group and chat with current students about campus involvement, diversity, student success and more. Families and guests will hear from Financial Aid and Admissions and Scholarships staff, with a variety of administrators also participating in financial planning and question-and-answer sessions. The event will conclude around 4:30 p.m.
Hail State!
Details
Location
Starkville campus
Primary Sponsoring Organization
Office of Admissions and Scholarships
Sponsoring Organization's Web Site
Additional Information
For disability accommodation, please contact Kylie Forrester at kylie.forrester@msstate.edu.