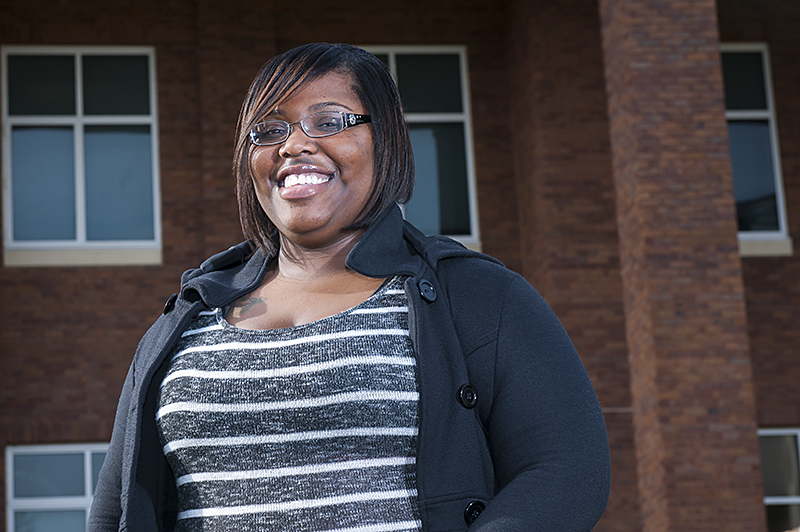 From delicious ice cream and ringing cowbells to helpful professors and a welcoming atmosphere, Alabama native Shelby L. Wilson says "Everything about Mississippi State is my favorite."
A sophomore biological engineering major from Birmingham who aspires to attend medical school, she continues to be as impressed with campus as she was while a touring prospective student.
"When I came to visit, everybody was just so bubbly and friendly; you just walk somewhere and you get this aura like 'I think I like it here, I think this is it,'" the 2013 Woodlawn High School graduate recalls of her initial thoughts.
MSU "was the first college that I visited where the picture online actually looked like the campus," she notes, adding, "If you just walk around campus, you get happy."
Being part of the energetic crowd at MSU women's basketball games is among Wilson's favorite activities. She also appreciates such programs as Dawg Daze, the annual 17-day event designed to welcome incoming freshmen and transfer students to the Bulldog family.
"I met my two best friends during Dawg Daze my freshman year and we are still taking classes together," says Wilson, who also works as an information assistant in Herbert Hall.
A member of campus chapters of the American Medical Student Association, Alpha Epsilon Delta health pre-professional honor society and Institute of Biological Engineers, she says her career aspirations include opening an engineering firm or managing a hospital's research department.
Wilson says perhaps her proudest moment of campus life to date took place when she was named a 2014 Scholarship America Dream Award finalist. In addition to being grateful for a generous accompanying award, she says the achievement enabled her to take a first-ever trip to New York City. It was there she and 11 other finalists from around the country appeared on Katie, a daytime television show hosted by veteran journalist Katie Couric.
Asked what advice she would pass on to students considering what she calls her "home away from home," she replies, "Take the chance and come visit. The atmosphere, the people, it's all here. There's always somebody to listen and address your concerns."
To further make the point about faculty accessibility, she specifically cites guidance received from Snehalatha Ballamoole, a visiting assistant professor in the mathematics and statistics department, and Debbie Beard, an associate research professor in the chemistry department.
No matter the personal background "everybody finds a way to get along and find common ground" at MSU, she emphasizes.
"Although I came to Mississippi State to get an education, I also can say I found a family," she says. "If you talk with people and get involved, you too will find family."