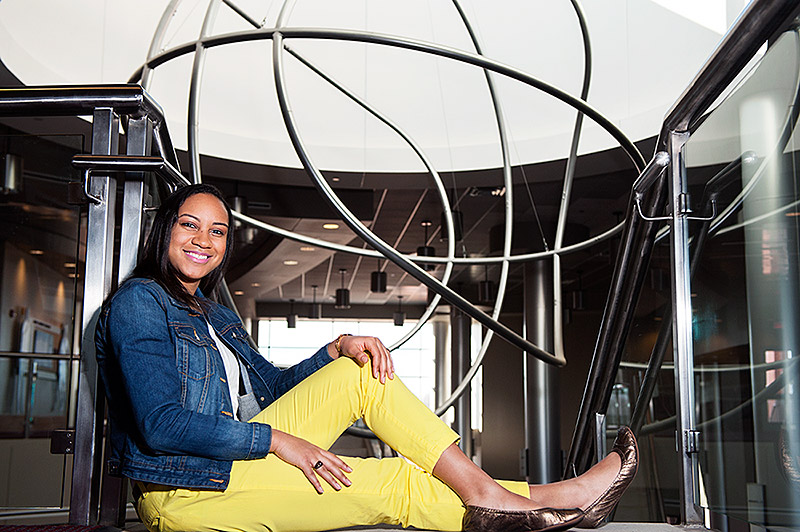 For former Mississippi State basketball player Candace Foster, Black History Month is all about embracing her own history. She's trailblazing a fresh path for the future in her new role as graduate assistant coach for the team.
"February is recognized as a month to reflect and celebrate black history, and I like to look back to see who has enabled me to be in the position I'm in now: My family—especially my mom Princess, my coaches—Sharon Fanning-Otis and her staff who coached my freshman and sophomore years and Vic Schaefer and his staff, and the whole family here at Mississippi State the community atmosphere and engagement not just in athletics but across the entire university," Foster explains.
The Jackson native completed her bachelor's degree in English in December 2013, and she began pursuing her master's in postsecondary teaching in the spring as she completed her final year of eligibility on the hardwood.
After playing four years at MSU, she embraces the role of GA coach the same way she welcomed challenges during her undergraduate years. Foster says she is determined to make a difference, leading by example with character, work ethic and an intrinsic spirit of excellence.
"It's all about what you can do for other people. Love God, love people and you will impact the world," she says. "I was able to accomplish the things that I have through my love for God, which manifested itself in my character, alongside my desire to work with a spirit of excellence, something my mom always taught me to have, in all that I do."
"Much like the leaders of the civil rights movement who refused to be denied and accomplished so much despite adversity, I want my story to highlight God's goodness in my own life and the fruit that's produced when you honor him."
Foster's longtime commitment to helping others earned her inclusion on the Southeastern Conference Community Service Team during her final two playing seasons. Now, as part of her GA duties, she coordinates community service efforts for the team. She works to lead by example.
"Like Coach Schaeffer says, it's not about impressing someone; it's about impacting other people. I really hope the team learns, it's about what you can do for other people," she says. "My mother and I put our faith together and stood on a particular scripture, Philippians 1:6. 'Being confident of this very thing, that he which hath begun a good work in you will perform it until the day of Jesus Christ.'
"We shall perform to the glory of Christ," she emphasizes. "He has allowed me to be here at Mississippi State and I can be a trailblazer like the leaders in the African-American community who had a vision of what life could be and should be."
Other people whom Foster credits for her success include Maryann Baker, director of team operations; Bill Buckley, Fellowship of Christian Athletes campus director, his wife Mary and the FCA-MSU family; Brittany Young, a former teammate now pursuing her master's in kinesiology; LaToya Williams and Jamie Gathing, athletic academic advisers; and Susan Steward, College of Education graduate adviser.
Finally, Foster thanks the African-Americans who came before her.
"They pursued that vision which has ultimately led to the life we are able to live today and the ultimate equality we continue to work toward," she says.