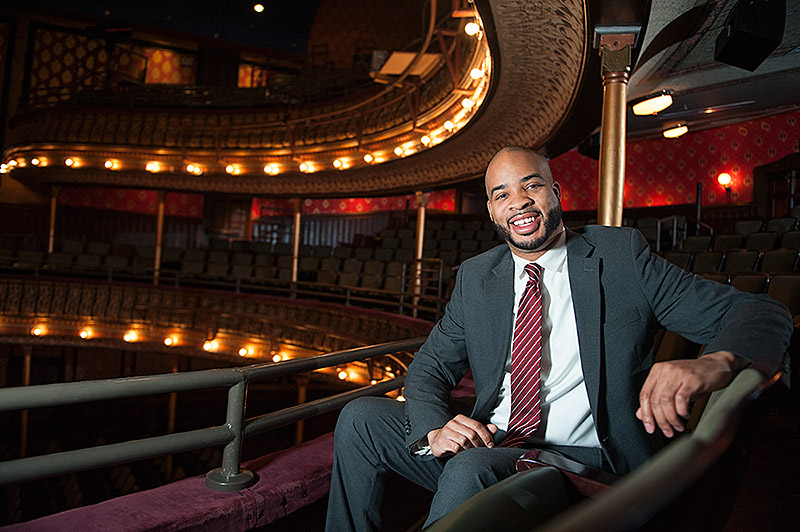 When it came to finding a job he loved, the third time proved to be the charm for Derron Radcliff.
In June 2006, a few months before Mississippi State University opened the Riley Center for Education and Performing Arts in downtown Meridian, he was hired as box office manager and has been on the job ever since.
In addition to managing the front office and training and scheduling volunteers, he handles all ticket sales and is the historic facility's official tour guide.
A 2001 MSU graduate, Radcliff says his father initially had encouraged him to return home to Lauderdale County and explore the car business as a possible occupation. After just two weeks, he says he knew that profession was not for him.
Subsequently, he became general manager of a local Quiznos restaurant. While there, he says a friend urged him to apply for Leadership Lauderdale, a program of the East Mississippi Business Development Corp.—the city and county's economic development and chamber of commerce organization.
Participation in the nine-month leadership program reignited a passion for his hometown that was rivaled only by his love for Mississippi State, he explains. "The program really opened my eyes to what all was in Meridian; I saw it from a different perspective and it was exciting!"
At the time, exciting things were happening in Meridian, particularly in the heart of downtown. Both shuttered for years, the late 19th-early 20th centuries' Grand Opera House and the adjoining former Marks Rothenberg department store were in the process of being restored to become the Riley Center.
Radcliff says it was the initial Leadership Lauderdale experience that led him to become an Ambassador, another EMBDC-sponsored program that helped him to become even more involved in the community. As an Ambassador, he met Dennis Sankovich and Ethel Ann McCoy, respectively the Riley Center's executive director and administrative assistant.
"It's kind of funny, but after I met them and heard all about the MSU Riley Center, I told a close friend that I would love to have the opportunity to work there someday," Radcliff recalls.
"I knew the opening of the center was going to have a huge economic impact on downtown and change the dynamics of the city," he says. "I knew this was going to be big and it was going to put Meridian on the map," adding that since "it was tied to Mississippi State, it was a way for me to give back to my community."
For the past eight and a half years, Radcliff has worked to ensure patrons coming to the East Mississippi performance venue have a "top-notch experience" from the time they purchase tickets to the time they leave. By his estimate, he and the volunteer staff of more than 50 have cared for thousands of guests from throughout the world over that time.
Still an EMBDC Ambassador, he now also is a facilitator for the Leadership Lauderdale and recently was named chair of the organization's governing board. Additionally, he is a member of the local United Way board of directors and American Cancer Society's annual Relay for Life event, for which he was co-chair during the past year.
"I never imagined when I took this job that I would still be here almost nine years later, but I love it," Radcliff says. "I work with a great group of people and I enjoy those I meet through the box office.
"I've seen some incredible performances by artists I knew and liked and many who were totally unfamiliar. I'm able to give back to my community while representing Mississippi State University. I've been blessed."