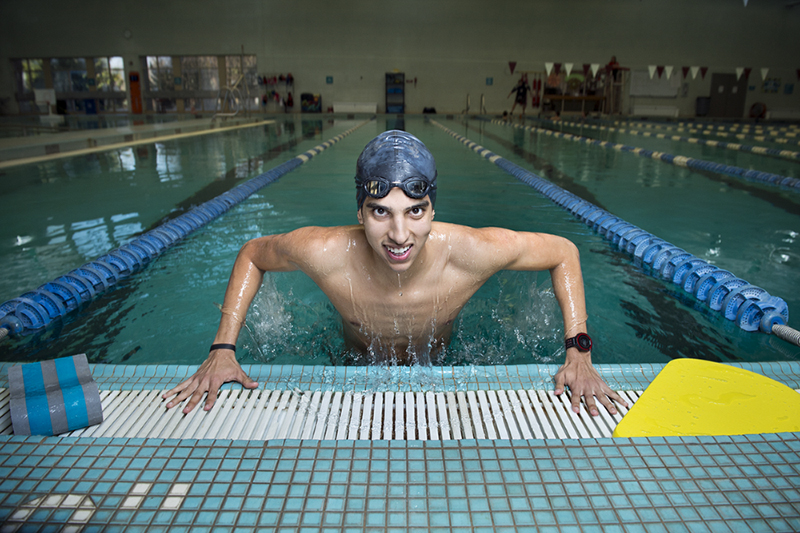 Whether in academic, athletic or social settings, Mississippi State students, faculty and staff are known for a "can-do" spirit and desire to excel in whatever task they choose. For junior marketing major Lucas Muñiz, every day is an opportunity to do just that.
A Marietta, Georgia, native also pursuing a double-minor in supply chain management and economics, the middle son of Eric and Laura Muñiz says he instantly was drawn to the "warm and welcoming" Starkville campus and its "super-friendly" people.
"My high school guidance counselor recommended MSU to me because it gives lots of different types of students the same opportunities," the 2012 George Walton Comprehensive High School graduate says, adding, "When I came to visit, I liked it.
"I hadn't experienced that Southern charm before, and I liked the small-town feel," he adds.
Because he wanted to compete in Division 1 athletics, Muñiz sought out Houston Franks, MSU assistant track and field coach and head cross-country coach. They discussed the possibility of him being a walk-on member of the team.
"Coach Franks was really, really nice," he recalls. "He told me times that I had to hit if I wanted to walk-on, and they were really close to the scholarship qualifying times. I trained on my own the summer before my freshman year. During the second semester of my freshman year, I started to increase the intensity of my workouts and ended up developing a stress fracture in my foot."
After recuperating from the injury and resuming training, Muñiz was able to join the team as a walk-on for 2013 summer workouts. Unfortunately, however, he was unable to achieve the required time at a subsequent trial.
"Even though I didn't get to race for MSU, being part of the team was a fun, maturing process for me," he says, adding "I'm the person I am now because I had to persevere and overcome those obstacles."
Now running on his own, Muñiz has added swimming and cycling to his repertoire, a decision he says has helped him become a "more well-rounded athlete and person." He regularly competes in triathlons "because I get to do lots of things, not just one, with my body.
"Winning is definitely fun, but I just like the variety they bring and the meticulousness that you need to do them," he adds." In the Magnolia State, Muñiz has participated in the Ridgeland-based Heatwave Challenge, Soak Up the Sun in Madison, Philadelphia's Heart O' Dixie and Meridian's Sunfish, among others.
"The farthest away I've gone was to a Revolution 3 race in Anderson, South Carolina," he says. "It was my first full Olympic-distance race, and I placed eighth overall. I didn't race in the collegiate division, but if I did I would have placed second collegiate overall."
Sharing his personal philosophy on exercising and life in general, Muñiz emphasizes, "I don't work out, I just live. If you're working out reluctantly, that's not the way to do it. You have to enjoy it every day and you've got to have fun."