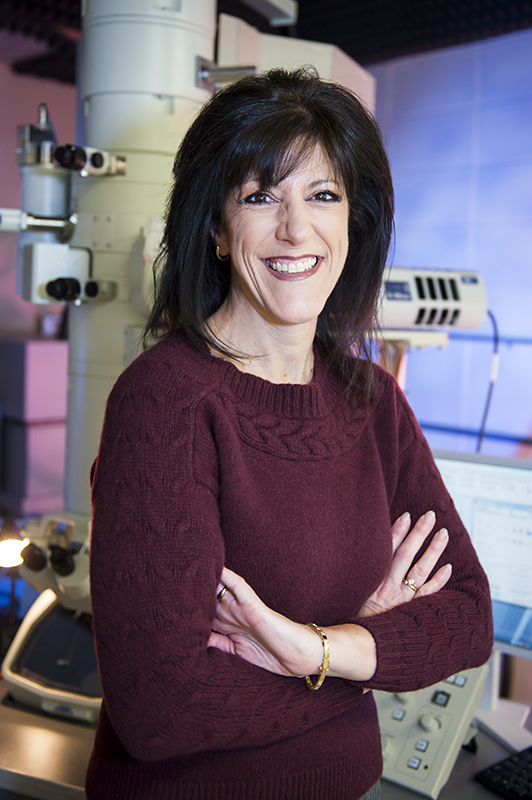 With a background in biology, Giselle Thibaudeau Munn still ponders the research questions she has studied in the past. Exploring the micro- and nano- scale structures of butterfly wings that enable a diversity of coloration and the intriguing chemical and structural properties that influence color has been a fulfilling discovery process, and one she plans to continue.
The University of Kansas doctoral graduate, who also earned a master's degree in biology at MSU, is an accomplished researcher and very comfortable in the laboratory. But Thibaudeau also has found she is uniquely skilled at the conference-room table, working as an administrator to connect faculty across the university for collaborative, cross-disciplinary research projects.
"One of my strengths is being at a table with different types of people and facilitating efforts, getting people together for the good of the institution and moving it forward," she said.
After climbing the faculty ranks to professor in her home department, Thibaudeau has served as director for MSU's Institute for Imaging and Analytical Technologies, also known as I2AT, for about 10 years. Formerly the Electron Microscope Center and the Institute for Neurocognitive Science and Technology, the university-level institute merged and reports directly to the Office of Research and Economic Development. Now, I2AT is a hub for major research instrumentation on campus, much of which has been funded by the National Science Foundation. Thibaudeau said a great majority of the research instrumentation for materials and life sciences research at the nano to micro levels is housed at I2AT, which serves about 90-120 users per year.
"Being at the university level has allowed me to be truly involved in collaborative interdisciplinary research, both personally and in a facilitative role. It's been a very fun ride," she said.
Because of her success and enthusiasm in university research programs, Gregory Dunaway, dean of the College of Arts and Sciences, asked Thibaudeau to serve as interim associate dean of research for the college beginning in the summer of 2014. Thibaudeau said the offer seemed like a challenge, full of promising opportunities to help attain the college's research goals.
"The research questions of today really can't be answered by one discipline. It takes teamwork and diverse areas of expertise," she said.
Thibaudeau said she gets a great deal of enjoyment and satisfaction from her work. She credits upper-level administration who can identify opportunities and work toward common goals with creating an environment of productivity and success. She said great staff, a tremendous faculty and amazing resources are all part of the equation for success.
"There are very few institutions as fortunate as we are right now," she said.
Thibaudeau met her husband Ian Munn, also a professor and associate dean with MSU's Forest and Wildlife Research Center, after coming to the university as a young faculty member in 1994. At the time, people told her Starkville was a great place to raise a family, and she said the sentiment is now one of the first things she shares with those coming to the university.
"This is not only a place to start your career. It's a great place to have your career. You can be as productive and successful as you want to be here," Thibaudeau said.