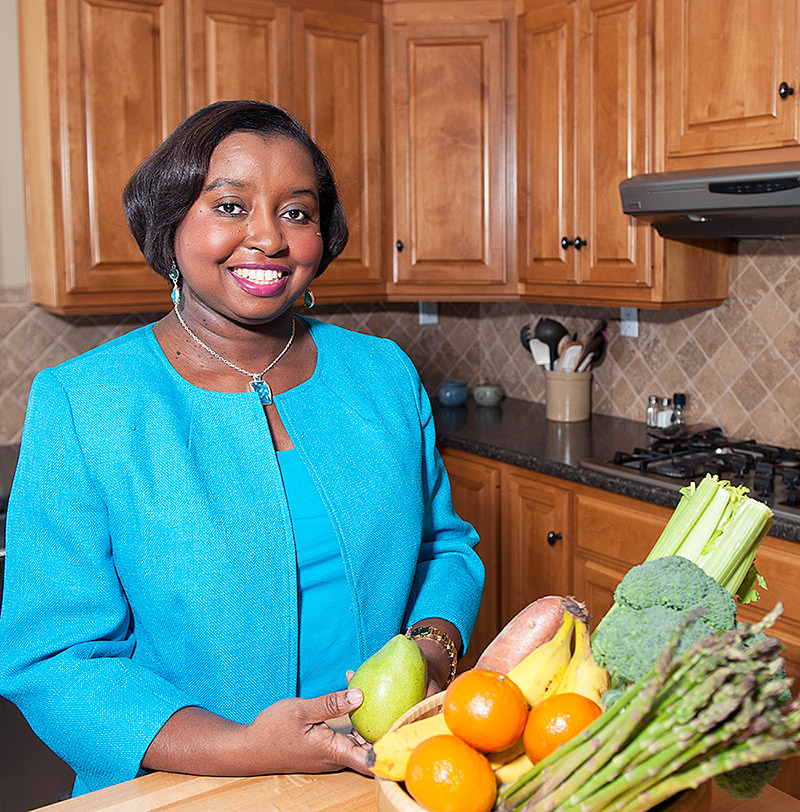 Lunch at the Dixie National Sale of Junior Champions livestock auction wouldn't seem a likely place someone would be approached to host a new television show.
That's what happened, however, to Natasha Haynes, a Rankin County-based family and consumer sciences agent with the Mississippi State University Extension Service. Her work with the annual Jackson event caught the attention of Elizabeth Gregory North.
Head of Extension's agricultural communications office, North had been seeking someone to headline a production focusing on health and nutrition. With Haynes' agreement to step before the cameras, "The Food Factor" was launched.
Assisted by a creative team in North's office, Haynes began developing scripts based on research-based information in extension and U.S. Department of Agriculture publications. "Our goal is to take practical information people can use and package it in fun, attention-getting ways," she said.
"Whether it's drinking more water, food safety or saving money at the grocery store, we want to help Mississippians sift through the noise and get information they can trust."
Haynes admitted to not realizing what being a TV host could entail. Still, two decades of experience delivering educational programs to live audiences made her transition to recorded video and audio just another new challenge. Also, a master's degree in communication had given her training and experience in the electronic-media production process.
"What I hadn't counted on was how creative the team would get with some of the costumes, locations and approaches to each topic," she said. "I've battled the punching bag in the Sanderson Center, dressed like a leprechaun for a segment on adding more green to your diet, and played a referee for a football party."
Her only real surprise so far: "I never know what they're going to come up with!"
At present, "The Food Factor" is carried on television stations in Biloxi, Greenwood, Jackson, Meridian and Tupelo. In addition to YouTube, it also may be viewed during episodes of "Farmweek," the weekly extension service-produced show on Mississippi Public Broadcasting.
"People are starting to recognize me when I go places, which is both disconcerting and exciting," Haynes said. "When I was at the grocery store, one man admitted he was watching what I put in my shopping cart to see if I was healthy in real life."
Pizza is a weakness for Haynes, but she counters its effects with a boot-camp workout five times a week and three in a Pilates class.
"I believe food is an important part of our social lives but we can create new traditions that focus less on food and more on time spent together being active," she said. "I think people of all ages can establish healthy patterns that will lead to long-term improvements in their health.
"There is no quick fix, but the little changes have an impact over time."
Haynes and "The Food Factor" additionally may be viewed at www.msucares.com/food-factor/index.html.