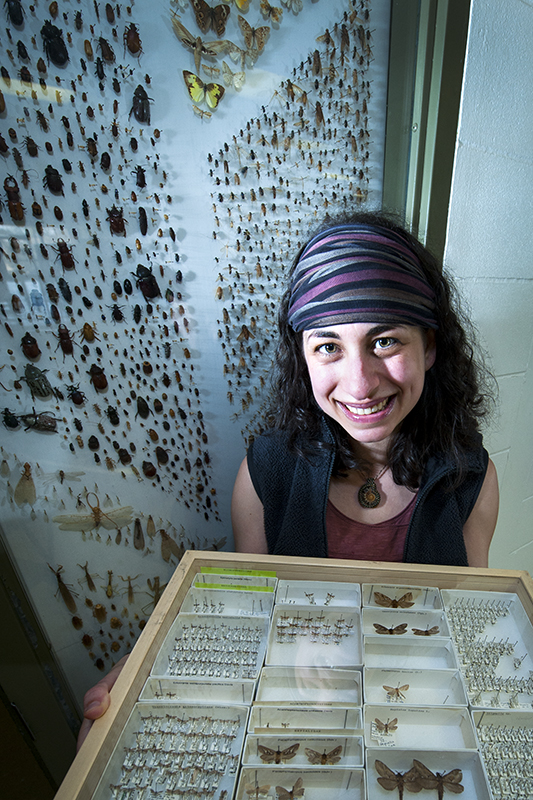 After graduating with a bachelor's degrees in art history and archaeology, with high honors in entomology, from the University of Maryland, Sandra R. Schachat faced a tough decision.
"I've always liked art and science, and when thinking about what I wanted to do in graduate school, I realized I really didn't want to choose between the two," she says.
A New York native, Schachat had developed a special interest in the evolution of moth wing patterns and, along the way, came to learn about Mississippi State's entomology program and its Mississippi Entomological Museum. She decided to relocate to Starkville and enroll at the university.
"This is the only school to which I applied," she says.
As she pursues a master's of agricultural science in entomology, Schachat also works at the entomological museum as a National Science Foundation Graduate Research Fellow under the direction of veteran professor Richard Brown.
Housing one of the nation's largest moth collections, the repository is located in Clay Lyle Building on the west side of campus.
"I had done all of my undergraduate research at the Smithsonian Institution in Washington, D.C., which is where Dr. Brown had done all of his research," Schachat says. "There are 133 families of moths, and he has one group that he specializes in."
Schachat explains that Brown had "created a model to explain the evolution of moth wing patterns, and I essentially came here to test that model and see if his predictions, based on that one family, could also be applied to all of the other families."
"It turns out that his model does work, but I really liked that he still was very open to me sort of questioning that and looking at the issue from different angles," she adds.
Schachat's research at MSU garnered national recognition last year when she received a second-place President's Prize from The Entomological Society of America, as well as the Harry K. Clench Memorial Award of The Lepidopterists' Society.
An avid traveler, Schachat maintains her Smithsonian affiliation and goes back to Washington in her spare time to conduct moth research. Other spare time is dedicated to beadwork, a hobby to which she was introduced at a young age by her grandfather.
As an extension of her campus moth research, Schachat helped organize last fall a new campus organization, the Natural History Journal Club. Each week, the faculty, undergraduate- and graduate-student members meet to review and analyze a variety of scientific papers.
"We look for papers that have a really broad significance and over-arching themes that appeal to a variety of interests for students and faculty in entomology, biology, molecular biology, wildlife and fisheries, among other areas," she says. "It's great because we're bringing together students and faculty who have very different specializations to discuss really interesting discoveries that are interdisciplinary."
Asked why she feels her particular MSU research may be beneficial to the larger scientific community, Schachat replies: "Moth wing patterns are indicative of taxonomy, which is really important in its own right but also for protecting agricultural interests.
"The Mississippi Entomological Museum largely is funded through agriculture and the better we understand these insects, the better we'll be able to identify them and prevent potential pests that cause billions of dollars in damage from entering the country."
Mississippi State, she adds, "really is a good place to be doing this kind of research."