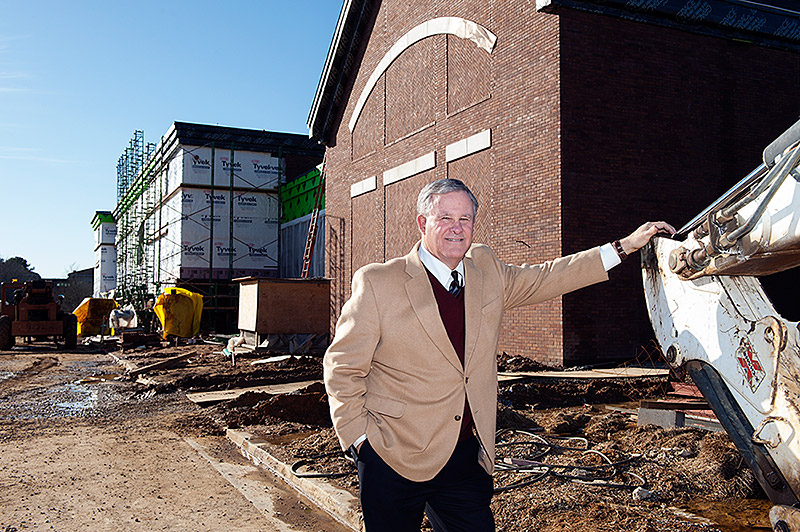 He wasn't even thinking about leaving his job as a principal at one of Mississippi's largest architectural firms when he got a call encouraging him to apply for the position of construction administrator at Mississippi State University.
"I thought, 'what a great opportunity, but do I really want to do this?' I was missing family activities; I was always dealing with a lawsuit or in an attorney's office; I was on the road constantly, so I discussed the possibility with my family and decided that I would apply for the position," remembers University Architect Michael T. "Tim" Muzzi, AIA, AU. "Several weeks after my interview, I was hunting—sitting in a tree stand—and Mississippi State called to make me an offer.
"I've loved being here ever since."
The Shaw native graduated with Mississippi State's second class of School of Architecture majors. Following completion of the school's required fifth year of academic study in Jackson, he began a professional career in 1979 that would continue in the state's capital city for 25 years. He returned to Starkville in February 2004.
"I'm happy; Mississippi State is a wonderful place to be," he says. "I've got three grandchildren, and there's always something for my wife, Janice, and me to do here. I get to work at a place where most people want to retire."
In addition to responsibilities as the university architect, Muzzi is the interim director of MSU Campus Services' planning, design and construction administration. In other words, he leads the department responsible for every campus design and construction project, from the replacement of doors to the renovation of existing buildings, as well as the construction of new facilities at both the Starkville and Meridian campuses.
Muzzi's been involved with some of the largest projects at MSU in recent history. Along with the renovation of historic Lee Hall, he led renewal and modernization efforts at Colvard Student Union, Davis Wade Stadium, the Riley Center in Meridian, and Harned, McCool and Middleton halls.
Managing design and construction of new facilities is another of his responsibilities. At present, Muzzi's team is supervising the development of the Fresh Food Company dining facility, the new residence halls and the massive new classroom-parking facility filling in the valley—formerly a sledding hot-spot on snow days—behind the YMCA Building.
His team is also managing the design for the renovation of the YMCA, the Robert's Building and the addition to Mitchell Memorial Library.
Muzzi was instrumental in coming up with the concept of creating the Junction, MSU's popular tailgating area outside Davis Wade Stadium. Before it was a green space enjoyed by thousands of football fans, five major streets intersected in that same space, and traffic flow was so frustrating that students, faculty and athletic fans called it "Malfunction Junction."


He recalls how he and Ray Hayes, then vice president for finance and administration, were having lunch in the old Union before its 2006-08 renovation.
"Ray asked me how we can get rid of Malfunction Junction. So we literally took several napkins and drew in the streets with relation to Davis Wade stadium, Lloyd-Ricks-Watson Building and Dorman Hall. By closing off several of the streets and rerouting others we were able to create a large green space on the south side of Davis Wade Stadium."
The green space became The Junction, and the rest, so to speak, is history.


Muzzi credits the strong leadership of university administrators, especially current MSU President Mark E. Keenum, for the vision and determination to ensure campus buildings meet the highest standards.
"In everything we do, my team's No. 1 priority is the health, safety and welfare of the students," Muzzi says. "Being here and doing what I get to do—I love it."