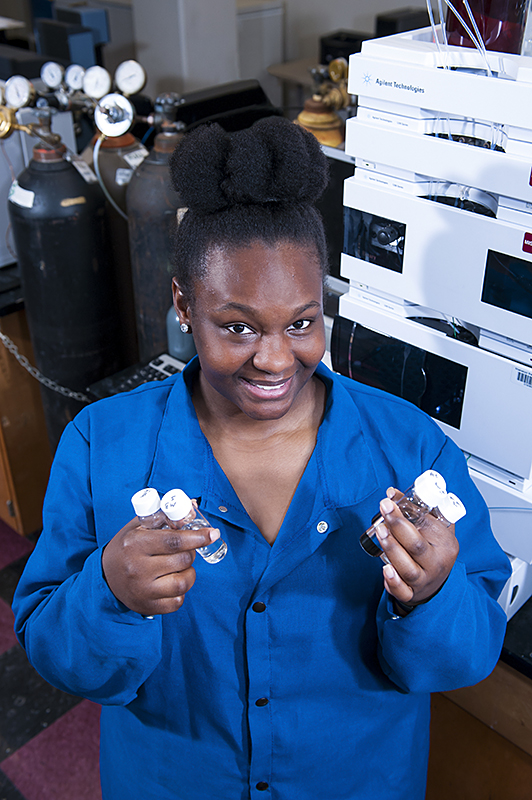 She welcomes challenges like some students welcome naps.
As Columbus senior Patrice Simmons winds down her studies in chemistry, the Dean's List Scholar has only begun to gear up to succeed in medical school.
"I'm studying chemistry because it has the challenging course plan that will prepare me for medical school," she says. "I'm a goal setter, and I'm always working to mark things off my list. Being productive while facing challenges—that's my thing."
Simmons encourages the Mississippi State family to visit chemistry.msstate.edu to learn more about the university's chemistry department and its student organizations.
She will take the Medical College Admission Test just two weeks before Mississippi State's spring finals begin. While she admits to feeling stressed, Simmons says she always remains focused on meeting the challenge.
"You have to be dedicated and committed and very serious to finish a chemistry degree, and now, I see the finish line," Simmons says.
During her years at the university, she has taken advantage of numerous research opportunities. The chances she's had during her years at State have positioned her to be an attractive candidate for her top two choices for medical school—the University of Mississippi Medical Center in Jackson or William Carey University's College of Osteopathic Medicine in Hattiesburg, she says.
As a proud participant in the Mississippi Rural Physicians Scholarship Program, Simmons says she wants to practice in the Magnolia State and be part of the medical solution in the state with some of the lowest doctor-to-patient ratios in the nation.
Simmons serves as treasurer for the Student Affiliates of the American Chemical Society chapter and was a founding member of the MSU chapter of the Physicians on the Rise organization. She also is a Fellow in the Montgomery Leadership Program, a three-semester curriculum focused on enhancing service learning, leadership strategies and communication skills.
"I love the leadership program because it helps mold me into the person I want to be one day," she says. "I've learned a lot about myself, and it's been a great experience."
Simmons credits both her opportunities and successes to Mississippi State faculty. From the first chemistry course she took as a freshman, she says, she has been amazed by her teachers' dedication, assistance and attention to detail.
"The best thing about Mississippi State is that people care. If I have a question, the faculty will answer or find someone who can figure it out," Simmons says. "It's not just about being a number or a student here — it's about being a person, and the faculty here want to make sure that you as a person are doing well."
Deb Mlsna, assistant professor, and Emily Rowland, instructor, are two of Simmons' most influential mentors, and she praises Mike White, former dean of students, for inspiring her to be even more productive. Simmons also thanks Carmen Wilder, assistant director of Student Leadership and Community Engagement, for being a strong motivational influence.
"At Mississippi State, it's not just the classes you're taking. It's a place where people know your name," she says.