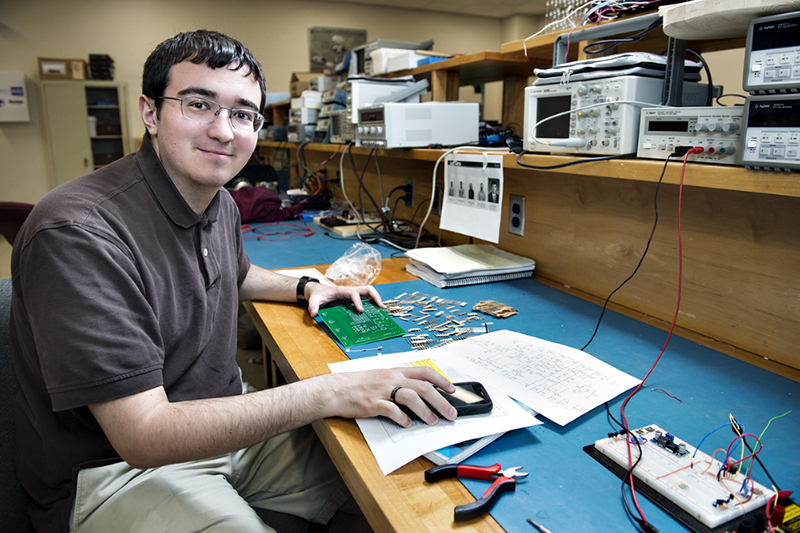 The son of two retired NASA engineers, Preston Stinson naturally gravitated to the fields of science and engineering from a young age. His special interests became computers and electronics.
While attending Grissom High School in Huntsville, Alabama, he worked on a project involving circuits. He found applications of electronics to be very intriguing, wondering how "a computer the size of a credit card in terms of surface area still has a really powerful processor," the Mississippi State senior recalled recently.
Stinson said he found his place at the university, both as an electrical engineering major and a member of the Shackouls Honors College. He's also discovered a great deal about his chosen field, the most recent example involving an internship with the Institute of Electrical and Electronics Engineers in Washington, D.C.
"That was a really great experience; I got to work a lot on my soft skills" he said, adding that he also learned much about engineering policy. Beyond introducing him to many talented people with shared interests, he said living in the nation's capital, with its museums and other educational opportunities, was an important added benefit.
Stinson said his chosen major presents many challenges, especially the rigorous demands of course work. To succeed, the President's List Scholar emphasized how important time-management becomes. "To have enough time to study, to work with organizations and to get enough sleep is not easy," he admitted, noting that typically he has very little "spare" time.
Because the schedule is so tight, Stinson said he must prioritize out-of-class activities based on their relevance to his post-graduate interests. Currently, he serves as president of the campus IEEE chapter and recording secretary for Tau Beta Pi engineering honor society.
Stinson is on track to graduate in May 2016 and immediately enter graduate school. He said his career goal is to work for a corporation or governmental agency—especially if it would mean returning to Washington.
For now, he remains highly focused on soaking up the MSU undergraduate experience as he prepares for what lies ahead.