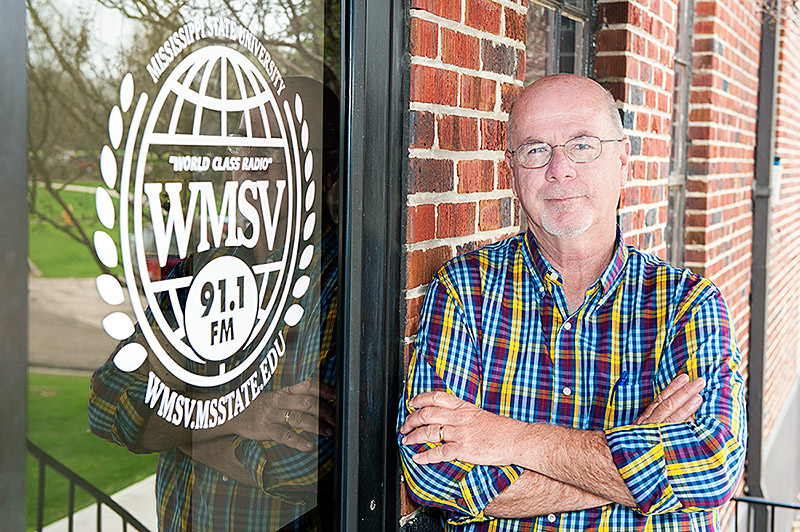 Among other achievements, he will be remembered as the man who brought "World Class Radio" to the Golden Triangle region.
Soon, Steve Ellis will notch another major accomplishment as he joins the ranks of the retired following more than 30 years of service to Mississippi State—21 as founding manager of the university's WMSV-FM.
Located on the dial at 91.1, the noncommercial, community radio station broadcasts 24/7 over an approximately 70-mile radius.
"I've loved being here at Mississippi State, but I've always had a touch of wanderlust," Ellis says of his decision to step away from the mic.
"I took a year off from college and hitchhiked around the country back when I was 20 years old," recalls the Chattanooga native who moved to Lowndes County in his teens. "I worked at various places throughout the country, out West and in the Southwest, and I'm looking forward to getting out and once again seeing more of the world."
Prior to WMSV's launch in March 1994, Ellis worked for a decade as broadcast coordinator for the then-University Relations Office, now known as the Office of Public Affairs.
A radio veteran since age 16, Ellis says he has enjoyed seeing students—whether or not they aspire to pursue a career in radio—leave WMSV with a good work ethic and improved sense of self-awareness and self-confidence.
"Every day, we have students come through the station, then every semester, we get a new group," he says. "There are a lot of people who walk into the station thinking they can never be on the air, but we give them the opportunity and show them they can do it.
"It's always been a lot of fun to work with our students. That has kept me young," he adds, with a broad grin.
And then, of course, there's the music.
"I have absolutely no musical talent whatsoever," he admits. "Can't carry a tune in a bucket, but I love music and that's been a big part of my working with the station."
WMSV remains the only station in its listening area featuring the Triple A, or adult album alternative, format.
Though very close to the alternative-sound format, Triple A is a bit more adult-oriented, making it very popular with college-aged students and middle-aged adults, Ellis explains. Tracking down those artists often required a great deal of research and collaboration with record labels, he adds.
"I've gone most every year to the Triple A Radio Conference in Colorado and have gotten to see a lot of live bands there, but I have also been to other conferences as well," he says. "I've enjoyed being instrumental in bringing music that, prior to us being on the air, really wasn't heard much in the Golden Triangle."
While he'll miss being "in the middle of a vibrant educational institution with so much energy and life," Ellis also expresses happiness at having more time to spend with wife Kay—a Columbus native—their three children and five grandchildren.
"There's nothing like being a parent or a grandparent," he emphasizes. "Kay and I have been very involved in our children and grandchildren's lives, and we want to continue that."
Like himself and so many current and former students and employees, Ellis wants younger generations of Bulldogs to develop "a love and respect for this university and for the people with whom they work."
"I hope they feel that Mississippi State is more than a place to go to school or go to work," he continues. "You always hear people saying that Mississippi State people are a family, and they say that for a reason—it's true.
"Wherever Kay and I go on our future travels, we'll never find a place that feels like home as much as Mississippi State."