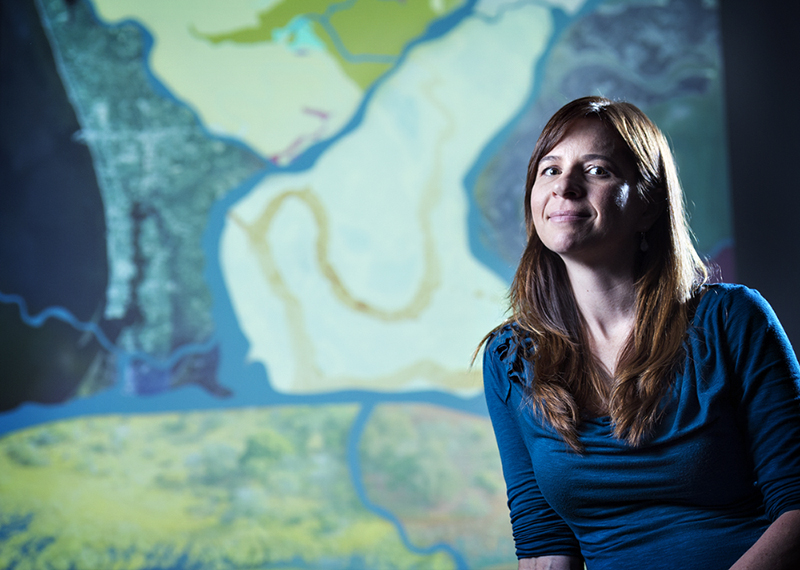 Since she was very young, Anna Linhoss has been fascinated with the natural world.
"I grew up in the country with salt marsh on three sides and a swamp on the fourth," the Gloucester, Virginia, native says. "All day, every day in the summertime, I was running out in the marshes and rivers, playing in the mud and picking oysters up.
"I think that's where I really got my love of water, saltwater and ecosystems," adds the assistant professor in the agricultural and biological engineering department.
Linhoss, whose academic areas include environmental engineering and water resources, came to Mississippi State in January 2013. Previously, she was an agricultural and biological engineering postdoctoral associate at the University of Florida.
"The one thing that really struck me about visiting MSU for the first time were the people that I met," she emphasizes. "They were so genuinely nice, friendly, outgoing and made me feel at home."
In addition to sharing expertise with undergraduate students in her biosystems simulation course, Linhoss says she most enjoys interacting with graduate students enrolled in the department's graduate seminar. She also expresses excitement about her role as faculty adviser for the new student chapter of the American Society for Agricultural and Biological Engineers.
"I enjoy the energy of the undergraduates and how everything is a little bit newer for them," she observes. "I also really enjoy working with the graduate students because they tend to have more of a research-focused mindset."
With a professional interest in hydrology, ecology, modeling, watershed management and climate change, Linhoss has spent considerable time of late with three projects on the Mississippi Gulf Coast. They include:
An investigation funded through a university special-research initiative of how climate changes and a sea-level rise might affect salinity and vegetation;
A National Oceanic and Atmospheric Administration-sponsored analysis of salinity and water quality of water currents in the Bay St. Louis estuary for oyster reef restoration purposes; and
A Mississippi Department of Marine Resources-funded exploration of sediment transport.
"It's challenging to do a lot of different things, but it keeps me on my toes," she says, with a smile. "I've got great graduate students who help me, and I work with some excellent researchers here at the university. I really enjoy collaborating with people to be able to get this kind of diversity of work done."
When not working on campus or elsewhere, Linhoss most likely may be found outdoors with husband John, an extension associate in her department, and 2-year-old son Luke and daughter Cedar Rose, 6 months.
"Whether in Noxubee or Choctaw or going down to the Coast, any opportunity we have to get outside and experience nature, we're on it," she emphasizes.
For more about Linhoss' research, see www.hydroecologylab.com.