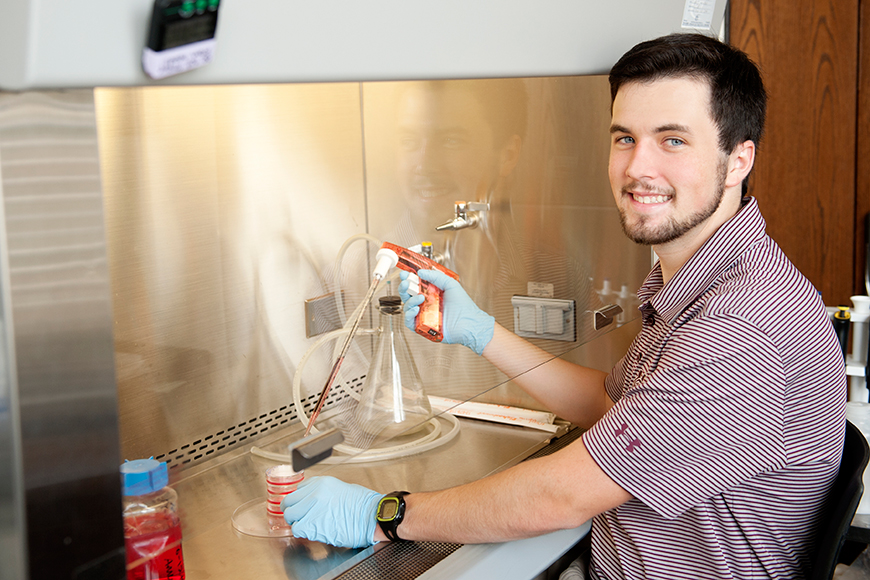 Growing up in Monticello, Ben Rushing said it was easy to see that the doctors in his community were some of the greatest difference makers. By age 15, he decided he wanted to make that kind of difference, also.
After his junior year in high school, he enrolled in the Rural Medical Scholars program at Mississippi State, where he earned college credit for biology and sociology courses while shadowing area physicians to better understand the importance of rural medicine. Now, as a junior majoring in biological engineering at MSU, he serves as a biology tutor for the five-week summer camp sponsored by the MSU Extension Service.
"I got a lot of my vision and drive for what I want to do in medicine from this program as a participant," Rushing said. "It's encouraging now to see high school kids who have a vision and plan, appreciate medicine in Mississippi and want to make a difference. My goal is to help them understand the biology course and make them as comfortable in the program as I can."
Beyond his volunteering with RMS, Rushing is president of the Institute of Biological Engineering, a campus organization that helps students in the major prepare for medical school. He's also trying to start a student organization for future rural physicians that would facilitate shadowing opportunities and educate its members on the difficulties associated with rural medical care.
"There are several problems with medical care in rural areas, such as doctor recruitment and heightened cases of chronic illnesses like diabetes and heart disease," he said. "Those areas need more doctors to educate the public, encourage healthy lifestyles and for preventative medicine."
Ultimately, he wants to attend medical school and serve as a primary care physician in north Mississippi. His biological engineering background, he said, will give him a different perspective to medicine than a traditional pre-med route, especially on the technical side.
"Bioengineering gives me a unique advantage, I think," Rushing said. "It gives me the technical knowledge, rigor, discipline and diversity of skills to go anywhere I want."