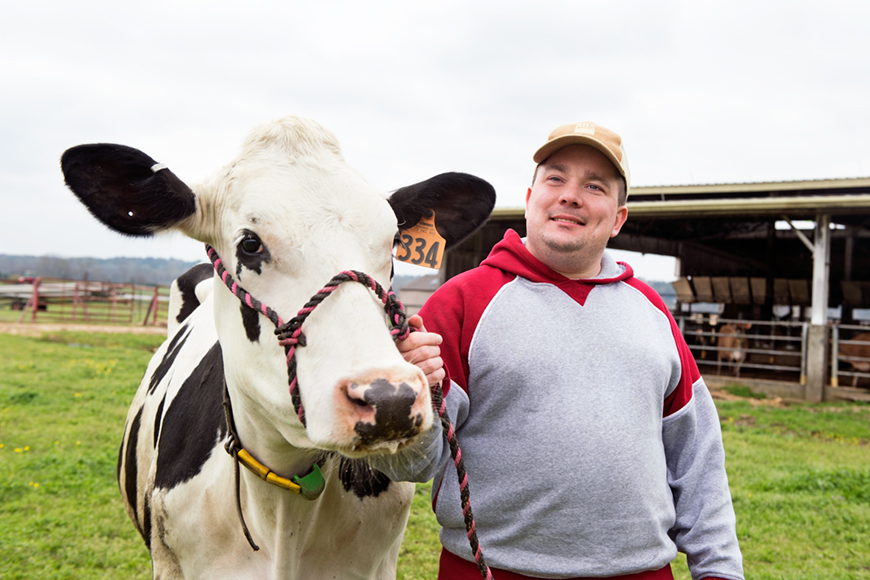 College of Agriculture and Life Sciences master's student Zachary Mason is enjoying his second year at Mississippi State. He enrolled after earning his undergraduate degree at Cornell University in animal science with a concentration in dairy science.
Choosing his field of study was easy after growing up on a New Hampshire dairy farm. His parents bought the farm in 1994, and Zachary represents the third generation to live at a dairy. He says about 130 cows are milked there daily, and the family sells their product through Dairy Farmers of America cooperative.
"My parents had me working with animals quite a bit. I wound up being the calf feeder most of the time," he says. He also enjoyed 4-H for many years and showed dairy cattle along with some beef cattle.
Zachary says his partial blindness, caused by a childhood illness, makes some aspects of dairy farming difficult for him, although he has always enjoyed being hands-on with the animals. He says as a child he became good at realizing when a calf was sick and in need of special attention, and he often was attentive to behavioral cues rather than typical visual signs.
Today, he still is interested in how to keep animals healthy using best management practices and a strong understanding of animal biology; however, he favors putting his efforts into research and data analysis. He also has an interest in agricultural policy.
In 2015, he did an internship with the National Association of State Departments of Agriculture. His work involved attending congressional hearings and summarizing those for staff, as well as summarizing proposed legislation and communicating key information to agricultural leaders throughout the U.S. As an undergrad, he also did a summer research fellowship at Purdue University.
Here at MSU, Zachary says he has met people who have advanced his professional network. His current research focuses on how heat stress affects milk quality in dairy cows. Other projects have included studies of calf birth weights, use of probiotics for heifers, and how supplements impact calves, among other studies.
"I'm finding that I enjoy the data analysis more and more," he says. "I will always think of dairy cattle as special, but these skills also can be applied for researching other animals."
Aside from his own academic pursuits, Zachary says his local church is important to him, as well as serving as a mentor to other students through Learning Ally, a national non-profit organization that helps students with print disabilities, including blindness, visual impairment and dyslexia.