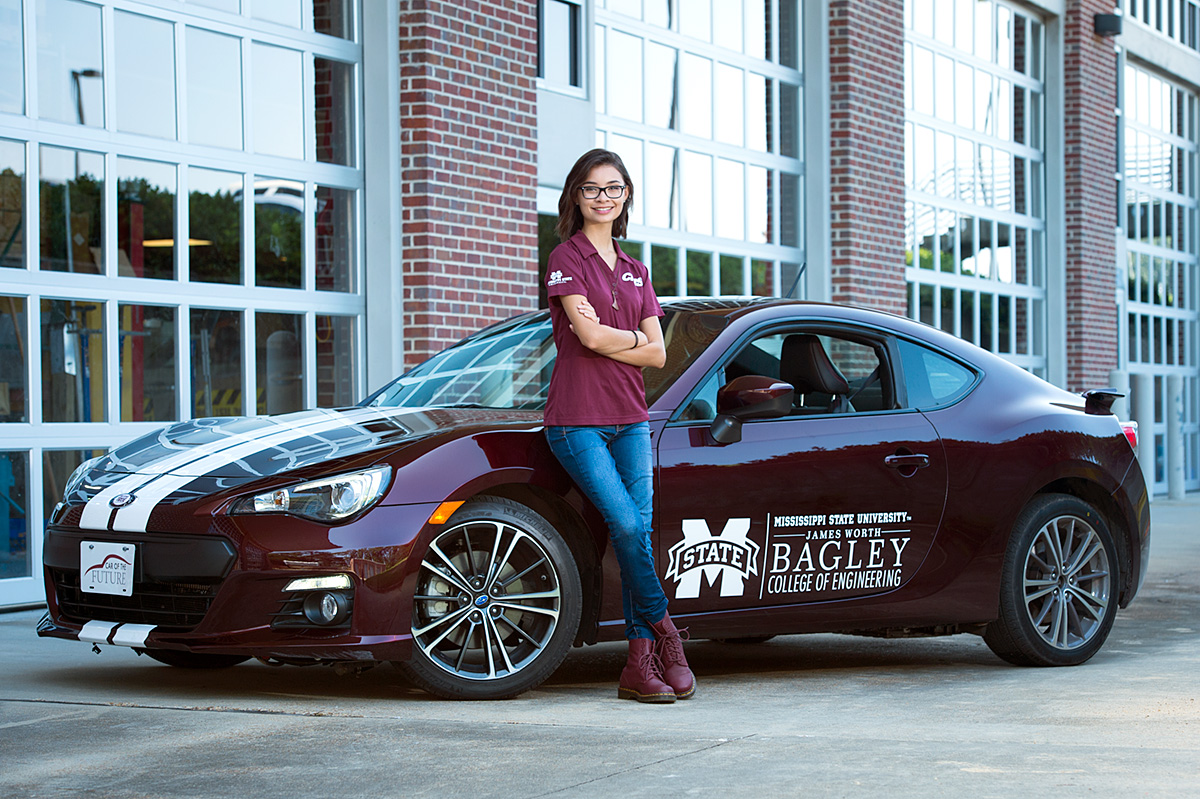 When Michelle Price was growing up in Moss Point, one of her favorite events every year was the nearby "Cruisin' the Coast" car show. Attending the car show with her dad, Price was drawn to the cars with interesting designs and bright colors. Her interest in cars and design led her to study mechanical engineering at Mississippi State University after transferring from Mississippi Gulf Coast Community College.
"As a small child, walking into these car shows with all these beautiful, bright, gaudy, amazing-sounding cars, it was just so cool to me," Price said. "Originally, I wanted to go into art and design to learn how to design some of these interesting concepts. But, I decided I wanted to go into the mechanical part of things and study engineering."
Price received her bachelor's degree in mechanical engineering from MSU in 2016 and is currently working on her master's degree in the same field. At MSU, Price has combined her skills in design and engineering while working on the Car of the Future, a hybrid Subaru designed by MSU students and researchers to offer superior energy efficiency, sporty handling, outstanding performance and technological features.
As an undergraduate working in MSU's Center for Advanced Vehicular Systems, Price used computer-aided design software programs to create the Car of the Future's subframe, which supported electric motors in the back of the car and the car's tires. After months of work, Price anxiously waited to see if her design would fit the needs of the car after the subframe was ordered and delivered to CAVS.
"I remember thinking, 'this could go really right or really wrong,'" Price said. "We got it made and it pretty much fit like a dream. That was huge."
Price is continuing her work in automotive mechanical design as a graduate assistant in CAVS and her thesis focuses on subframe design. Her graduate work is supported by a fellowship from Steve and Liz Lindsay. Before she worked on the Car of the Future, she was a member of MSU's Formula SAE racing team. After attending car shows with her dad as a child, Price said she now enjoys talking to him about the innovative designs she and the CAVS team are creating.
"It's cool knowing a lot about cars, which is something that I wished I knew a lot about growing up," Price said. "It's like I'm there, where I wanted to be when I was little, knowing how all this stuff works together."
When not working on automotive design, Price enjoys exploring the MSU campus and its landmarks such as the Chapel of Memories, where she plays piano as a way to relax. She encourages fellow Bagley College of Engineering students to get involved in student groups and get to know their peers.
After she finishes her master's degree, Price hopes to put her experience at MSU to use in the transportation industry.
"As long as I'm doing computer-aided design work and designing something that can be implemented, that would be enough for me," Price said.