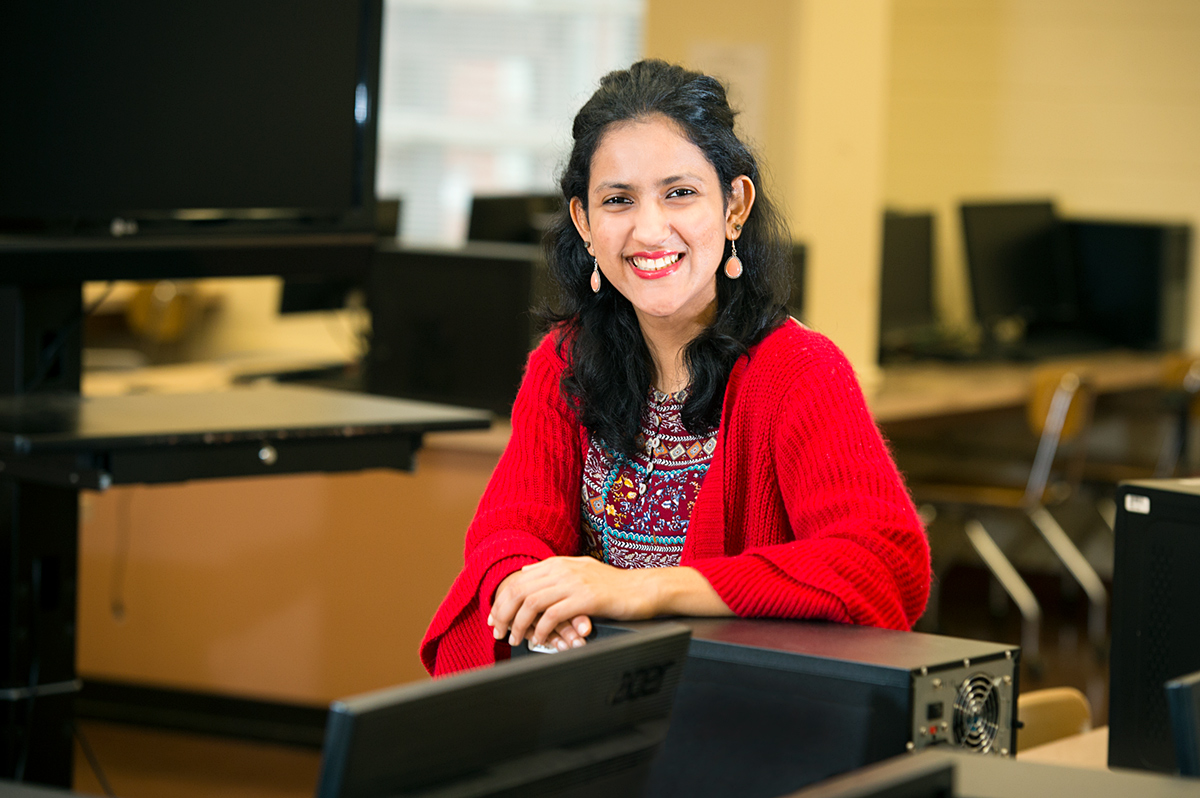 When Meenakshi Das was growing up in India, one of her dreams was to study in the United States. However, Das was diagnosed with a speech disability in her early childhood that limited her independence and self-confidence. But the senior computer science major has not let that stop her from thriving at Mississippi State University.
"I wasn't really the perfect candidate to study 10,000 miles away in a new country," Das said. "I just knew that no matter what, I was going to apply to U.S. universities and live here by myself."
When Das was researching and applying to American universities, she met Karin Lee, the MSU International Institute's director of recruitment and retention. Lee, who was the first American Das had interacted with, helped Das feel welcomed and gave her a "sense of calm."
"She wasn't being nice to me just to make me come to Mississippi State," Das said. "You could see she genuinely loved Mississippi State and the southern hospitality. After our conversations, I decided that MSU was the perfect place for me. Sometimes it just takes a gut feeling to make the right decision."
Das came to MSU in 2014 intending to study economics, but decided to pursue computer science after taking a coding class her freshman year. Since then, Das has fully embraced the field of computer science.
In addition to her regular coursework, Das has pursued research and outreach opportunities to promote technology accessibility for people with disabilities. Das' adviser, MSU Computer Science and Engineering Director of Undergraduate Studies Sarah Lee, introduced her to AccessComputing, an organization which helps students with disabilities succeed in computing careers. Das and Lee recently received a grant from AccessComputing to conduct a workshop on computer programming for visually impaired students. An undergraduate research grant from the Bagley College of Engineering led to a paper by Das and Lee that will be presented at a conference in Washington, D.C. this spring.
"I have learned so much about accessibility issues in technology which has had a huge impact on me," Das said. "Simple things like, when you design a flyer, do you think of making it accessible so that a screen reader, used by people with blindness, can read it? I used to not think of such issues before, but involvement in this organization made me realize these issues and all the work which needs to be done to make tech and the world in general more accessible."
Das has been involved with other programs that helped her develop leadership skills. She has also served as a counselor at MSU's Bulldog Bytes camp and is a Computer Science and Engineering Ambassador.
Currently, She is working as a co-op student with Adtran, Inc. in Huntsville, where she is exploring machine learning applications in the telecommunications industry. She hopes to work as a software engineering the technology hub of California. She will take a major step toward that goal this summer when she will work as a software engineering intern with Qualcomm in San Diego. Das encourages anyone with a disability to ask for accommodations when going on job interviews and to use any rejections as an opportunity to better yourself.
She hopes to give back to the community by establishing a non-profit to teach coding. Because she benefitted from programs promoting disability inclusion, she hopes to help others see the same benefits.
"My confidence has greatly increased during my time at MSU," Das said. "Back home, I used to ask my mom to make calls for me or talk to new people. Now I schedule appointments on my own, I drive my own car which I thought I would never be able to do, I go to conferences alone where I actually have to talk to people. I literally could not imagine doing this a few years back. I believe people here go out of their way to make sure you succeed."