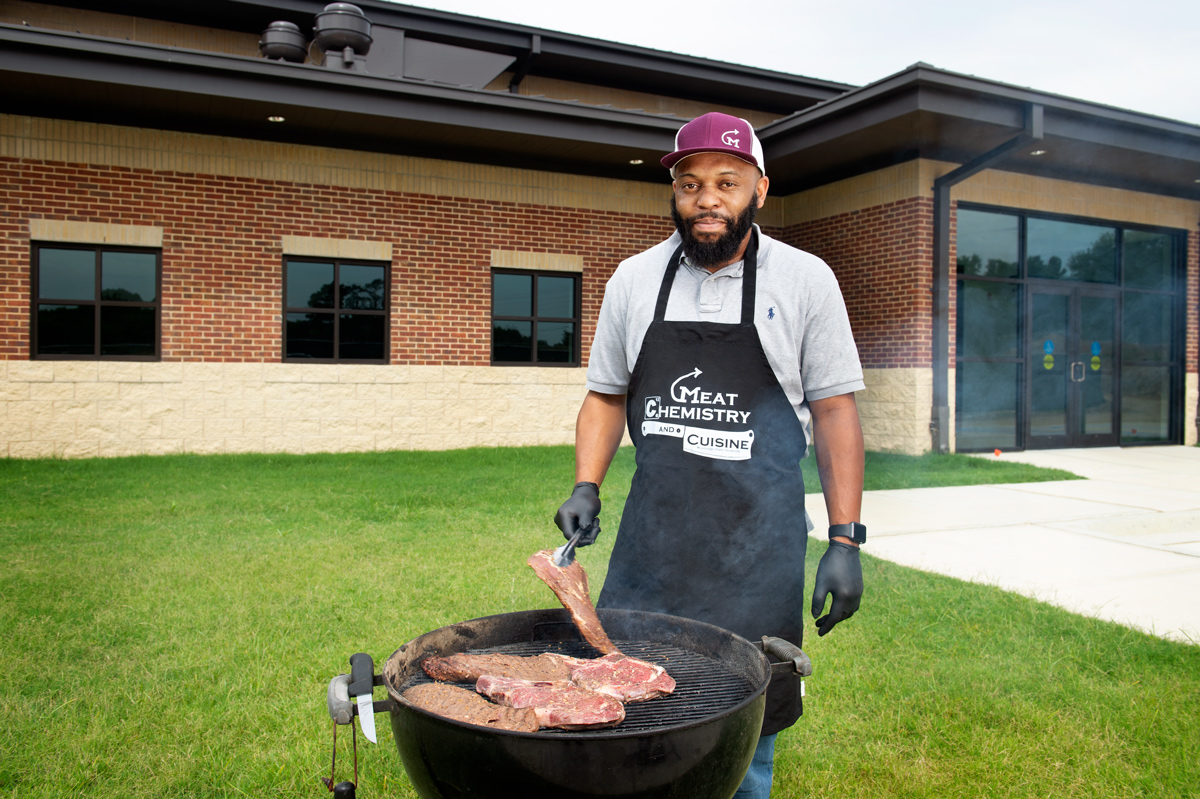 When it comes to firing up the grill this Fourth of July, MSU Assistant Professor Derris Devost-Burnett encourages cooks to remember the ABCs – anatomy, biology and chemistry.
Burnett, a meat scientist in the Department of Animal and Dairy Sciences in the College of Agriculture and Life Sciences, said the secret to grilling lies in understanding the anatomy, biology and chemistry of meat cuisine.
"We tell students being a cook is just like being a scientist," said Burnett, who teaches a meat chemistry and cuisine course. The course became so popular that students founded a Meat Chemistry and Cuisine Club, overseen by Burnett and fellow meat scientist, Assistant Professor Thu Dinh.
Burnett uses brisket to illustrate the ABCs of meat cuisine.
"Anatomy and biology tell us that the weight of a cow's front end is shored by the brisket, which has a lot of connective tissue. That informs the chemistry and is why we can't just put a piece of brisket on the grill and flip it a few times like a steak and be done with it," Burnett explained. "We have to cook it low and slow and apply moisture to try to break down some of that tissue."
As far as what to throw on the grill for this Independence Day, Burnett said he's a fan of flat iron steak.
"It isn't well known, but other than the tenderloin, it's one of the most tender cuts of beef," he said.
Burnett's path to meat science was unlikely. Growing up, he was one of four siblings raised by a single mother in downtown Denver, Colorado, and couldn't have been farther from life on a farm. Even so, he grew up fascinated with animals, reptiles in particular.
"I wanted to be like the crocodile hunter," he remembered.
His mother, Arda, allowed him to have an array of unusual pets on the condition that he bought them with his own money and took care of them himself. With his bedroom lined with aquariums, he housed an eight-foot Burmese python, iguanas, caimans and even a baby crocodile.
When it came time for college, Burnett enrolled in the animal and poultry science program at Tuskegee University in Tuskegee, Alabama.
"In hindsight, to be like the crocodile hunter, I should have majored in herpetology or something similar," he said. "And I would have changed my major had it not been for my very first experience working with goats in our Intro to Animal Science class."
Burnett said the hands-on experience of Tuskegee's program instilled a passion for animal science that motivated him to earn bachelor's and master's degrees in animal and poultry science at the university. From there, he went on to complete a doctorate studying metabolic efficiency in beef cattle at Auburn University. He conducted postdoctoral work at Kansas State University before joining MSU in spring 2015.
Now one of Burnett's roles is serving as faculty coordinator of the MSU meat science and muscle laboratory, an $8.5 million, 15,000-square-foot facility nearing completion. He and Tim Armstrong, the meat lab manager, have provided input as end users as construction nears completion on the facility. 
"This building increases our teaching and research capabilities tremendously. We look forward to the facility helping to further enhance and build our program," Burnett said. "Being able to have input and put our mark on what will be a flagship building for the department for years to come has been extremely rewarding."