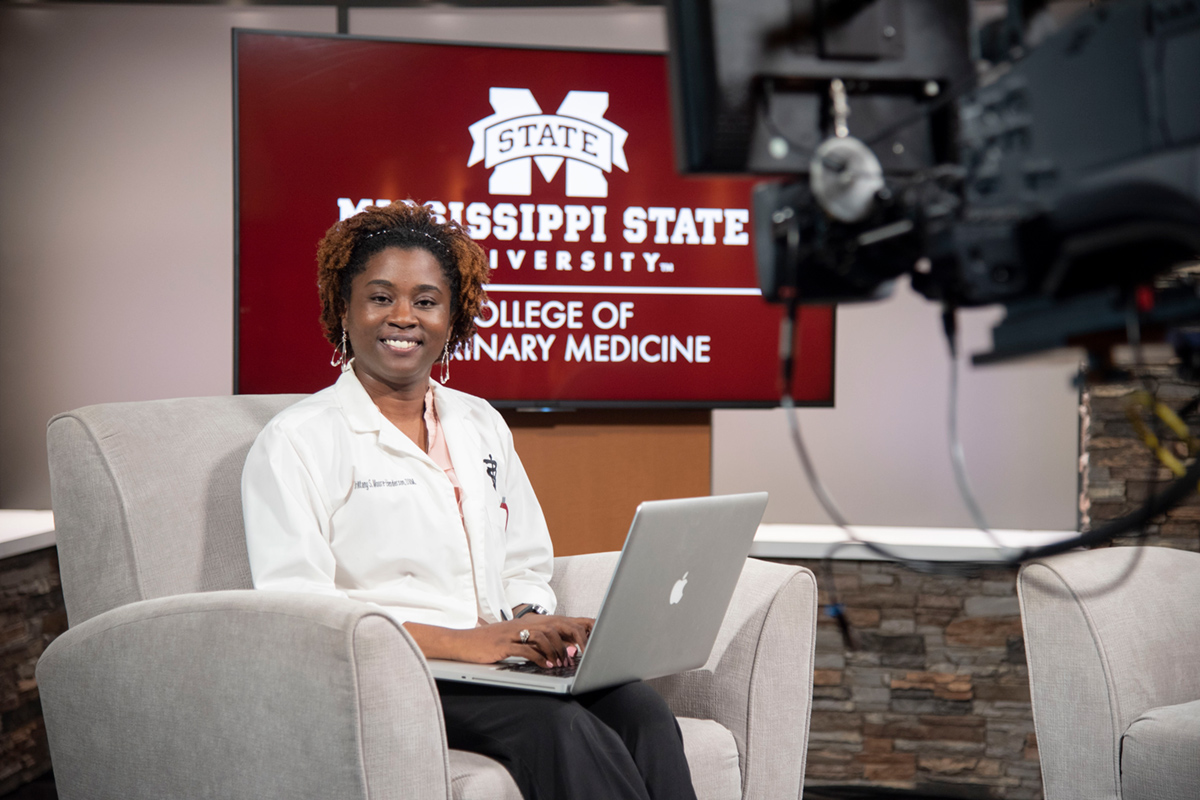 Mississippi State College of Veterinary Medicine alumna Dr. Brittany Moore-Henderson never dreamed she would still be at CVM six years after starting her pursuit of a Doctor of Veterinary Medicine degree in 2012.
"As a student, I didn't look that far ahead, but I definitely thought I'd be living a different life than the one I do now," Moore-Henderson said. "I thought I'd go back to my home county and open up my own clinic because the area I'm from only has one clinic that serves the entire area."
As graduation approached in 2016, Moore-Henderson faced the decision of staying and working in academia or pursuing a vet clinic internship. When she got the offer to stay on with CVM and serve in a new role as community outreach veterinarian, she jumped at the opportunity.
"As a veterinary student, I had always had a strong passion for community outreach," she said. "Coming from a rural county, I never received much exposure to veterinary medicine. Not many people knew much about it, so it was important for me to figure out how I could get more students involved and help more people to understand what veterinary medicine is all about."
Moore-Henderson began her college experience as an undergraduate at Belhaven University. College came with ups and downs, Moore-Henderson said.
"Coming to college for the first time, I had a perception of how everything would be. There was a lot of change and a lot of learning, with many nights spent crying myself to sleep. It was pretty hard for me and even got to the point where I withdrew from school," she said.
That point of discouragement became her game changer. As she packed her things, she decided to make one last effort to continue her studies.
"I searched Google and found a program at Michigan State University that helped students from underserved communities, and applied on the spot," Moore-Henderson said. "Attending that program was the turning point for me and it showed me there are people out there who truly care about all students and want to help all of them succeed."
"Not only did I have certain objectives I wanted to achieve to become the best veterinarian I could be," she said, "but I wanted to be a voice for students that have difficulty in getting to where they want to be."
Moore-Henderson completed her bachelor's degree at Jackson State University and was then accepted to Mississippi State's College of Veterinary Medicine. She believes her journey to MSU's veterinary school prepared her for her current position as community outreach veterinarian.
As a vet student, she founded a Veterinary Students as One in Culture and Ethnicity (V.O.I.C.E.) chapter at CVM in 2013, seeking to bring together a diverse group of students. The chapter remains active, and is now known as Veterinarians as One Inclusive Community for Empowerment.
She also founded the VetAspire program in 2014 to encourage students from underserved areas and backgrounds to explore veterinary medicine as a possible career.
In her professional role, she oversees the college's popular and growing summer veterinary camp program, which this year boasted students from 12 states and two countries.
"I never looked back, and if I did look back, it was only to be reminded of where I came from and what all it took for me to get where I am," Moore-Henderson said. "It helps me to stay humble and realize the importance of why I am here now – it's for other students to know that they have me here as a resource, and I'm here to help whenever they need me."