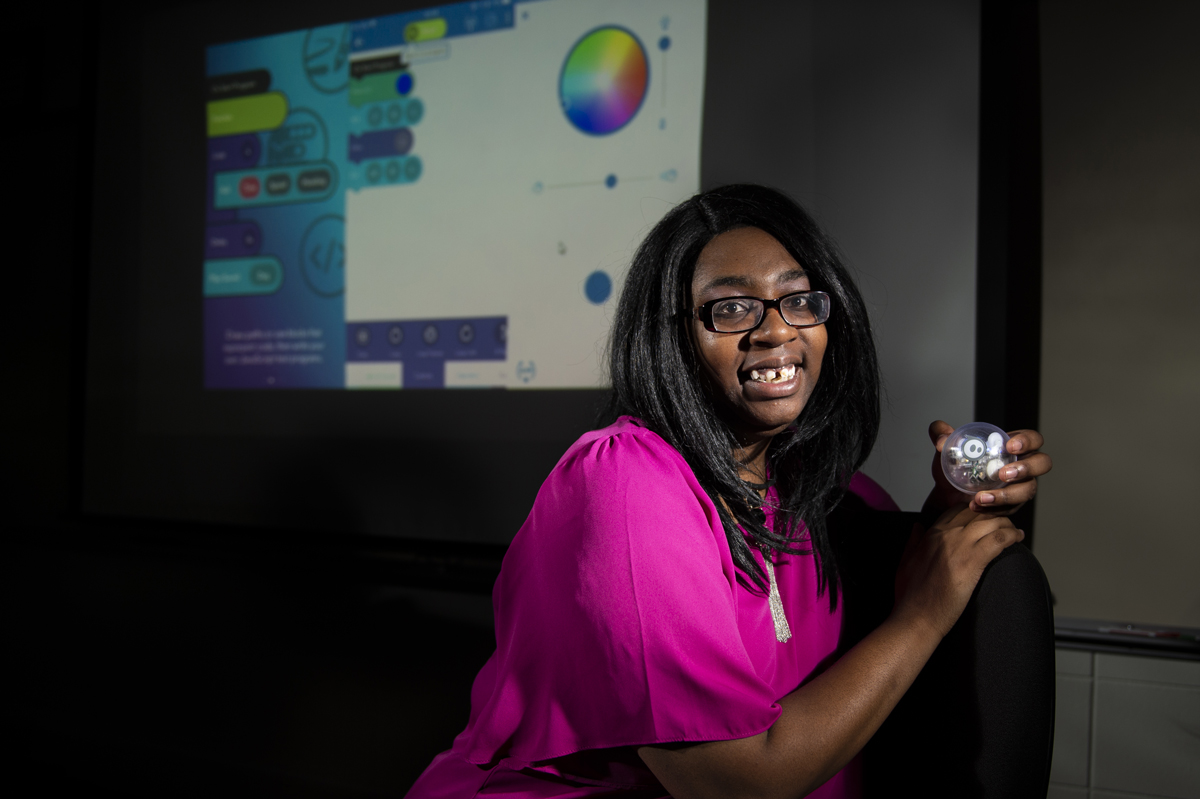 As an African American woman and a person with disabilities, Mississippi State student Litany Lineberry is proud to be a triple minority in the male-dominated field of computer science.
The Augusta, Georgia, native feels right at home on the Starkville campus since arriving in fall 2016 to pursue a doctoral degree in MSU's James Worth Bagley College of Engineering. This semester, she is excited to serve as co-instructor for an introduction to computer science and software engineering course for undergraduates that gives them insight into departmental majors and career opportunities.
"What I love about Mississippi State is that the university offers classes you may have never thought would have gone with your major," said Lineberry, who holds bachelor's and master's degrees in computer science, respectively, from Voorhees College and North Carolina A&T University. "Last year, I took a cyber law class. Who better to help shape policies than someone with a background in cybersecurity?"
One of Lineberry's fondest experiences as a Bulldog has been her work as lead instructor for the CSE department's Bulldog Bytes camps. Funded by the National Science Foundation and National Security Agency's GenCyber program, the Cyber Dawgs camp for middle and high school-aged boys and Digital Divas camp for middle and high school-aged girls promote academic and career opportunities in computer science, programming and cybersecurity.
"I want to help students become self-efficient, critical thinkers who can learn on their own. To me, that starts at the elementary, middle and high school levels," Lineberry said. "My high school visual basics teacher taught me how to create, trouble shoot and problem solve. I learned how to think outside of the box."
Lineberry said her passion for computer science and outreach at MSU has grown thanks to support from Associate Clinical Professor Sarah B. Lee. In addition to directing the Bulldog Bytes camps, Lee advises students with disabilities in the CSE department's disAbility Group organization, of which Lineberry currently serves as vice president.
"Working with Dr. Lee has been amazing because she too has a heart for getting more women in STEM (science, technology, engineering and mathematics)," Lineberry said. "The professors in general are really good and accessible, but what I love about State is that if you have a disability, the university is accommodating. I have a pacemaker, and my teachers are good about me needing more time to walk to class."
Outside of the classroom, Lineberry stays happily engaged in other campus organizations, including the Society of Women Engineers, National Society of Black Engineers, Association for Computing Machinery, and Institute of Electrical and Electronics Engineers. She also has gained more confidence in her communication skills through her involvement in the STEM Communications Club, advised by Cindy L. Bethel, the CSE department's Billie J. Ball Endowed Professor in Engineering, and Alexis Nordin, instructor of technical writing.
Along with teaching at the collegiate level, Lineberry hopes to continue conducting research and leading camps after graduation. Her ultimate goal is to start a nonprofit focused on getting more women and minorities engaged in the sciences.
"Computer science is a broad umbrella. It encompasses so much," she said. "The sky is the limit, especially nowadays with technology. You can do anything. It's all at your fingertips with the click of a mouse."