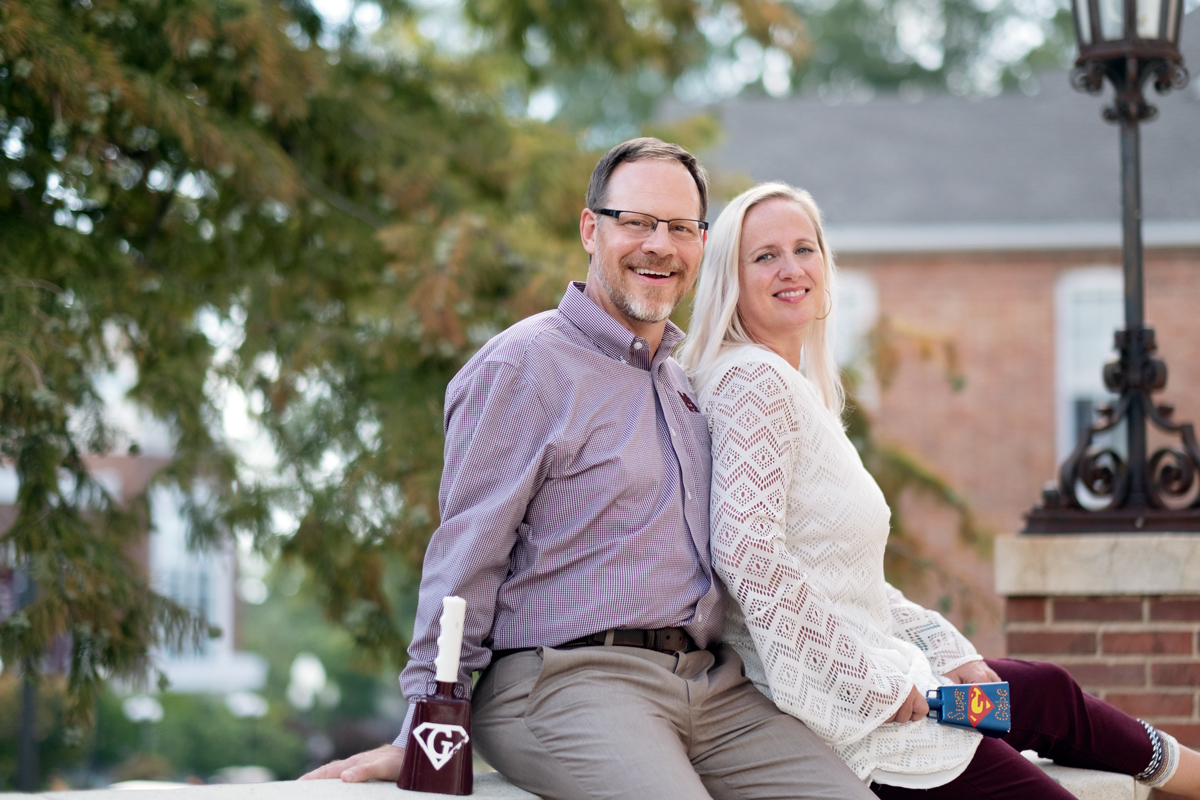 Some people consider their employment a job, but Michael and Nell Valentine consider their work a "calling," something they do to help others.  Although they work in different departments at Mississippi State, psychology and social science research, respectively, they are both passionate about one thing — helping others.
Connecticut-native Nell is the project coordinator for the Mississippi Tobacco Data Unit at the Social Science Research Center and leader of the youth tobacco survey for the state of Mississippi.  She works daily to keep state agencies informed on tobacco trends and usage.  "Anything we can do to help reduce the burden of tobacco use is a win," Nell said.
Originally from Michigan, Michael is an instructor in the psychology department, working toward a Ph.D. in clinical mental health counseling.  He is studying how to help people who care for chronically ill children. "My greatest passion is helping this group of people," Michael said. 
Their work at MSU is aimed toward improving the quality of life for others around them — work they say is inspired by their role as parents. 
The Valentines are proud parents of two MSU students, Alex Baldwin and Griffin Valentine, and son Gabriel Valentine, who died last August.
Affectionately known as "Super Gabe," the eight-year-old suffered with epidermolysis bullosa (EB), a genetic skin disease which caused his skin to break down easily and prevented it from healing effectively.  EB causes skin to blister, creating open wounds which are slow to heal.  It is often fatal in childhood and has no cure.
Through his parents' efforts and collaboration with MSU and community organizations, Gabe took part in numerous special activities which provided a ray of sunshine at the end of many painful days.  In 2016, MSU's Army ROTC named him a Cadet Captain, a ranking which allowed Gabe the exciting chance to fire cannons at home football games. 
In addition to his Army ROTC induction and receiving frequent visits from Bully and the MSU cheerleaders, Gabe also was an initiated member of the Starkville Police Department, a group that continually sent officers to visit with him at home and conducted events at his school.
Partnering with the Valentines to host a "Super Gabe Night," the Starkville Youth Soccer Organization helped Gabe to "score a goal in front of a cheering crowd, including the entire MSU Women's Soccer Team, using the front bar of his wheelchair," Nell said.
"These events, and many more, gave Gabe's life purpose and made him feel good about himself," Michael said. "We truly believe the interest and care shown by the MSU community and the larger Starkville community prolonged and improved Gabe's life. Our goal is to provide this sort of benefit to other children and their families."
In the year since Gabe's passing, the Valentines have begun using their MSU connections with the Army ROTC and other community organizations to create a foundation in their son's honor and to fulfill his request to help caregivers, and by extension, children like himself.
The memorial foundation, Super Gabe's Super Friends, will work with campus stakeholders to create special events and facilitate ongoing support to families of children with medical needs. 
"Our goal is to identify a small number of local children and provide access to as many special events on campus and in the community as we can," Nell said. "We want to create special relationships between the children and organizations in the community." 
The Valentines are continually working to fulfill Gabe's final wish, finding a cure for EB.  At the Action for Jackson fundraiser for the EB Research Partnership last fall, Michael shared what a cure for EB would have meant for their family. "People in attendance donated $275,000 for the creation of the skin-making robot to be housed at the University of Minnesota," Michael said.
An advancement in technology now allows for the development of gene-corrected skin for individual children with EB, which, in conjunction with bone marrow transplants, "provides great hope for returning function to skin and extending the life of children who suffer from EB," Michael said.