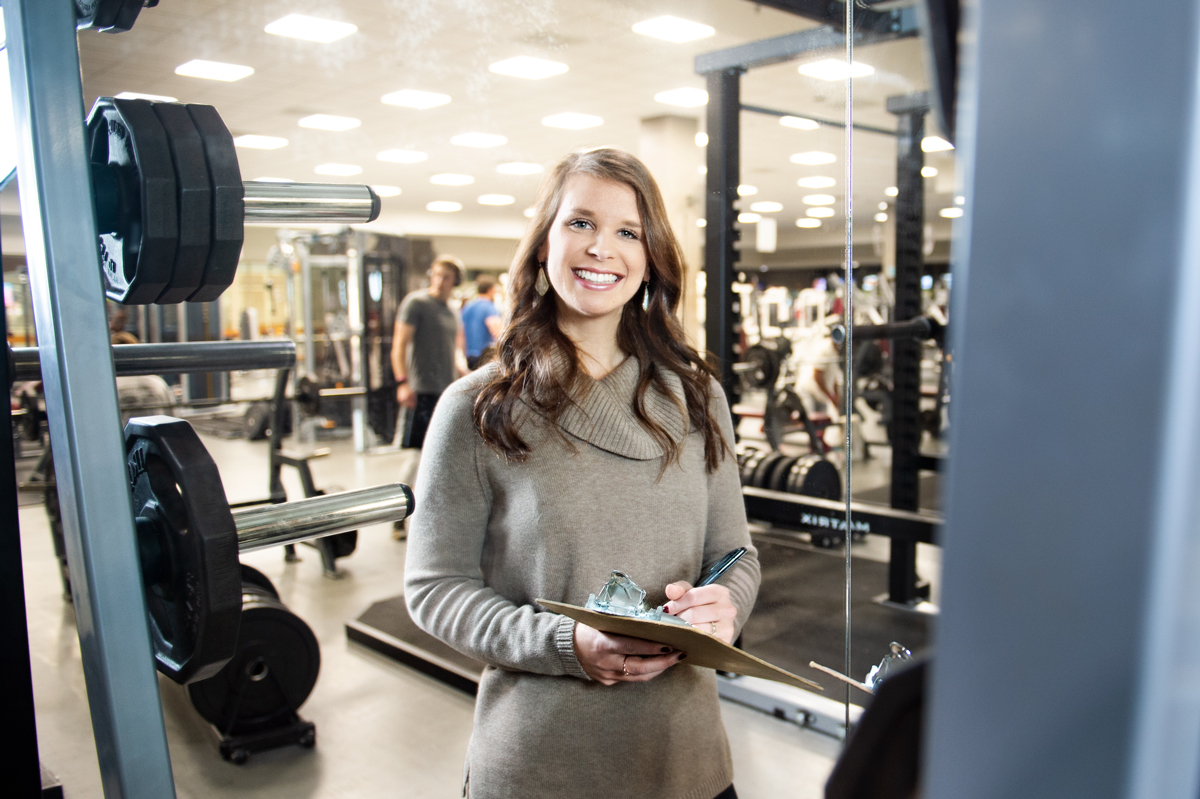 She had played sports since she was a teenager, but maintaining a healthy lifestyle was not always easy or enjoyable for MSU Recreation Fitness Coordinator Julie Kelly. The New Jersey native struggled with body image throughout her high school and college years, a challenge that she ultimately conquered by changing her outlook on exercise. Now in her second year at MSU, she uses her positive mindset to guide others on their journey to self-acceptance.
"Working out was something I thought I needed to live, but I learned to see it as something that gives me life," said Kelly, who holds a bachelor's degree in health promotion and fitness management from Rowan University and master's in exercise science from Texas State University. "I didn't want to depend on exercise. I wanted it to be something that I really enjoyed and was excited to do. My journey with body image inspires me to share the love of working out and to help other people develop a positive sense of self."
With the support of colleagues at the university's state-of-the-art Joe Frank Sanderson Center, Kelly works to engage and empower fitness beginners and enthusiasts of all ages through fun programs and events, such as the Battle at the Lake fitness obstacle course, Body Positivity Week, and Women on Weights instructional seminar.
Last semester, Kelly collaborated with MSU's Department of Health Promotion and Wellness to organize a Fitness on the First event for faculty and staff. Part of the MSU on the Move initiative, the free program offered a health fair and yoga, strength and cardio dance classes to raise awareness of mental and physical wellness options available on campus.
"I want to show people that you don't need to work out to be skinny or pretty, but rather to be healthy," Kelly said. "I think group exercise is a great way to give people that mindset. Research shows students who exercise sleep better and earn better grades too."
Another rewarding part of Kelly's work is developing students into successful fitness professionals. At the Sanderson Center, she supervises more than 50 student employees, personal trainers, Bulldog X group exercise instructors, and strength and conditioning fitness assistants.
Whether through group exercise, weight training, walking or running, Kelly's advice for those starting a new fitness routine is to "start small and do what you like."
"Finding ways to be healthy and happy is so important. Don't force yourself to do something you don't enjoy," she emphasized. "Keep in mind that being healthy has different definitions for different people. Go with what your definition of health means for you. Set goals for yourself and strive to be a better you."