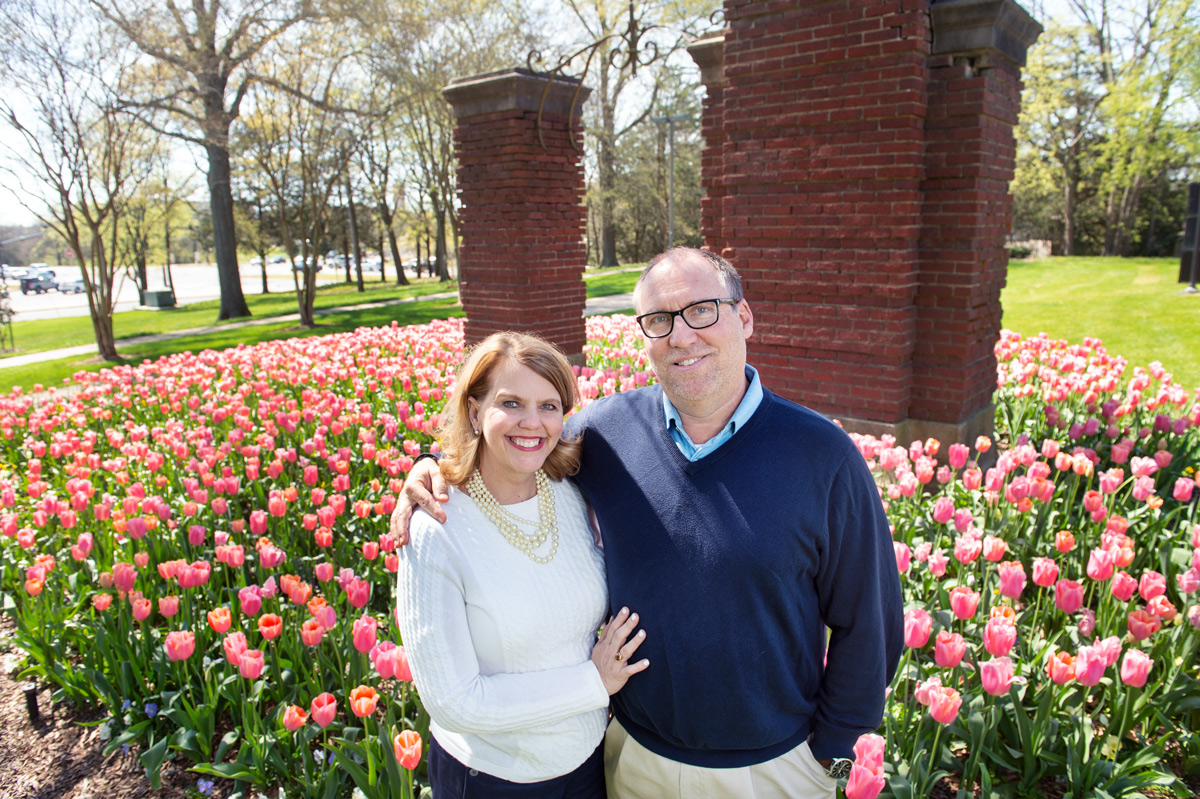 Helping their alma mater operate with excellence drives Jay and Juli Rester's professionalism on a daily basis. Although the husband and wife work in two different departments, they share many things in common as they manage university resources—both human resources, MSU's most important asset, as well as products, services and contracts the university requires.
Jay is a purchasing manager in the Department of Procurement and Contracts, and Juli is a senior human resources generalist in the Office of Human Resources Management. In addition to sharing McArthur Hall, both also work with many of the same departments, particularly in the Division of Agriculture, Forestry and Veterinary Medicine, as they help fulfill the university's purchasing and HR needs.
Mississippi natives—Jay of Greenville and Juli of Brandon—the pair met as MSU students. The couple moved after Jay graduated with a banking and finance degree, but they jumped at the opportunity to return to Starkville about five years later. Juli then completed her management degree with a concentration in human resources.
While Jay was working at Cadence Bank in downtown Starkville for several years, Juli initially joined the School of Human Sciences for several months before transferring to human resources management at MSU nearly 24 years ago. Jay came to the university about 12 years later as procurement card manager before becoming one of two purchasing managers who help employees comply with purchasing guidelines and procedures.
"I enjoy coming to work each day. It's a good environment, and we have a great team in the office," Jay said. "When you understand the purchasing laws and policies, then it's all about following the right procedures."
As an HR generalist, Juli enjoys that no two workdays are the same.
"It's satisfying because you can help employees and departments accomplish their goals," Juli said. Serving as a consultant regarding HR matters, Juli and her colleagues work with compensation, employee relations, employment, new employee orientation, and policies, among other issues.
In 2015, Jay was recognized for earning the Certified Public Purchasing Officer designation awarded by the Universal Public Procurement Certification Council, and Juli recently earned the Senior Professional Human Resources certification through the Society of Human Resources Management.
When they're not focusing on their MSU professions, they likely are focused as MSU fans, enjoying football, baseball and other sports. They also like bringing their Golden Doodle "Henry" to campus for scenic walks.
The new grandparents also enjoy traveling to see their daughter Rivers and her husband Kevin Hughey—both also MSU alumni—along with baby Estelle. Along with visiting family, the couple enjoys traveling for leisure as often as possible, but they're always thankful to return home to Bulldog Country.