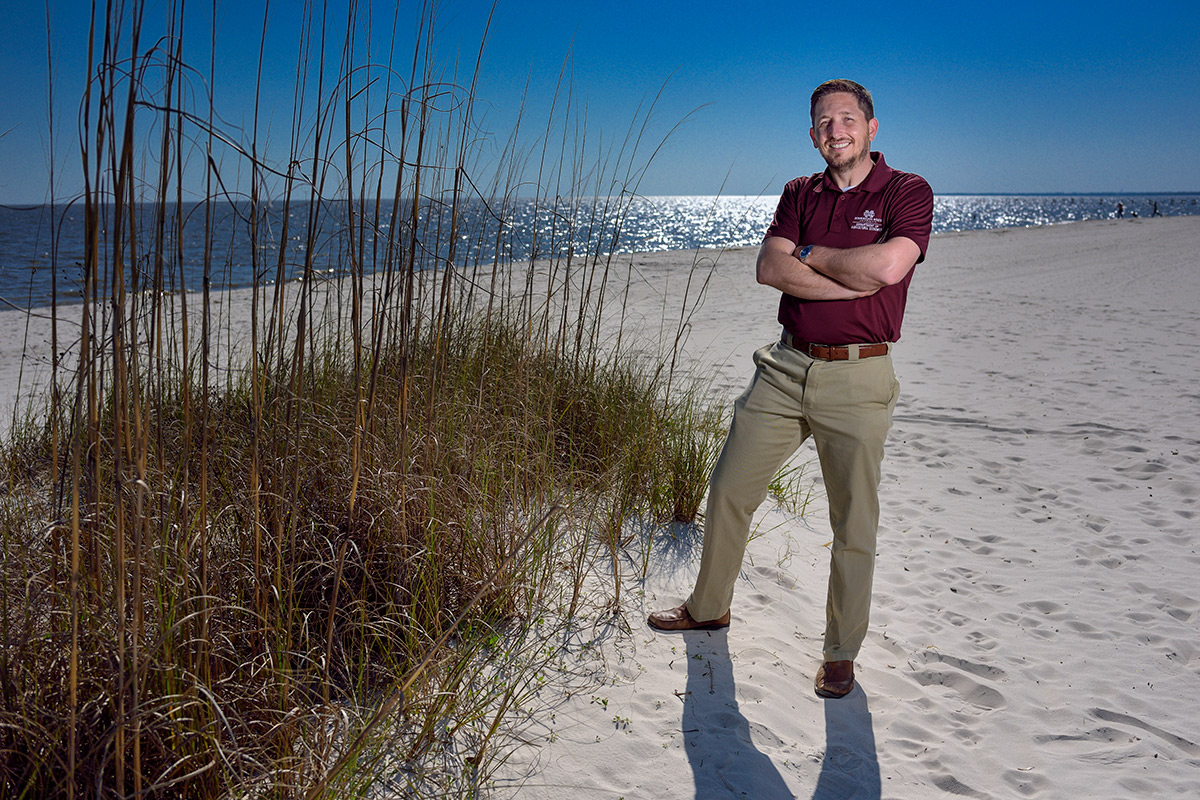 Louisiana native, Dan Petrolia, has always had a love of the coast. That's why, when an opportunity to work on the Mississippi Gulf Coast arose, the agricultural economics professor steered the ship in that direction.
Previously, Petrolia, who also is a scientist in the Mississippi Agricultural and Forestry Experiment Station, called Starkville home for nearly 10 years. Now he splits his time between the John C. Stennis Space Center and the land-grant's main campus. He and his wife of 16 years, Angie, and his kids Maria, Anna, Ellie, Blaise, Lucy, and Dominic reside near the coast.
"I've always had an affinity for all things coastal. My wife and kids are the same way. We love being around the water, going to the beach, and eating seafood," he said.
When it comes to choosing a research topic, Petrolia flows with the tide.
While his focus is environmental economics, he studies anything from oysters to flood insurance as long as there is a coastal connection.
"I appreciate any project that has an interesting research question, knowing that there is someone out there who needs an answer," he said. "I'm willing to jump from one topic to another, which usually means having to change my research methods, but I always feel like I'm learning something new."
Petrolia said environmental economics, in general, involves applying standard economic tools to questions centered on the environment, while recognizing that environmental goods are a little different since they are produced by nature.
"Oftentimes, environmental goods are what we call public goods, which means nobody owns them and they are used by everybody simultaneously. Public goods can include things like the air you breathe, the beach you walk on, or oyster reefs," said Petrolia. "For instance, when it comes to oysters, the market may undervalue them if it recognizes the benefits of eating them but fails to recognize their role in protecting the shoreline and providing a habitat to blue crabs and redfish (which we also like to eat).  Environmental goods also tend to get over-used."
Petrolia's journey to becoming an environmental economist studying coastal systems began in Minnesota. After he earned his bachelor's degrees in political science and poultry science, and a master's in agricultural economics from Louisiana State University, he went to the University of Minnesota as a doctoral student, where he studied international trade and environmental economics.
"I picked a dissertation topic that had an environmental flavor. Once I moved back South, I had the opportunity to explore the field of study to answer questions about coastal resources."
The research projects Petrolia enjoys the most are those that involve his graduate students.
One such project involved conducting taste tests and online surveys to find out what Gulf and out-of-market consumers were willing to pay for branded Gulf oysters.
Between the taste tests and interacting with students and taste panelists, Petrolia said that this was one of his most enjoyable research investigations.
"It's exciting to see my students grow in their research skills and learn new things. I am so proud of them, and they have really been the highlight of my research," he said. "As a teacher, the biggest thing for me is getting students to take ownership of their studies. They are in charge of the ship. I see myself as their navigator, the one that is helping them to stay on the right course and not run aground."