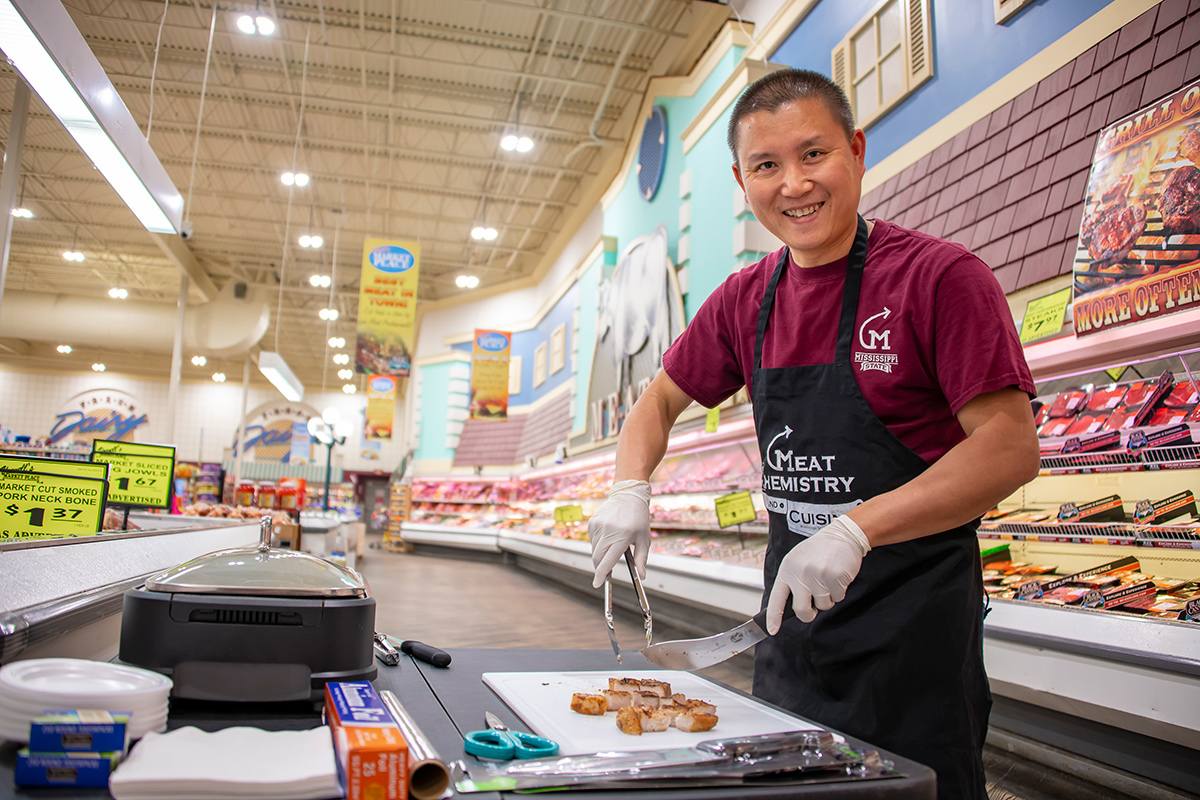 Thu Dinh, an assistant professor in Mississippi State's Department of Animal and Dairy Sciences, goes by a few different names—the educated butcher, the meat chemist and the meat man.
His passion is educating others about meat products through a program of his own invention.
"One thing I really enjoy doing is going to Vowell's Marketplace and talking to consumers about meat products," he said. "I talk about meat quality, safety and selection. I think knowledge should not just stay on paper. Scientific papers are great, but most consumers aren't going to go find a scientific paper to read. I enjoy going out and presenting them with researched information to make the knowledge more readily available."
Dinh, who assists with the student Meat Chemistry and Cuisine Club alongside Assistant Professor Derris Devost-Burnett, has developed a program called "Ask the Meat Man" that provides students with the chance to talk with consumers in the supermarket.
"The students learn about meat products and how to talk with consumers in a market setting," he said. "Then they come with me to the supermarket and have their own opportunity to wear the meat man's hat, per se."
"I did not have a background in livestock or meat science," he said. "I'm not your typical animal scientist at all. I didn't grow up participating in meat judging or animal judging competitions like many people in this field, but after seeing the process up close during an internship, I became fascinated with meat science. That's why, when I came to the U.S. to pursue higher education, I chose a master's in the field."
Dinh received his master's and Ph.D. in meat science from Texas Tech University. He then moved to Starkville with his wife and daughter, and began working at Mississippi State in January 2014.
Research is one of his passions. As a meat scientist, Dinh studies the cycle from start to finish, from how to best raise livestock for consumption to grow-out, transportation, harvest, processing and preparation.
"I'm a self-trained analytical chemist, and I analyze the compound that gives meat its flavor," he said. "Beef flavors come from two sources. The first is intramuscular fat or the marbling of the muscle, and the second is water-soluble compounds. Both are oxidized or degraded during cooking to form cooked flavor compounds."
As an example, a USDA Prime ribeye steak is a beef cut with the highest quality grade that derives most of its buttery flavor from marbling during dry heat cookery such as grilling. On the other hand, a roast is an example of water-soluble compounds that are degraded in moist cookery to create a robust, flavorful dish.
While Dinh's main role at MSU is mostly focused on research for the Mississippi Agricultural and Forestry Experiment Station, his 30 percent teaching appointment gives him a chance to bring his enthusiasm for flavor into the classroom.
"I'm always trying to challenge my students to think and explore beyond my lectures, as well as instill in them a passion for the subject matter," he said. "I always put this quote in my lecture slides, 'Meat—the best chemistry you can taste.'"