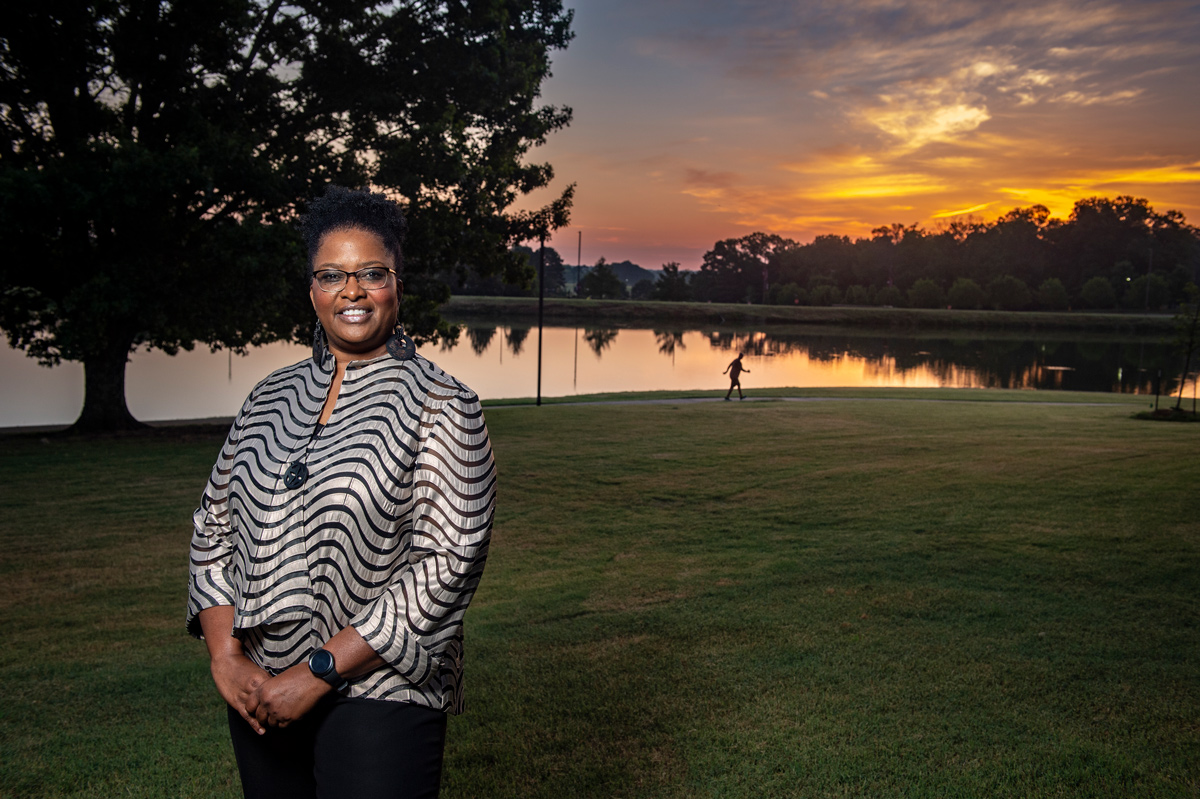 With a focus on details, no-compromise attitude and heart for service, Jennie B. "Gina" Griffin makes it her daily mission to lead by example.
As MSU's custodial services manager, the Jackson native oversees 113 full-time employees who provide a clean and comfortable learning and work environment for students, faculty, and staff, and an inviting one for visitors.
"I like to compare what we do to a relay race. If grounds is the first leg of the relay, custodial is the second leg," Griffin said. "We want to ensure buildings are cleaned with a spirit of excellence. We want to make a difference in the lives of the people we serve, and to do that, you have to have passion and empower your people."
Griffin, a self-described "facilities guru," said she is grateful for the chance to work "with super people at the premier university in the state of Mississippi." Her mom was a custodian, and she was introduced to her mom's important work when she was 11 years old. Griffin also was inspired by her mom to take a proactive approach to work.
"My mom would constantly drill into me and my siblings, 'Don't put off tomorrow what you can do today' and 'Let your word be your bond,'" she said. "I didn't plan on getting into this line of work, but I think it was because of my second-nature interest in upkeep and facilities. It's the most challenging job I've ever had, but one of the most enjoyable."
Griffin holds a bachelor's degree in human sciences from the University of Southern Mississippi and has worked in management since age 24. Before coming to MSU, she worked in higher education for 23 years, with her most recent appointment being director of operations at Jackson State University.
"I've always wanted to work in the Southeastern Conference, so it's awesome to be a part of it," she said. "I love our athletic facilities. When I first pulled up on the Starkville campus, I saw the 'This is Our State' banners. That to me said 'ownership.' From a custodial standpoint, that describes the work our staff does too. When people visit, we want them to see us as the standard."
To keep campus in tip-top shape, Griffin explained that the Campus Services Division has implemented a training system to educate the custodial staff on equipment and best practices. Communication and commitment, she said, are two important keys to her team's success.
"We want to see consistency throughout campus because that's what our most prized possession—the students—expect and deserve," she said. "I like to use every opportunity as a teachable moment, so the staff can give me feedback and hear my heart. I'm very transparent with them because I believe in strength in numbers."
Griffin said her primary sources of strength are God, her son Elijah Cooper Griffin and the "gorgeous" sunrises she observes every morning at MSU's Chadwick Lake.
"Watching the sunrise is my moment of meditation before I come into work," she said, adding with a smile, "Some people chase tornadoes. I chase sunrises."