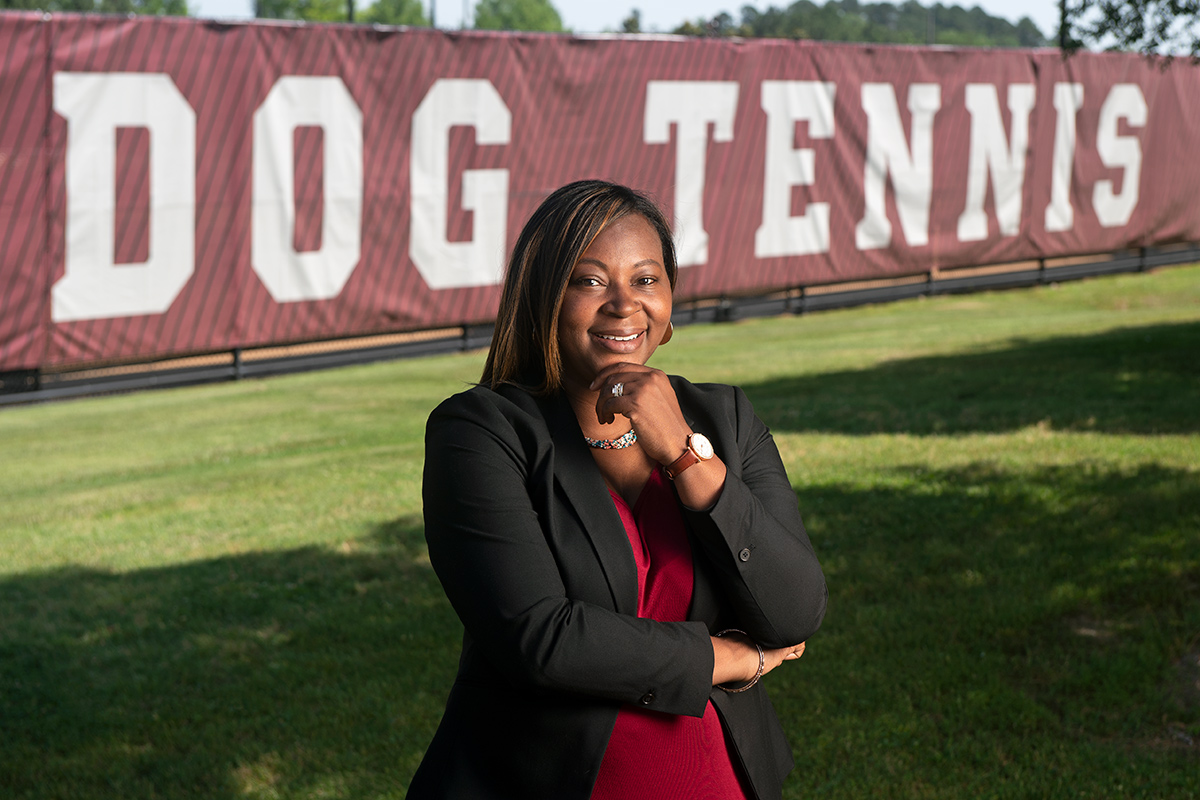 For student-athletes of any sport, a healthy mind and body go hand in hand. Angel Brutus said this concept is a guiding principle behind her work as MSU Athletics' director of counseling and sports psychology.
"I'm passionate about the well-being of student-athletes, and I want to have a positive impact on their overall experience," she said.
Brutus's interest in working with student-athletes stems from her years at the University of Tennessee-Knoxville, where she earned bachelor's and master's degrees in speech-language pathology and counseling.
"I was always a go-to person for friends who were student-athletes in need of guidance," she said. "They felt they had to put on a face, but I created a safe space and gave them the opportunity to be authentic, so they could get the help they needed and not just on the surface level."
Brutus, who holds a Ph.D. in sport and performance from the University of the Rockies in Colorado, came to MSU in 2018 after managing a private practice in Atlanta, Georgia. There, she provided clinical and sport performance services to individuals, teams and organizations.
"Starkville is a nice place for me and my husband to raise our three daughters," she said.
Like their peers, student-athletes enjoy a sense of independence in navigating the college experience, Brutus said. However, they also have to meet heightened responsibilities associated with athletic performance.
"Athletes want to get better at their craft, and the clinical and behavioral services we provide can help them improve their ability to manage stress and anxiety, and better adjust to their role on a team," she said. "We want to help them develop the interpersonal communication and independent thinking skills, discipline, commitment to detail and a sense of gratitude for the process, and not be so focused on the outcome."
Understanding the different environments student-athletes navigate on a regular basis is an important part of Brutus's work. Along with conducting one-on-one meetings, she visits athletic facilities to observe student-athletes' interactions with coaches and other personnel during practices, strength and conditioning sessions, and rehabilitation and treatment. She also places strong emphasis on nurturing relationships with campus partners, such as the Longest Student Health Center, Department of Health Promotion and Wellness, Student Counseling Services, and the Psychology Clinic.
"Anytime you deal with the human experience, it's important to practice what you preach, so I am always working to increase my institutional knowledge and refine my skills," Brutus said. "I'm all about that team concept of working together to get better."