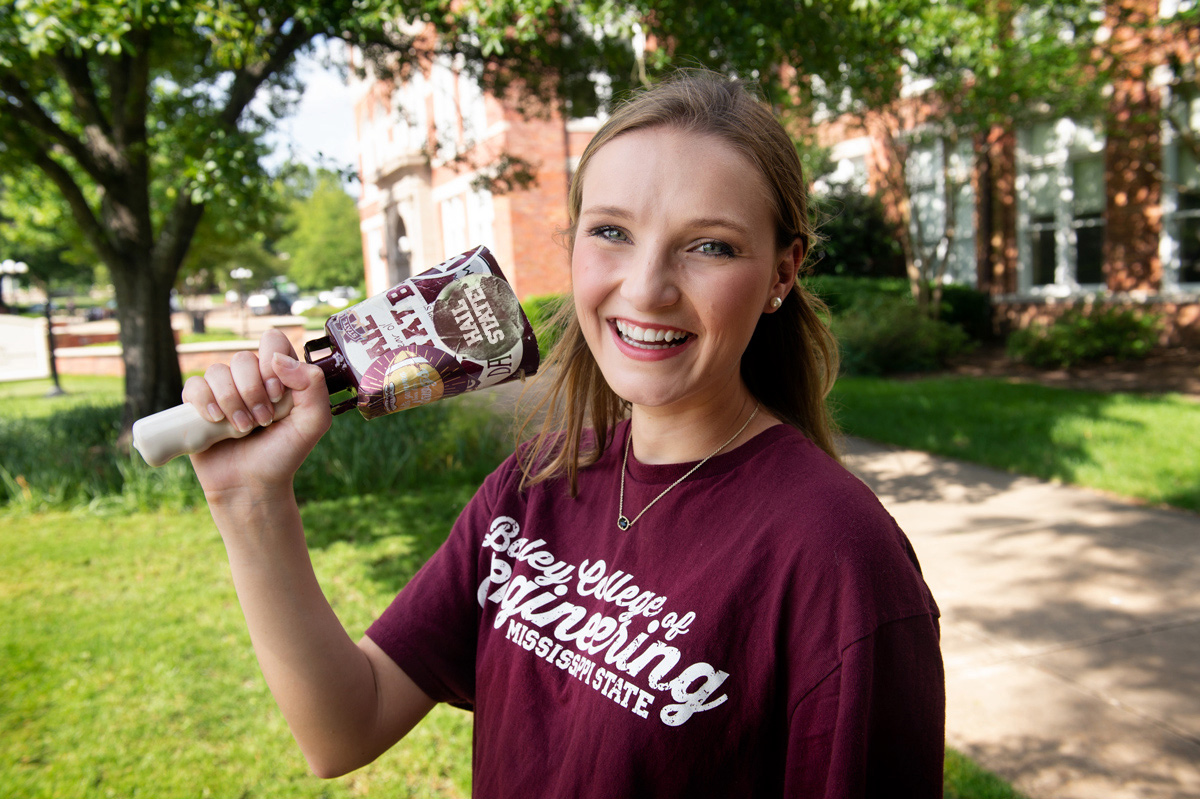 Many students face uncertainty about their future career path and have difficulty selecting a major. Senior industrial engineering major Caroline Bearden had a few false starts before she was able to find the field that fit her perfectly in the Bagley College of Engineering.
"I've had four different majors over the past four years. And that doesn't include the semesters that I was officially undeclared," Bearden said.
A native of Hoover, Alabama, she first enrolled at Mississippi State as a freshman in the fall of 2015. After exploring three different majors, Bearden's mother suggested she look into engineering. She talked with a family friend who is on the engineering faculty at the University of Alabama at Birmingham and realized it might be something she would enjoy.
Halfway through her junior year, Bearden believed she had found the right field of study. "When I came back to school at the start of the spring, I walked into Dr. (Lesley) Strawderman's office and said 'I want to change my major to engineering.' Thankfully, she didn't look at me like I had two heads," Bearden said. "She just said 'OK! Let's figure out where you are and how to move forward.'"
Most of her core classes were applicable to an engineering degree, and once enrolled in industrial engineering, Bearden jumped in with both feet. She joined MSU's Institute of Industrial and Systems Engineering student chapter and currently serves as that organization's treasurer. She's already taken advantage of the Bagley College of Engineering internship program to spend two summers with Fed Ex in Memphis.
She also joined an MSU research project that studies how athletes and coaches can better utilize data from wearable technology to structure practices.
"I've been working with the soccer team here, looking at the data they get from their wearable devices," Bearden said. "My goal is to help explain this data to coaches who don't necessarily have a lot of time to pore over the numbers. Hopefully, we can use the data to help them determine how in shape their players are, how hard they're working during practices and how these things affect how they perform in a game."
Declaring engineering as a major late in her collegiate career has been an adjustment, but with the help of the industrial and systems engineering faculty, it's one that Bearden has taken in stride.
"Engineering has made me think in a different way," Bearden said.
"Everyone in ISE has been extremely helpful and they've really made my whole experience a lot better," she added. "I love it, and I've finally found something that I want to do."
Besides, she said being in school for an extra year isn't all bad.
"I'm only going to need one more year to graduate," Bearden said. "But that also means one more football season."