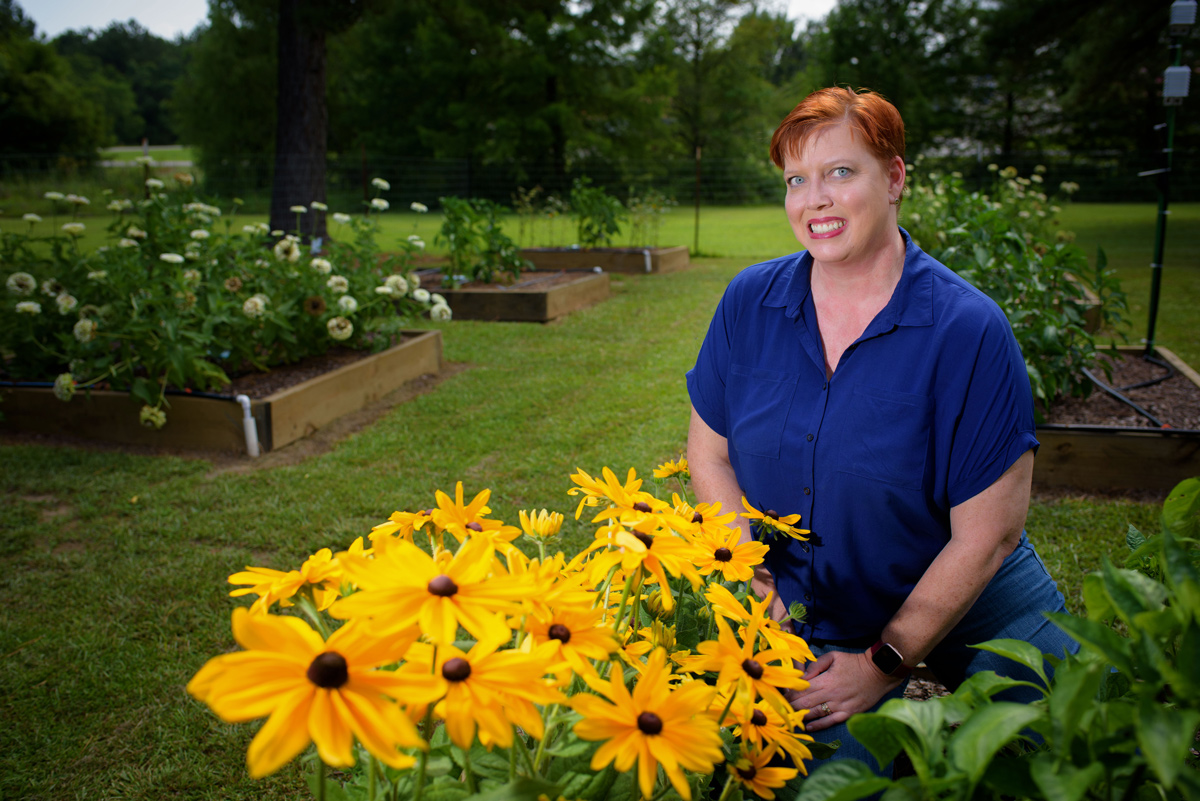 For most of her youth, Christine Coker wanted to grow plants in space.
"I wanted to be a specialist on a NASA mission," the Mississippi State University Extension Service horticultural specialist recalls. "Although I didn't exactly go that route, I feel like I made a curve in the road, not a complete turn off the path. I continue to focus my work on feeding people. It's my passion." 
The associate research and Extension professor of urban horticulture has been with the MSU Coastal Research and Extension Center since 2001. She also is the research leader of the Beaumont Horticultural Unit in Perry County. Her research interests include commercial vegetable production, home gardening, green roofs, school gardens and community food systems.
Coker splits her time between field research with the Mississippi Agricultural and Forestry Experiment Station, writing Extension publications, and coordinating workshops. From a patio container to a small farm, she works with many groups of people interested in producing fresh, affordable food.
"One of the reasons I love what I do is because every day is different. I may be at Beaumont working at the station, at a garden club discussing backyard gardening, working with Master Gardeners, training graduate students, or visiting growers," she said. "Depending on the day of the week or the hour of the day, my role changes, but everything I do leads to educating people about growing food."
James DelPrince, Extension floral design specialist, said many of the people Coker serves know her as 'the Veggie Doctor.'
"She has taught and influenced thousands in Mississippi and beyond on how to grow their own food," DelPrince said. "She has an outgoing personality and the ability to connect people in the maze of horticulture."
Coker moved to Cross Plains, Tennessee, from Nashville when she was 10 years old and was introduced to 4-H, a life event she described as the first that led her toward an interest in agriculture. It was during her time as an undergraduate at the University of Tennessee-Martin when her interest in plants was kindled.
"I wanted to study natural resources, but as a transfer student I had to do late registration and the classes were already full. I took my first plant biology class and was hooked," Coker said. "I majored in biology and did an undergrad research project on environmental stress effects on redbud trees."
She continued her studies in biology at Austin Peay State University, where as a graduate student she studied old-growth oak forests in the Land Between the Lakes National Recreation Area. She learned that she wanted to pursue a career that combined her plant research and enthusiasm for service. She would go on to earn her Ph.D. in horticulture at Auburn University.
Coker is past president of the board of directors of Loaves and Fishes, a community kitchen and local food ministry. She also is involved with the Mississippi Food Policy Council, Mississippi Farm to School Network and Lighthouse Business and Professional Women's Association.
In her free time, she enjoys reading, scrapbooking, traveling and spending time with family. She lives in Biloxi with her husband, Randy.