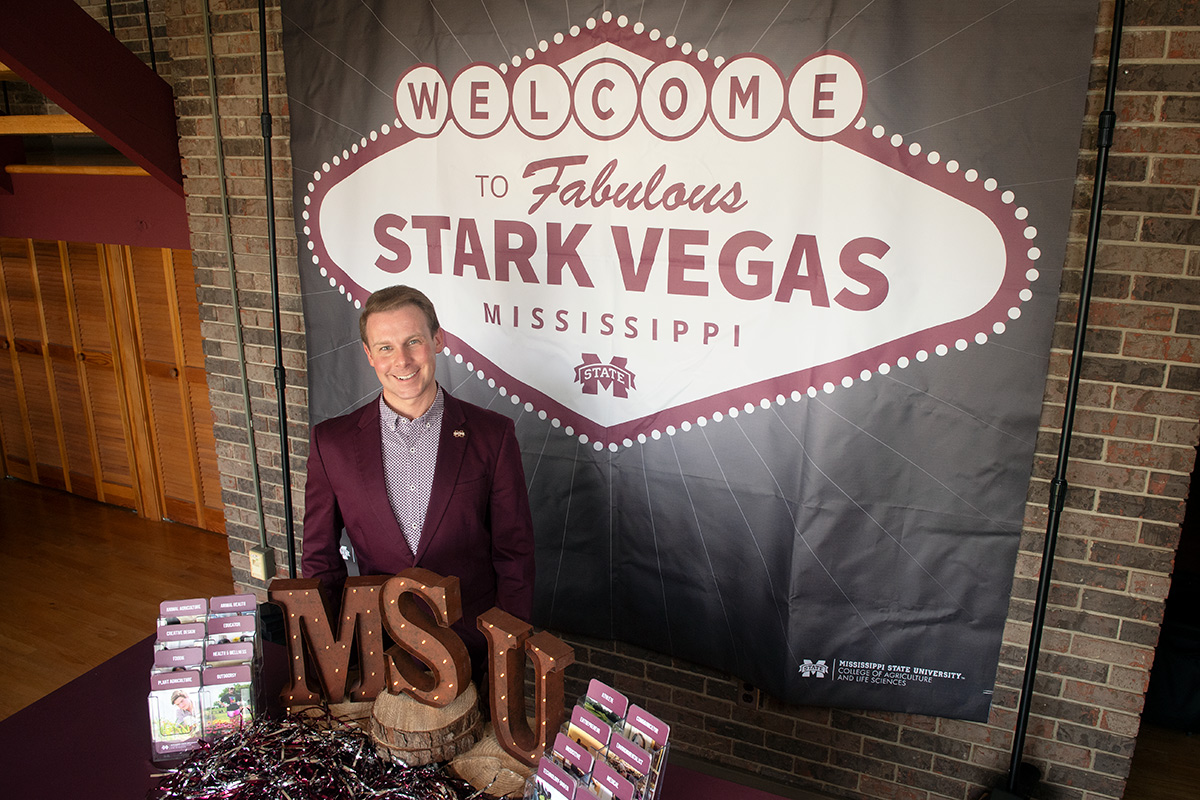 Cory Bailey is passionate about recruiting students into MSU's College of Forest Resources. Serving as admissions coordinator, Bailey informs students about the great options available in the college and then guides them through the enrollment process to ultimately become a part of the Bulldog family.
While Bailey is the face of admissions for the College of Forest Resources, he also recruits for the College of Agriculture and Life Sciences.
"Once students have been admitted, I provide additional information on their particular major, so they can decide whether it's the best fit for them," Bailey said.
Bailey also spends countless hours on the road, logging miles and miles across the U.S. and teaching prospective students all about CFR and CALS.
During college, the MSU alumnus worked in athletic academics and the ticket office, where he still works at various times throughout the year.
"I love the behind-the-scenes perspective working there," Bailey said. "This past fall, I worked the player parent gate, which is extra special because I met the foundation and the backbone of student athletes and got to celebrate victories with them from week to week."
Another passion for the Calhoun City native is music. Bailey said it's always been a part of his life and, at age 7, his parents enrolled him in piano lessons.
"I grew up in a small country church. When I was 13, our church's only piano player was the preacher's wife. When the pastor got a job elsewhere, the church asked me how many hymns I knew, and I've played in churches since," said Bailey, who currently plays at Artesia Baptist Church.
Bailey said music also is a way for him to unwind.
"Growing up, my mom could always tell when I had a lot on my mind because I would just go to the piano and play," he said. "That's something I still tend to do. I love to go in the MSU Chapel and play when no one is there. It's a rejuvenating, meditative experience."
A transfer student from Itawamba Community College, Bailey received a Bachelor of Arts in communication in 2011, a Master of Science in counselor education in 2013 and has begun a Doctor of Philosophy in educational leadership.
As he strives to mentor the next generation of Bulldogs, he's inspired by mentors who helped him along the way and said he considers his career more of a calling than a job.
"At ICC, my adviser, Dr. Bronson Prochaska, made me realize I could see myself helping students in a similar way one day. Kelli Anthony advised me in the MSU communication department, and we built a great relationship and stay in touch even today," Bailey said. "The way they each invested in me as a student and listened to what I wanted to do, that passion helped springboard me to take this path."
Bailey mentors 17 current CFR student ambassadors who help recruit new students. He also helps lead the 48 ambassadors in CALS.
"They are the best and brightest in the colleges and volunteer to share their experiences with prospective students," Bailey said.
Bailey's favorite part of the job is watching students grow into leaders.
"I've been here long enough now that I'm seeing students go from timid high school students to getting admitted into medical school or veterinary school, or continuing on to graduate school or pursuing a career they love," he said. "I get to see them walk across the stage and then celebrate those moments with them."