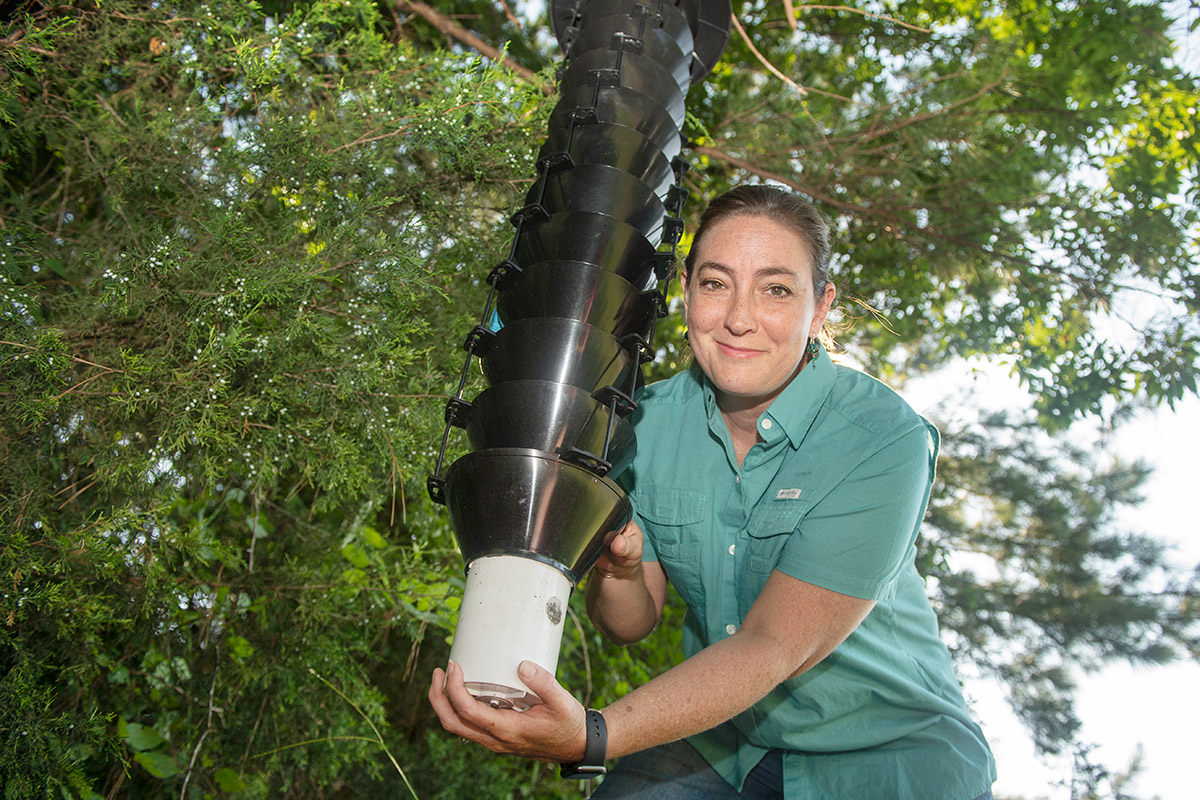 When you're married to an entomologist, you might not get flowers on your anniversary, but chances are you could have an insect species named after you.
That's one claim to fame Jennifer Seltzer can make. The senior research associate in entomology has had the grasshopper Melanoplus seltzeri named after her since husband JoVonn Hill, also an MSU entomologist, discovered the species in Hot Springs, Arkansas. He chose the name to honor Seltzer while serving as a nod to the insect's location.
Seltzer has plenty more insects to worry about beyond her namesake. She has a lead role in the Mississippi Entomological Museum Screening Center. The Mississippi Agricultural and Forestry Experiment Station center, funded by U.S. Department of Agriculture's Animal and Plant Health Inspection Service, provides taxonomic services for the eastern United States, analyzing samples for up to 12 states and evaluating more than 10,000 samples each year.
The center is the first line of defense for invasive agricultural insect pests.
"We try to identify any invasive species that gets past a port of entry or through an airport," Seltzer said. "We focus on insect species that impact forestry and forest products, row crops, horticulture and other agricultural commodities."
Seltzer said the job requires precision and attention to detail, two skills she brought to entomology from other fields, namely art and anthropology.
A native of Gallatin, Tennessee, she grew up across the U.S. because her father was in the Navy but returned to her home state where she began college as an art major. She found her way to MSU and earned a bachelor's in interdisciplinary studies in chemistry, biochemistry and biology, before earning a master's in applied anthropology. While she has completed coursework for her doctoral degree in entomology, it is on hold while she focuses on the screening center.
She's worked at MSU for 19 years—10 as a full-time entomology staff member. In addition to working at the screening center, Seltzer manages research projects for MAFES, often collaborating with her husband.
"Watching our team grow professionally is my favorite part of the job," she said. "Oftentimes, we hire someone as a freshman and see them take on more responsibilities. By graduation, they've come away with a positive experience, and I'm happy to be a part of that."
The former art major still paints in her free time, and she and Hill have three children ages 19, 10 and 8, with the eldest currently attending MSU.
As both a scientist and an artist, Seltzer sees the two disciplines as deeply intertwined.
"I don't believe that art and science are separate paths," she said. "I think you're a better scientist if you have a creative aspect to your life so that you can always be looking for that door of opportunity to explore things. And then, I feel like you can push the limits of art when you understand science, biology and anatomy better."