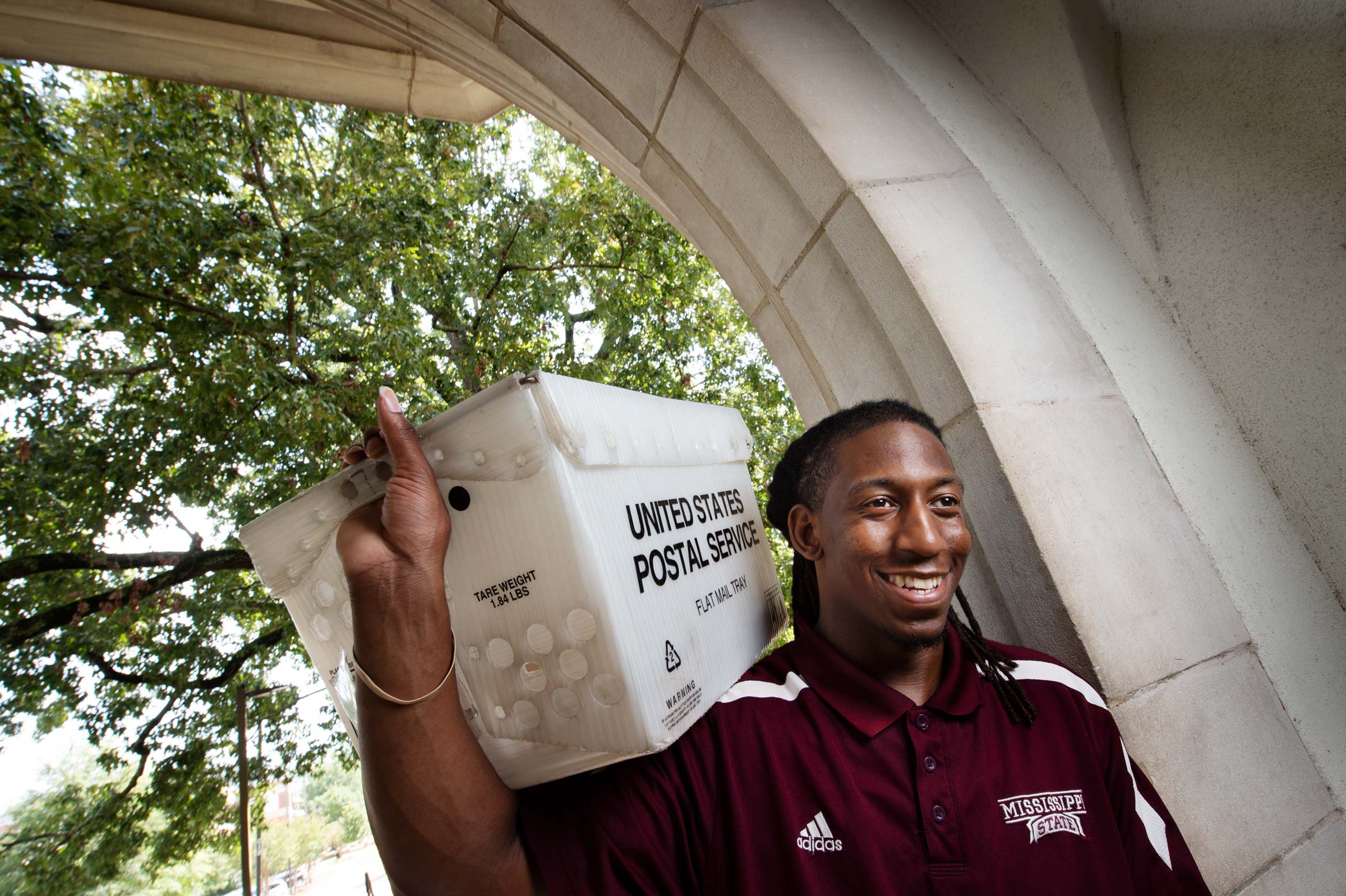 There's one face on Mississippi State's main campus that can be counted on time and again for a smile.
J.R. Love has been a mail and delivery clerk at MSU for only three years, but he has built a reputation as one of the nicest people on campus during this time. He said he gets a lot of compliments on his smile, and his friendly demeanor has led those along his mail route to look forward to his twice daily stops. Even though his route includes about 85 locations and his visits to each building are swift—he completes a round in as little as 45 minutes—he said he tries to brighten people's day at every turn.
"I don't know how I impact people by just delivering mail, but people seem to love it," he said.
Sometimes called by his last name, Love said he tries to remain positive, even on a rocky day. "If something is making me frustrated, I try to remain calm and don't give it too much of my energy," he said.
He remarked that in visiting so many campus locations, it wouldn't be right to "keep bringing bad vibes over and over." Instead, he enjoys being known as a friendly professional. "You never know what someone's going through, so just making them smile can help," Love said. He likes seeing new faces, meeting new people and learning about different cultures represented on campus.
The job is a lot of work, but the demands are well suited for Love. While he constantly is on his feet and moving, as well as transporting heavy loads, his background in sports has conditioned him to keep up with the pace and strenuous tasks.
At West Oktibbeha High School, Love played football, baseball, basketball and ran track. "I was always into something," he said. "If it wasn't sports, it was academics," he added, describing his involvement with the Beta Club, Future Business Leaders of America and Future Educators of America. He also was involved with 4-H for many years.
His sports background additionally led him to study kinesiology at Mississippi State, and he is currently taking classes through the tuition remission benefit for employees, which pays for up to six hours each semester. "I always like learning about the body and what makes it work," he said.
In his spare time, he enjoys listening to all genres of music, as well as cooking. He learned culinary skills in his previous job at the Templeton Athletic Academic Center, where he was an action station chef before joining University Mail Services.
For Love, each day is a new opportunity to keep on "spreading the love because that's what we really need the most these days," he said.
"I'm going to keep on helping people any way I can."