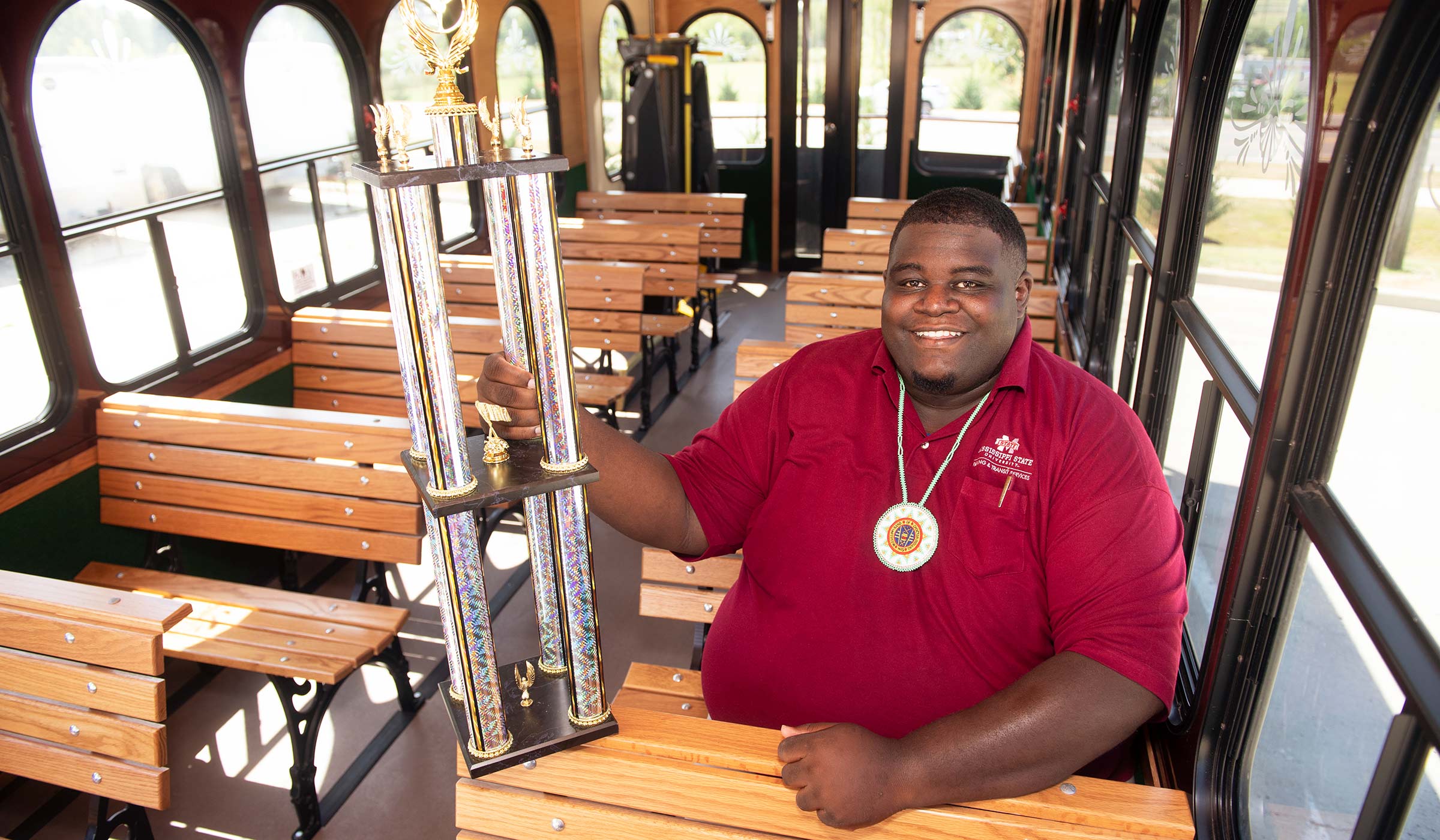 Mississippi State's most competitive driver has a cruising speed of 30 miles per hour.
Taquantis Koger, a campus transit bus operator with the MSU's Transit Services, represented the university during the Mississippi Public Transit Association's annual "Roadeo" in March.
The obstacle course challenges drivers' ability to turn, parallel park and maneuver through cones in a serpentine fashion—all under time constraints and observation by an event official.
Koger won first place, although he had expected to congratulate one of his coworkers who also competed.
"When I won, it let me know that if you try hard enough, anything is possible," said Koger, who also drives for Starkville-MSU Area Rapid Transit, or S.M.A.R.T.
Koger attributed his win to the power of teamwork. The MSU drivers walked the course together the day before the competition and encouraged one another at the final lineup. Koger's success at the state competition allowed him to advance to the National Community Transportation Roadeo in Palm Springs, California in May.
Koger connects Starkville's rural areas with the rest of the SMART system. His usual route—Boardtown North—includes stops at OCH Regional Medical Center and J.L. King Senior Memorial Park. He said he looks forward to swapping stories with his regular passengers and particularly enjoys the elderly community members who take his route daily.
"When they get to ride somewhere, they feel part of the program, too," Koger said.
When he is not driving, Koger is a self-described "country boy" who enjoys being outdoors, especially fishing and tending to okra and greens in his garden.
A Crawford native, Koger grew up about 20 minutes away from MSU and always admired the university and its focus on education and research. He envisions himself working for Transit Services until retirement and would like to advance along the career path, but he said offering his passengers a dose of optimism will always be his main priority.
"I want to show my riders a smile and make people's day," Koger said. "Just a smile and conversation, even speaking to a person, can make them feel a little better, and that's my whole goal."