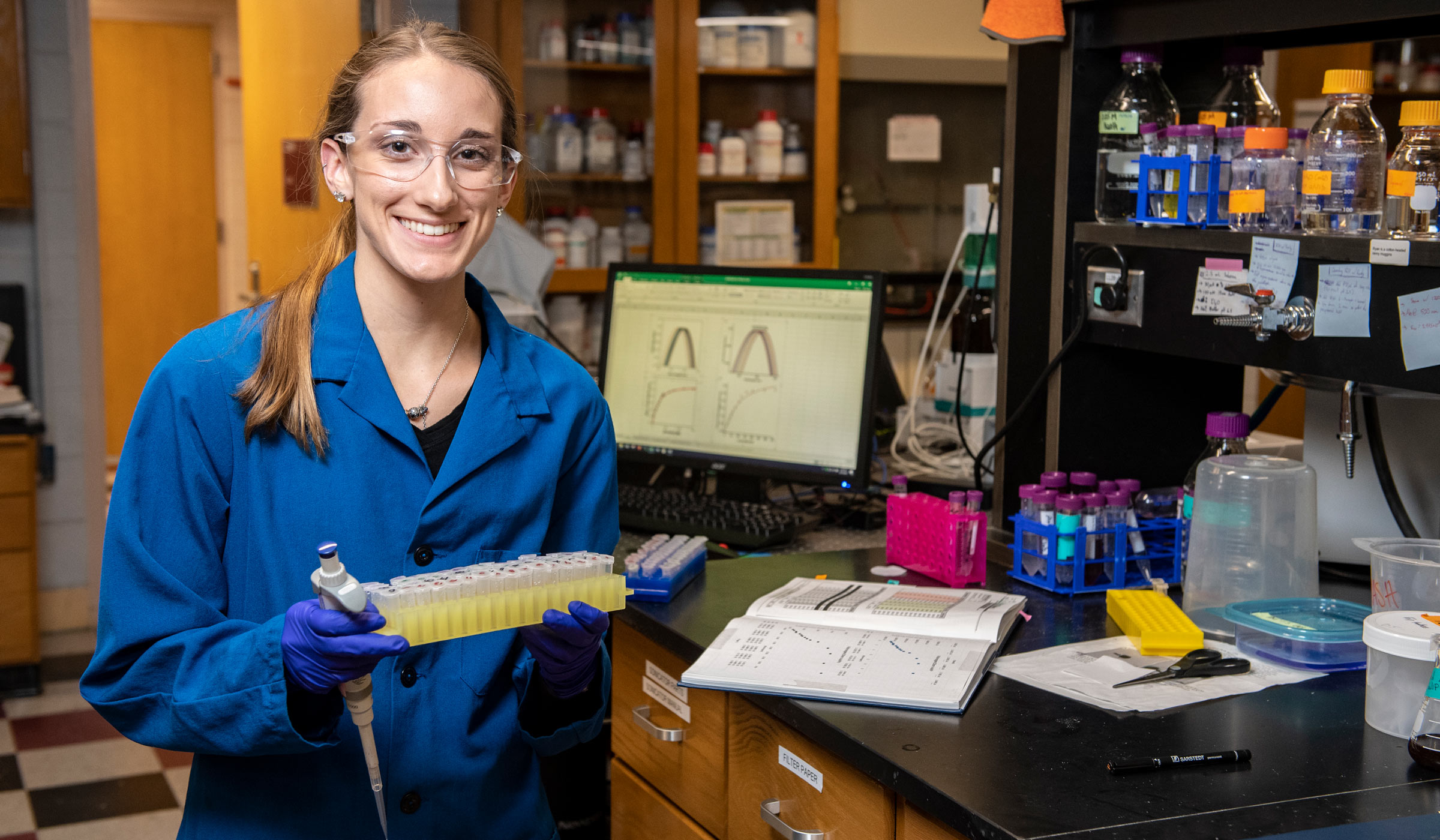 Mississippi State junior chemistry major Emily Chappell traded the southern heat for a Scandinavian summer this year.
The Vancleave native spent three weeks studying alternative energy sources, geothermal, hydroelectric and trash-to-energy plants in Iceland, Denmark, Sweden and Norway through the Alternative Energy Study Abroad program, supported in part by MSU's Judy and Bobby Shackouls Honors College.
With a drive to learn and succeed that sent her to the top of a Denmark windmill to investigate harnessing wind energy, Chappell is a recipient of the College of Arts and Sciences' top scholarship—the Betty and Ralph Alewine Endowed Merit Scholarship, awarded to high-achieving students studying natural sciences. The four-year award is earmarked for those with "strong scientific interest and capability" and also provided some funding for her study-abroad experience.
Chappell said the recent trip allowed her to learn about alternative energy sources from countries with a reputation for being energy efficient.
"These countries provide a great example of how society can become clean and environmentally friendly."
"I was able to see the impact that chemistry research can have on the daily lives of people around me. This gave me confidence in knowing what my future holds. I know that pursuing chemistry research is the right path for my life now because of the insight I gained from traveling." 
Chappell is a College of Arts and Sciences Ambassador, a member of the Shackouls Honors College, a Supplemental Instruction team member for Physics II, an officer in the Student Members of the American Chemical Society, and an undergraduate researcher in the lab of Nicholas Fitzkee, associate professor of chemistry.
She also is the recipient of the S-STEM scholarship, awarded by the National Science Foundation, which provides a community of STEM scholars and mentors in mathematics, chemistry and physics.
"The chemistry department and SMACS have been family to me. CASA and SI have made me feel supported and valued by the university," Chappell said, noting the opportunity for undergraduate research was one reason she chose MSU.
"Mississippi State University continues to believe in me," she said. "I have felt an overwhelming amount of influence and support from the organizations I am involved in."
With plans to graduate in 2021, her goals include attending graduate school until she earns a Ph.D. in chemistry.
"I hope to lead cutting-edge research and become a great research scientist to make important contributions to the field of chemistry," Chappell said.