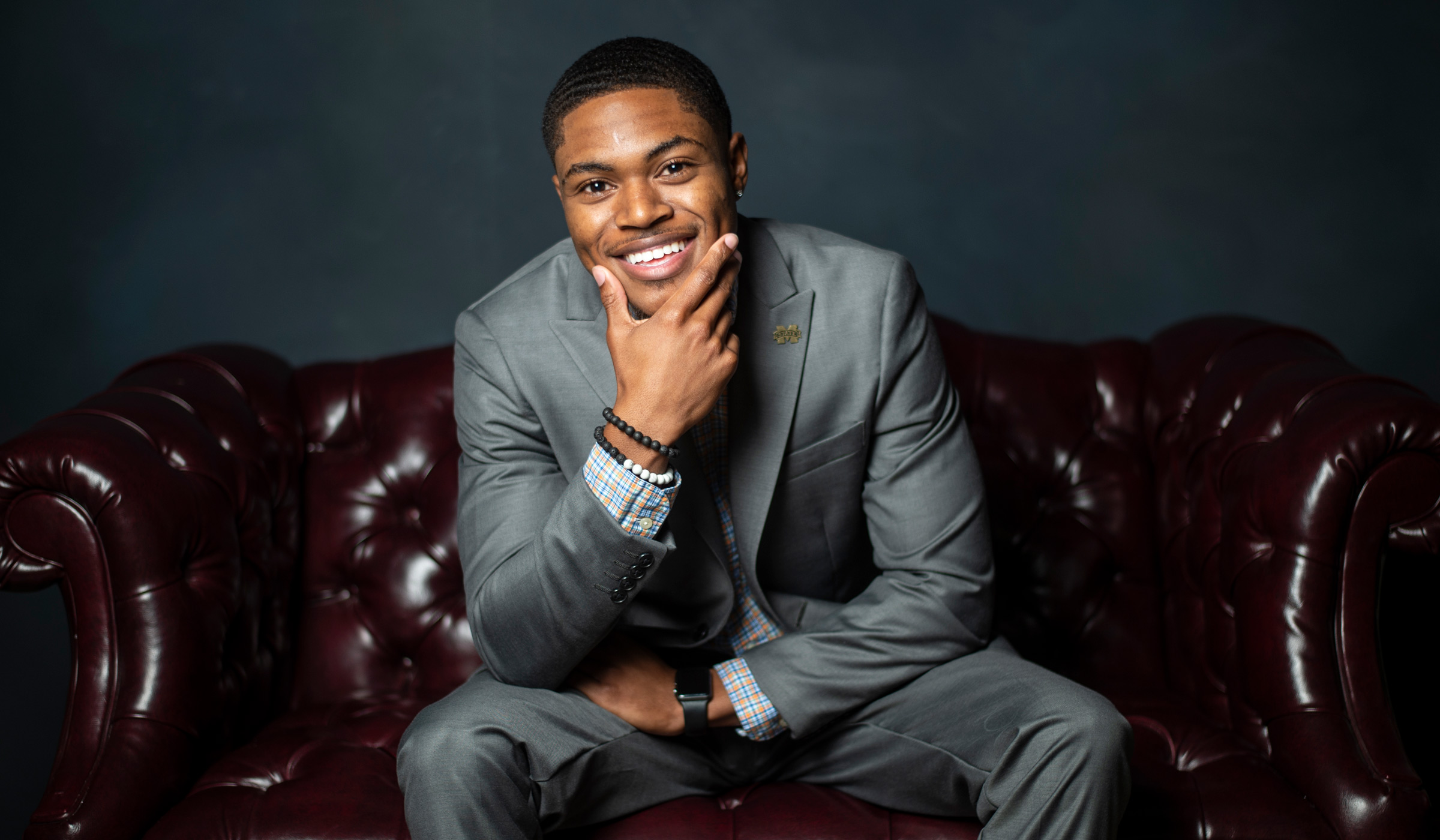 Greenville native and MSU senior Caleb Jenkins is no stranger to hard work—he helps his father maintain the family farm.
An MSU agribusiness management major, he has been balancing farm responsibilities with attending college classes and even providing leadership as president of MSU's Minorities in Agricultural, Natural Resources and Related Sciences chapter, or MANRRS.
Born into the fourth generation of a rapidly expanding family farming operation, Jenkins watched his father grow the farm from around 600 acres to triple that size and planted in corn and soybean crops.
"Growing up, I knew the production side of agriculture intimately. Majoring in agribusiness management gave me the opportunity to see a side of agriculture that I really hadn't been able to yet—one that focused more on the business and economics of it," Jenkins said.
Graduating this semester, Jenkins credits much of his success to the people surrounding him in his classes and organizations.
"I was lucky enough to find a community of level-headed and driven people who saw something in me I wasn't able to see yet. They pushed me, and I wouldn't be who I am or where I am today without them," Jenkins said.
Among those who have supported Jenkins throughout his time at MSU are the fellow College of Agriculture and Life Sciences ambassadors who welcome prospective students and connect with MSU alumni.
Jenkins said he has benefitted from meeting MSU alumni as well as those he has connected with through the MANRRS chapter. Through his work with the professional development organization, Jenkins has organized campus events, recruited new members, and prepared current members for the national conference and career fairs.
"I was able to participate in two internships from the connections I made in MANRRS—one with Corteva Agriscience based in Greenville, and another with Archer Daniels Midland in Lincoln, Nebraska. They both were extremely valuable experiences. After the first couple of weeks at ADM, I was doing everything the full-time employees were doing—buying grain, selling products, doing logistics, the whole nine yards," Jenkins said.
Jenkins said his MSU experience has prepared him well to transition into the job market, but he added that his educational experience isn't over yet. Jenkins plans to begin working on his MBA in the fall and hopes to one day start his own agriculture business or continue the legacy of his family farm and keep the growth moving forward.
"Regardless, I'm going to keep pushing myself," Jenkins said. "If you don't push yourself, you're just holding yourself back from greatness."