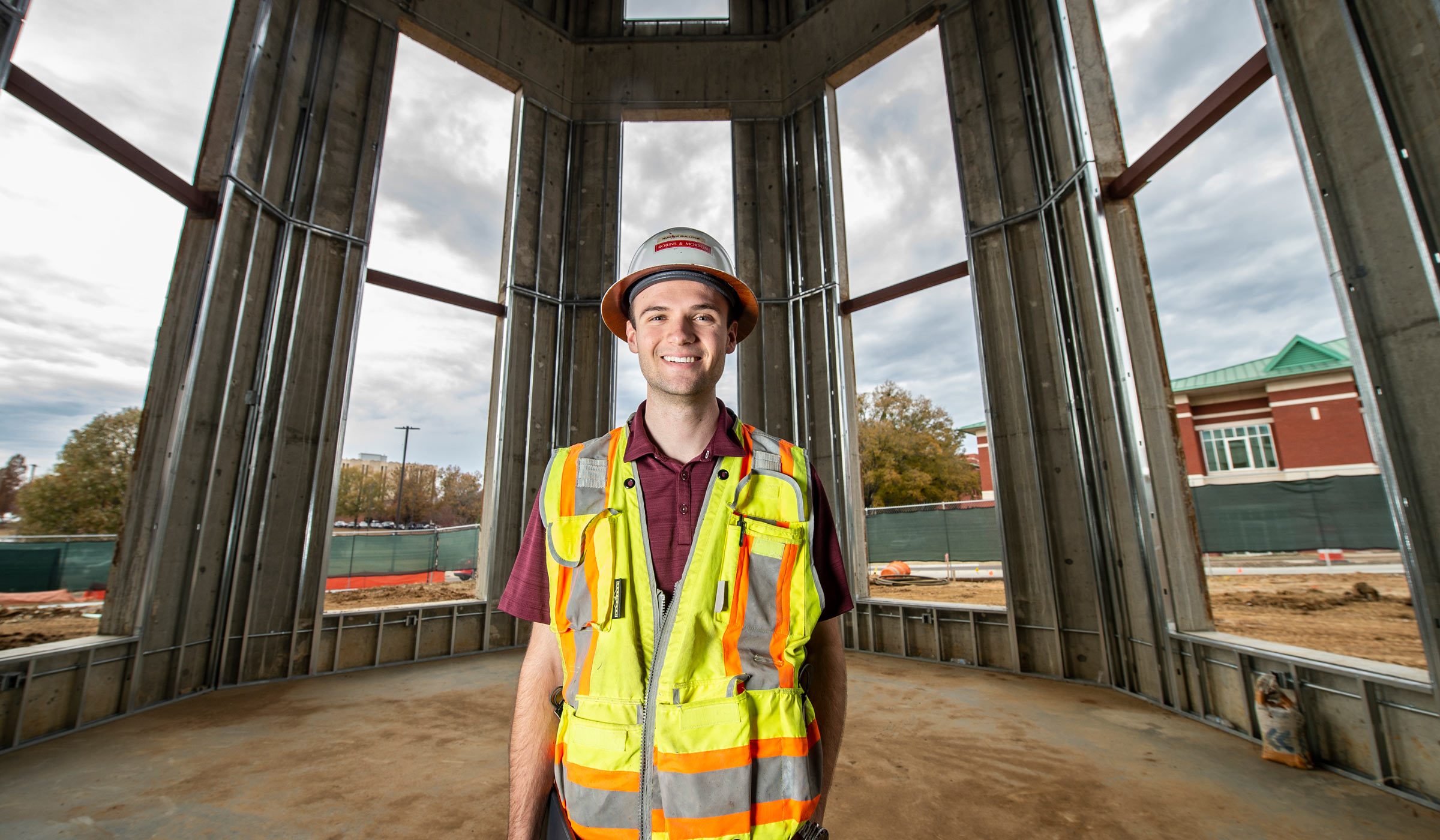 Hunter E. Bullock has always been told that building is in his blood. However, he wasn't always sure he wanted to follow in the footsteps of his father and grandfather, who both were in the construction industry.
The senior building construction science major from Nolensville, Tennessee, said it took going to work for his father during a summer job to realize his passion.
"I ended up enjoying what my dad did and the opportunity to learn about what our family legacy was all about. Everything my dad had always talked about—in relation to buildings and houses—it all began to make sense when I started working with him," he said.
Bullock was among the first students to attend the newly constructed Stewart's Creek High School in Smyrna, Tennessee, and when he noticed the building's entryway was muddy, he brought a plan to make improvements to his principal.
In addition to raising the $40,000 needed for his entrance design, Bullock built this as his "legacy project" during his senior year and dedicated the space to his father and grandfather.
The experience confirmed for Bullock that construction was the right career path, and after touring several programs, he found his place in Mississippi State's Building Construction Science program.
"I liked the studio environment, the different atmosphere," he said. "My brain just works better learning from the project standpoint than from a classroom lecture. I also fell in love with the university."
He said his dad, an Auburn graduate, supported his choice.
"He saw the benefit of the studio but really liked the collaboration we have with architecture. He knew that it would prepare me for what I would encounter every day in the industry."
Bullock, now a member of the College of Architecture, Art and Design's student Dean's Council, said he knew a lot about construction before starting the program but learned how everything fits together while at MSU.
"Going through the program helped me figure out all the pieces and parts," he said. "For example, I knew what a masonry wall was but didn't know how the waterproofing of the building envelope should be handled."
Upon graduation, Bullock plans to work as a field engineer at Robins & Morton, a privately held construction firm in Birmingham, Alabama.
"I know my grandfather would love to see the things my dad and I have done," said Bullock, "and I know my dad is excited to see where my career leads me. The family legacy is continuing on."