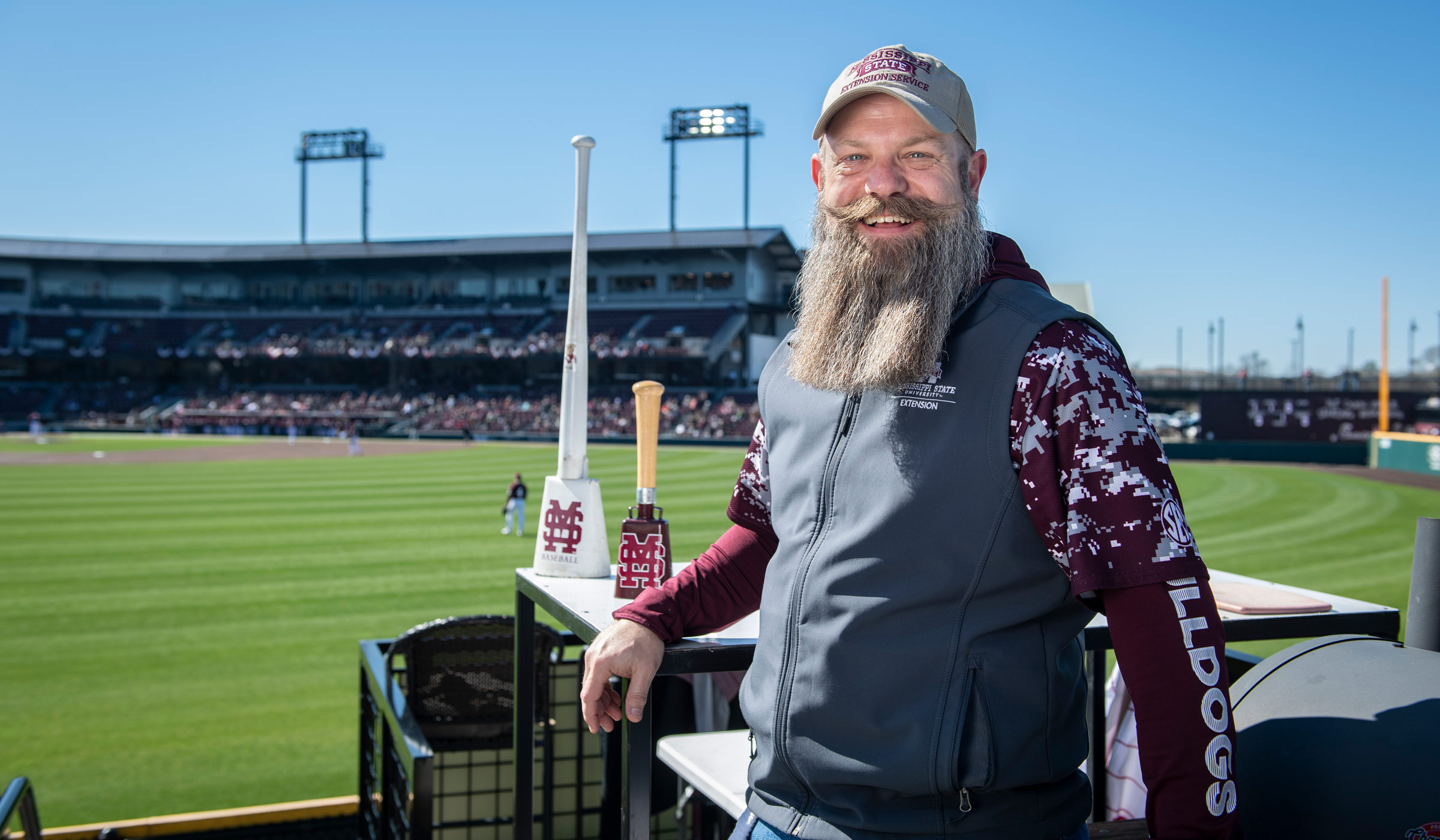 Getting to man the One Tortilla Grill at nearly every Mississippi State University home baseball game is the bonus on top of Chad Dacus' perfect job at the Wildlife Services National Training Academy.
Dacus is an MSU Extension Service instructor who serves as director of the training academy in the Center for Resolving Human-Wildlife Conflict. In that capacity, he conducts training for U.S. Department of Agriculture Wildlife Services personnel across the U.S.
"Wildlife Services is a very diverse agency in what they do," Dacus said. "We are responsible for all of their safety-related trainings, which includes anything from firearms, chemical immobilization and euthanasia, to boating and drones."
Dacus tracks his interest in wildlife and conservation to a very early age.
"I remember my grandfather taking me to deer camp literally with a diaper in his back pocket," Dacus said.
Although the interest was there, Dacus' career took a turn into the entertainment industry first.
"I have moved to Starkville four times," the Jackson native said. "I came as a freshman but left for Nashville to work in the music industry. I came back to work at a local nightclub, then moved to Little Rock to run a bingo hall."
These jobs were a way to pay the bills doing things he enjoyed, but Dacus said he realized he had to get a college degree to avoid dead-end jobs.
"I came back to MSU in 1998 and finished a double major in 2000 in forestry with a wildlife concentration and in wildlife and fisheries with a law enforcement concentration," Dacus said.
After earning a master's degree in wildlife and fisheries science, he moved to Jackson, where for 14 years he worked his way to becoming Wildlife Bureau director in the Mississippi Department of Wildlife, Fisheries and Parks. In 2017, the job he now holds became available, and he moved back to Starkville.
"I loved working for the state agency," Dacus said. "I was influencing what was going on in Mississippi from a conservation side, and, hopefully, I was able to pass that on to the people I worked with and the Mississippi hunting public.
"With this opportunity working for the Extension Service at the National Training Academy, I now influence a federal agency on a national level," he said. "We impact people literally from Florida to Guam."
This job hits at the very center of what Dacus is good at, what he enjoys doing and what he can make a living doing.
It also allows him to follow another passion: MSU baseball. Dacus is a grill master at Greenhaw's Paradise Patio, which is directly at center field in the Left Field Lounge. There, he enjoys his large MSU family.
"For an outsider to realize that MSU is family, they just need to go to the outfield," Dacus said. "Visiting families and parents of opposing players can wear the gear of the other team and walk through the outfield. They won't get thrown at; they get fed."
Those family ties came through for Dacus in an unusual way last year. On a whim, Dacus submitted a photo of himself sporting a massive beard in the Left Field Lounge to the Battle of the Beards competition. His baseball family blew up the voting for his photo, and he won bragging rights and a lot of beard products from the sponsoring company.
He and his wife, J.T., and their two dogs -- Garcia, a yellow Labrador, and Darcy, a French bulldog -- live in Starkville.