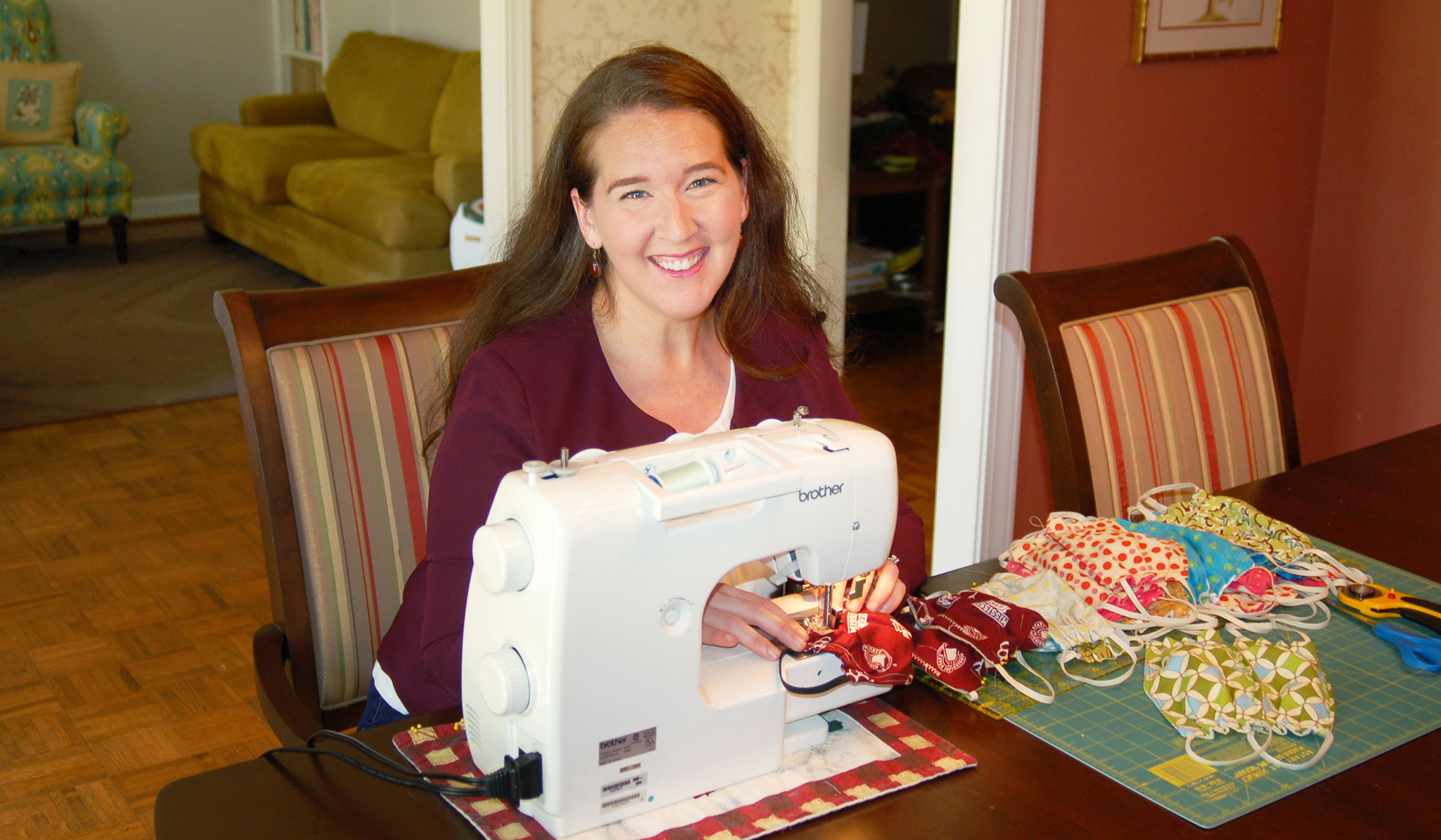 On a typical day, Emily Marett is known for influencing the lives of students in Mississippi State's College of Business. Over the past few weeks, the management instructor has taken on another meaningful role as leader of "Starkville SEW Strong," a group of more than 400 MSU participants and community members working together to sew masks for local healthcare facilities responding to the COVID-19 pandemic. 
Marett said the Starkville support group and its mask sewing efforts started after she saw a Facebook post about a healthcare system in Indiana asking the public to sew masks for healthcare workers on the morning of March 20. 
"As a lifelong crafter and having sewn quilts for the past 10 years, I thought 'I can do that!'" she said. "But at that point, I wasn't sure if our local healthcare providers would want them. I reached out to OCH Regional Medical Center in Starkville to see if they would be interested in the masks, and serendipitously my friend Holly Fron did the same. We both got a resounding "YES." 
Marett and Fron immediately started working on a prototype of a mask that differed from other online patterns by adding a pipe cleaner "nose piece" to make it fit more closely to the face and improve comfort. Once the prototype was approved, they wrote and produced the published face mask patterns posted on www.starkvillesewstrong.com. 
"We quickly saw other local interest in the project, and on Saturday, March 21, we created a 'Starkville SEW Strong' Facebook group and used it to centralize local efforts to sew masks for OCH and other local healthcare facilities," Marett said. Outside of her MSU duties, Marett serves as co-leader of her daughter's Girl Scout Troop 20320. She felt this would make for a perfect Girl Scout community project, and her fellow co-leaders enthusiastically agreed to get the scouts involved. 
Marett said the "Starkville SEW Strong" group has exceeded its initial 500-mask goal for OCH, with members having collectively sewn more than 800 masks by early April. The group also has sewn 248 masks—and counting—for local clinics, including Starkville Pediatric Clinic, Huxford Clinic, State Urgent Care, Starkville Cancer Center, Starkville Manor, Montgomery Gardens, and the Carrington Nursing Center. Others have sewn an additional 300-plus masks for the University of Mississippi Medical Center and Batson Children's Hospital in Jackson, as well as 171 masks for healthcare providers in Webster County. 
"This has been one of the most gratifying and exciting projects I've ever been part of," Marett said. "It has filled me with joy to see how rapidly and enthusiastically the Starkville community responded and rallied behind our healthcare workers in such a big way."