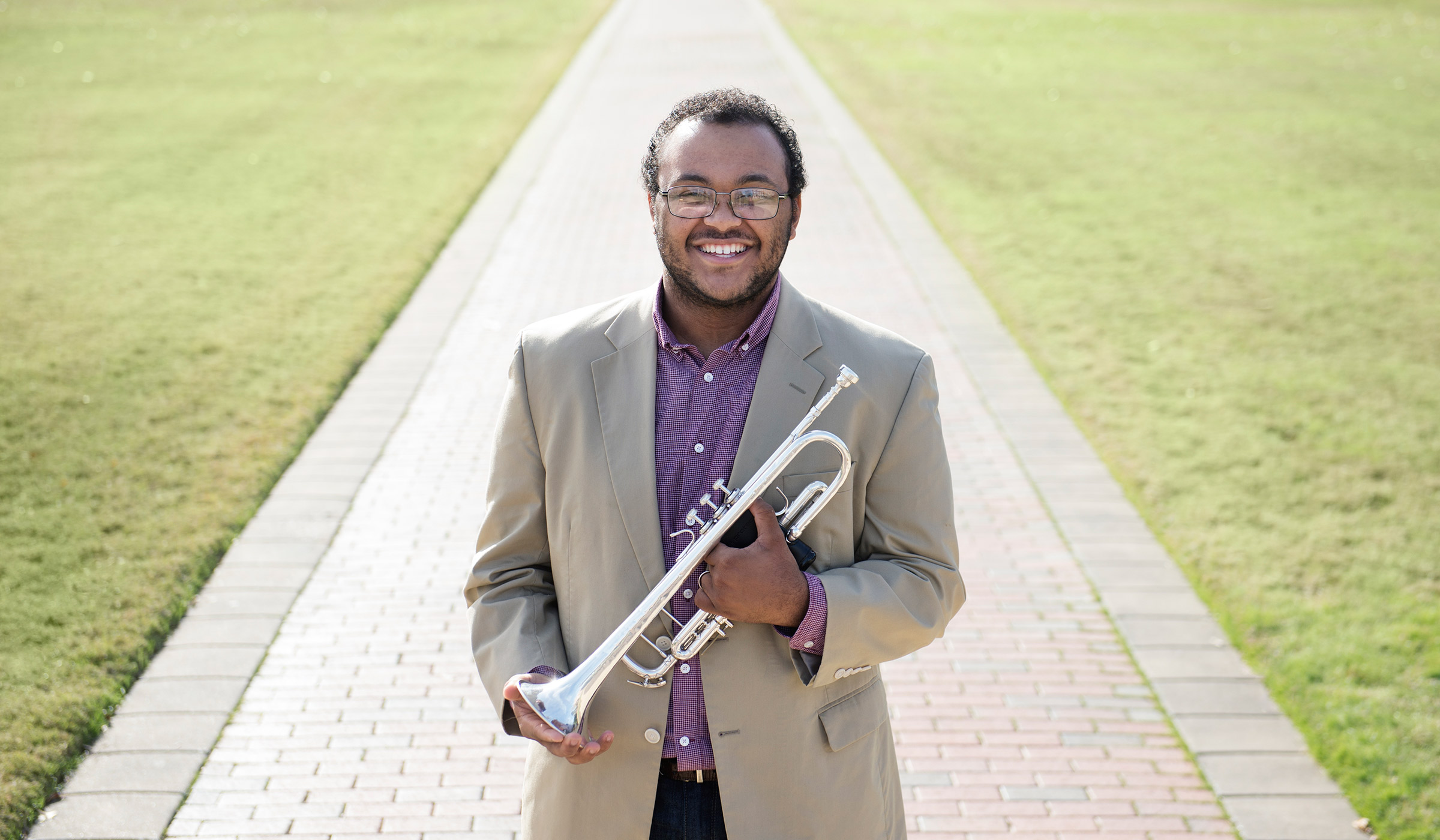 In the midst of COVID-19, Quinlan Gray's senior year isn't concluding exactly as he planned. But he's taking this time to reflect on his accomplishments at Mississippi State with great pride, despite the pandemic. 
Gray's years as an MSU student have been filled with accolades, awards and performances. Last year, Mitchell Memorial Library and the Department of Music honored him with the Keyone Docher Achievement Award for academic and musical excellence during the university's 13th annual Charles H. Templeton Ragtime and Jazz Festival. 
As a trumpet player, Gray has honed his craft with MSU's Trumpet Consort, Dixieland and Jazz ensembles, and Symphonic and Concert bands, among other music groups. Most recently, he was awarded a Mississippi Professional Educators Linda Anglin Teacher Preparation Scholarship. The DeKalb, Texas, native also has served as an MSU Alumni Delegate and a College of Education Ambassador. 
Before Mississippi State and Mississippi public schools moved to online classes this semester, Gray was serving as the student assistant band director at Starkville Academy, planning lessons and activities for the last portion of the school year. He said he misses his students and is disappointed that he didn't get to say goodbye in person. However, he still looks on the bright side and has been able to communicate with his students virtually from home. 
Gray explained that one of the most challenging aspects of this "new normal" is adjusting to a different, slower pace of life. He describes his typical week as consisting of regular workdays, exercise times and hobbies. He always has enjoyed cooking and is adjusting to preparing meals just for himself or a few family members. 
"Looking back now, I see that I lived a very structured day-to-day life that was dependent on factors such as places being open and people being out and about. I usually hosted groups of friends at my house once every few weeks; now, I can't do that. This alone is certainly a challenge for me and my extroverted personality," Gray said. 
He believes that despite the many challenges people around the world are facing with the virus outbreak, they are gaining somewhat of a cultural wake-up call. He explained that in a world where most everyone depends on devices and devotes countless hours to crafting their online presence, they tend to neglect those in-person relationships around them. 
"The current times we are living in are certainly strange, but I believe it has shown each of us the importance of face-to-face interaction and how much our realities can change in just a few short moments," he said. "I certainly do hope that when this is all over, we see one another finding or re-finding happiness in the simple things."