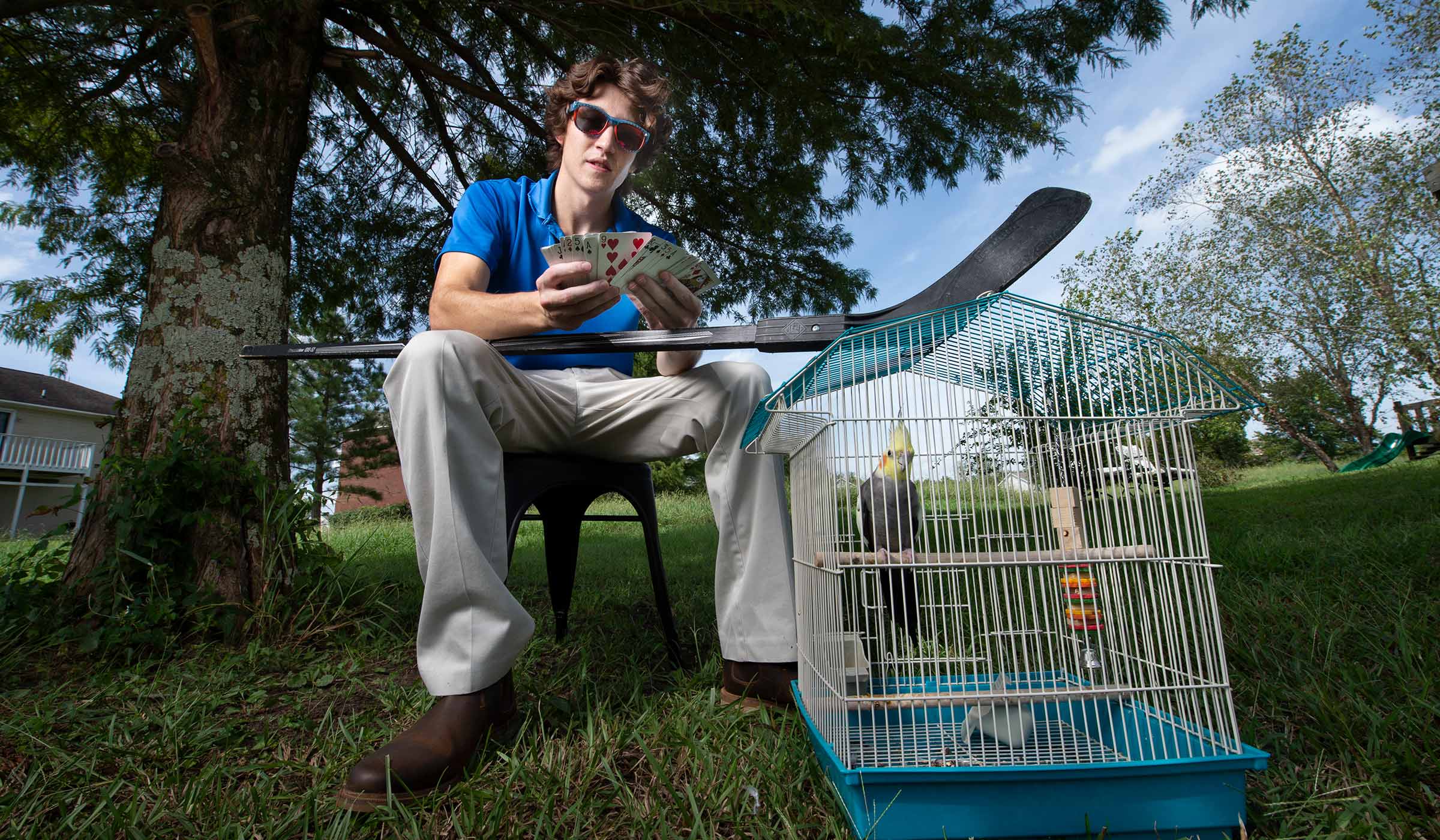 Senior wildlife, fisheries and aquaculture major Sean Moskal has three main passions which have all been cultivated by family: hockey, magic and the great outdoors.
A native of Germantown, Tennessee, he grew up playing hockey and attended Christian Brothers High School, where he was the starting goalie on the Frozen Wave ice hockey team that his uncle founded years earlier. His whole family loves the sport, and Moskal even has had the chance to be part of MSU's hockey team.
His family also has helped cultivate his love of magic, which is three generations in the making.
"My grandfather loved buying all sorts of magic tricks, but my father is the one who has always been mesmerized by trying to figure out how these things work. I began doing card tricks, and it's just my niche. It brings a lot of joy," said Moskal, who has performed at campus events like New Maroon Camp, which he also has helped coordinate through leadership roles. His favorite trick involves eight cards, two decks and a rapid sleight of hand that he said delights all audiences.
His love for wildlife and the outdoors also stems from a young age and time with his family. As a youngster, he first enjoyed fishing and watching shows on Animal Planet.
"I was watching Steve Irwin and Jeff Corwin constantly," he said. Moskal became interested in all animals, which ultimately led to his studies in MSU's College of Forest Resources. His career goals include working at an American Zoological Association accredited zoo—preferably the Denver Zoo. He said not only would this be his dream job, but he also would enjoy the area's sporting events, climate and outdoor adventures.
Moskal said he's had a very good experience at MSU, but it hasn't always been easy. During his freshman year, a close friend from high school who had enrolled at another university committed suicide. The shock and pain of losing a close friend took a toll on Moskal as he struggled to understand what had happened while also continuing his classwork and other responsibilities.
The abrupt loss prompted Moskal to reflect on his friend's condition. He feels thankful to have visited his friend not long before his death and that his memory continues to motivate Moskal through life's challenges.
"That experience proved to me that you never know what's going to happen or how many days you have left with someone," Moskal said. "I also realized that if I want to go out and do something, or try something new, there's no time like the present."
Along with working with zoo animals, he hopes to one day become a trained mental health advocate.
"Your brain is a part of your body, and any part of your body can get hurt. Just because it's the head honcho doesn't mean it's invincible," Moskal said.