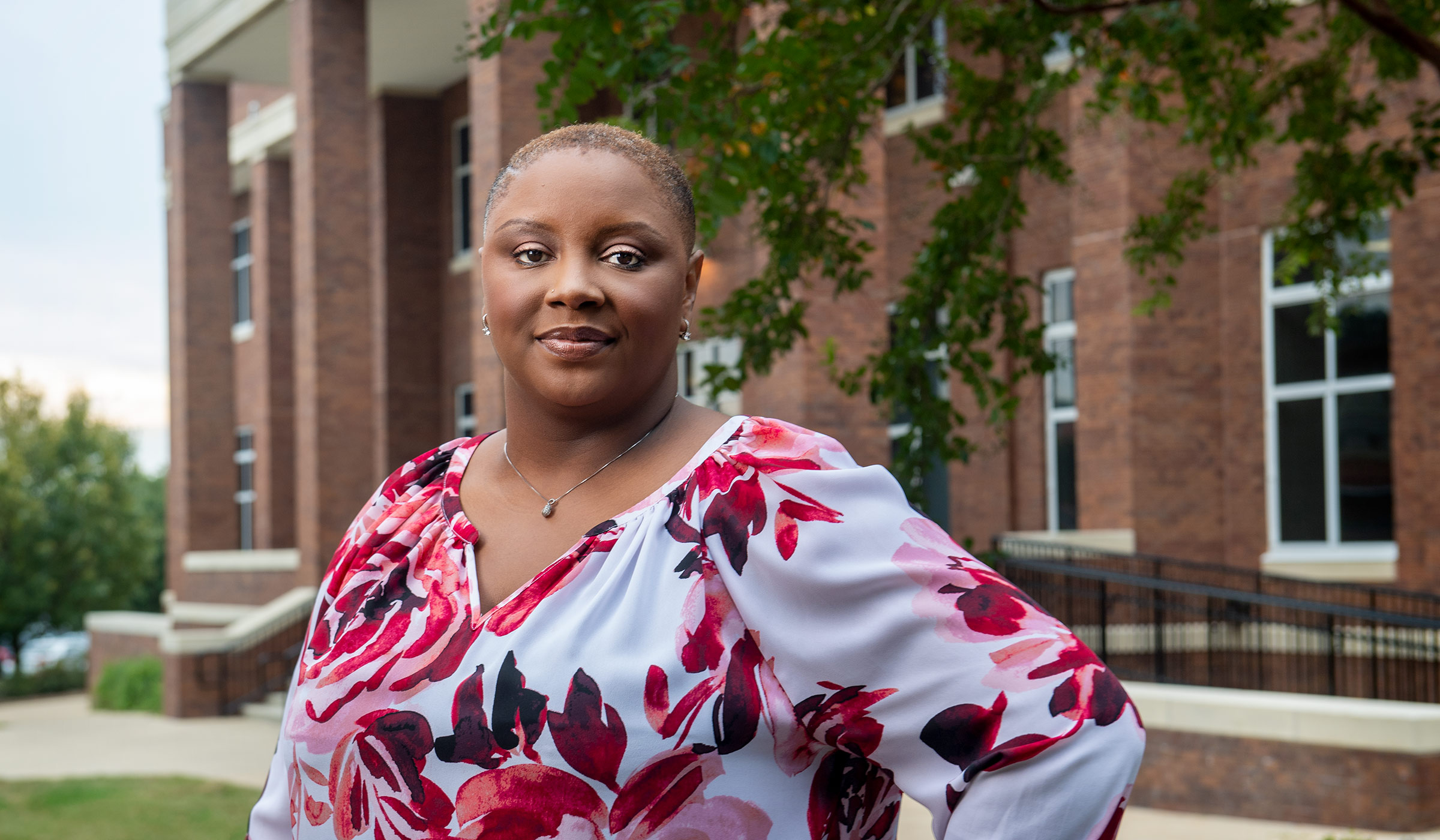 LaShan Simpson advises MSU students to choose a major that will open multiple pathways for their future.
As an associate professor of agricultural and biological engineering, with a focus on biomedical engineering, she knows her field offers many choices to students interested in STEM.
"It's hard to know your career path at 21 years old, but I encourage students to find something they are interested in and then stay at it," Simpson said. "What you are passionate about and how hard you are willing to work ultimately are most important in determining your success."
The Clinton, South Carolina native and Clemson University alumna realized she had a knack for the sciences as a high school student. She majored in biochemistry for her bachelor's degree, and as her focus on the study of the human body intensified, she completed master's and doctoral degrees in bioengineering.
For her, research has always been the most exciting aspect of her studies, and she continues to enjoy the quest for new knowledge as a professional researcher in the Mississippi Agricultural and Forestry Experiment Station at MSU. She has interests in vascular disease, tissue engineering, osteogenesis, cell culture, and cellular signaling, among other topics. As an ag and bioengineering faculty member, she is involved in both MSU's College of Agriculture and Life Sciences and the Bagley College of Engineering.
"I love it when students enjoy being in the lab and you can see that light bulb come on as they apply what they are learning in the classroom," she said.
Simpson takes a lot of pride in her role as teacher and mentor, in part because her own professors impacted her through their leadership, directing her student projects on orthopedic drug delivery and vascular calcification.
"The beauty of research is there's always more questions, and you never finish solving them, but your work leads you to the next questions," Simpson said. "This is why I'm still studying now."
The more she has investigated topics like cardiovascular disease, the more widespread her curiosity expands on the issue. For example, she has developed a patent-pending, living tissue 3-D model of a vascular artery for research related to hardening of the arteries. Her innovations will help scientists improve understanding of disease processes, how cells respond to mechanical and chemical stimuli, and potential treatments. While she pursues the "cellular perspective" of understanding how best to treat heart disease medically, she also is aware that the low-income, rural population—often minorities—has higher rates of the disease.
"It's a huge health disparity," she said, explaining socioeconomic factors that increase risk. Her students also are interested in how medical treatments and other solutions can be combined to effectively help the most people.
"We're thinking about not just what can we do in the lab, but what can we do in society to help with this issue," Simpson said.
She likes knowing her work has an impact on the medical field but working in a university environment is the right fit for Simpson. Last year, she took on an additional role as diversity coordinator for the Judy and Bobby Shackouls Honors College, where she has facilitated a minority student community group that gathers for monthly mixers.
"I love working with students, encouraging and mentoring them for the next phase in life," she said. "I remember being a first-generation college student, so I try to help students push the limitations they've imposed on themselves."
Since joining MSU's faculty seven years ago, Simpson has been honored with the President's Commission on the Status of Women faculty award and has been inducted into the Academy of Distinguished Teachers by the Bagley College of Engineering. In 2018, she received both the Excellence in Teaching Award-Upper Division and Teacher of the Year Award from the College of Agriculture and Life Sciences. Earlier this year, she was recognized by the Mississippi Institutions of Higher Learning Board of Trustees at the organization's annual Diversity Awards program for her impact in advancing diversity and encouraging understanding and respect. She also recently completed a term as president of the Mississippi Academy of Sciences.