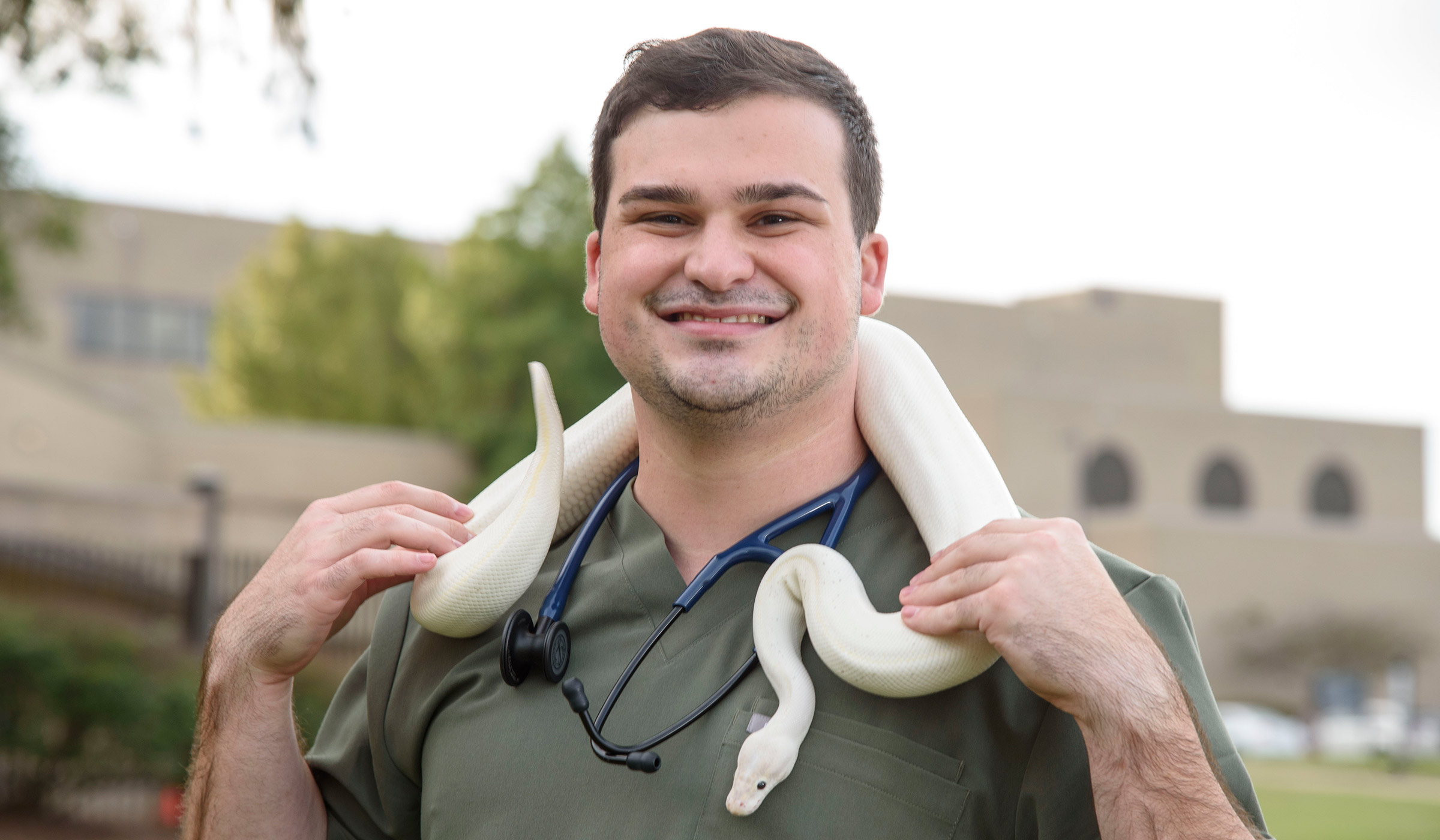 Becoming a veterinarian wasn't always the plan for Travis Noto. As a high school student in Kenner, Louisiana, he wasn't aware of the many different roles and responsibilities of veterinarians, or the opportunities the profession offers. However, as he dove into his passions of herpetology, wildlife and zoos, he began to understand the important roles veterinarians play in conservation and education.
"When I was younger, my parents let me keep many exotic pets; I would spend days looking up husbandry requirements, reading textbooks on vivariums and building enclosures. Those tasks quickly blossomed to growing live plants in the enclosures and raising feeder insects," Noto said. "This all led to my love of exotic animals—especially reptiles. When I was able to blend all of that knowledge with the science and medicine of private practice, I was hooked."
During his undergraduate career at Mississippi State, Noto served as the pre-vet club president, a position that helped build relationships with fellow students and faculty at the College of Veterinary Medicine. Fostering those faculty relationships while completing two Bachelor of Science degrees, Noto knew that he was meant to stay at MSU's CVM. Upon joining the Class of 2021, he began serving as an Envoy—CVM's student ambassador organization.
"I served as an Envoy officially for the first two years of veterinary school, and still try my best to stay active within that program. I loved to tour prospective students and families around the school and share with them what makes MSU CVM special to me," he said. "I didn't get the chance to have that experience in high school, and it has been my goal to share my knowledge of veterinary medicine and the journey to get here with the future of my profession."
As his spring 2021 graduation from MSU CVM approaches, Noto is thankful for the hands-on training and many opportunities he's had throughout his veterinary school journey.
"So many of my experiences at MSU CVM came from me saying 'yes' and taking a chance on something that seemed crazy or implausible at the time—anything from working with the CVM parasitologist during undergrad to exploring epidemiology at the Smithsonian National Zoo," Noto said. "Every time I look back, it was always a result of saying, 'yes, I want to know more' and taking that chance. We may not be able to fit everything within veterinary medicine under one roof, but we sure can give students the stepping stones to make those dreams come true."