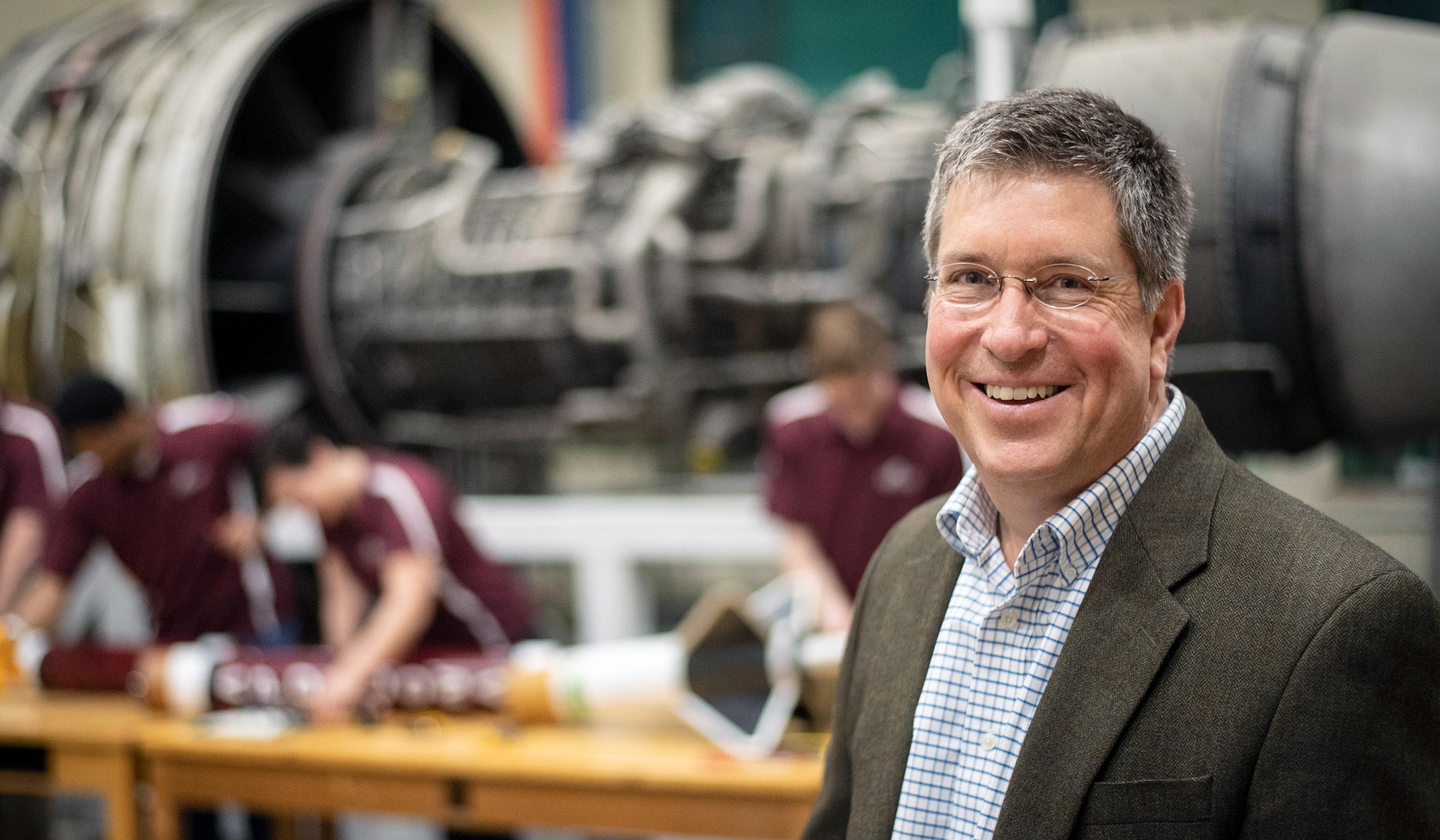 After more than 35 years in the aerospace industry, a return to Mississippi State has been a rewarding change of pace for Rob Wolz. 
Now an instructor in the Bagley College of Engineering's aerospace engineering department, Wolz didn't always envision teaching as a career path.
Growing up in southern Illinois near St. Louis, Wolz had dreams of attending the United States Air Force Academy. His father had served, and Wolz always had an interest in aviation. But when he ended up on the incoming class' alternate list, he started looking for other options.
"I wanted to come south, partly because I was tired of cold weather," Wolz said with a chuckle. "I grew up playing sports, especially golf and football, and I figured with the warmer weather I'd be able to play those more often."
Wolz enrolled at Mississippi State, graduating with a bachelor's degree in aerospace engineering in 1982. He embarked on a multi-decade career with Gulfstream Aerospace, an aircraft company that designs, manufactures, certifies and supports business jets.
He started in Gulfstream's flight sciences department, where his initial work supported the design, analysis and certification of the Gulfstream IV, or GIV, aircraft. He spent time as an acoustics engineer, aero/performance engineer and conceptual design engineer. Over time, he began taking on leadership roles as a group leader, engineering manager and finally as one of Gulfstream's engineering directors focused on new product development. His work at Gulfstream helped bring to market seven new aircraft, numerous technology studies and four U.S. patents.
But Wolz' successful professional career at Gulfstream also planted the seeds that would germinate into his current MSU faculty position.
"I have always been interested in supporting the education and advancement of others," Wolz said. "I often worked with the co-op students who would come to Gulfstream, and I always enjoyed it. I also helped support coursework and classes at Embry–Riddle Aeronautical University, MIT and Georgia Tech. Collaborating with an Embry-Riddle colleague, I helped to structure a technical master's degree program for Gulfstream employees."
After retiring from Gulfstream, Wolz moved back to Mississippi to take a position with Stark Aerospace in Columbus. He also maintained his connection with MSU by serving on the university's Aerospace Engineering Advisory Board.
When aerospace engineering department head Davy Belk broached the idea of taking up a teaching position, Wolz jumped at the chance. A part of the engineering faculty since August 2018, he teaches a two-semester senior lab course in spacecraft propulsion and engineering mechanics. He also has kept busy serving as the chair of the aerospace engineering facilities committee and as faculty advisor for four student groups.
"I thought teaching would be challenging, but the transition hasn't been too difficult," Wolz said. "I think the students appreciate learning from someone with plenty of practical experience in the aerospace industry.
"I've enjoyed being back in the classroom and working with the next generation of aerospace engineers," he added. "I'm here to help them. The whole experience has been very rewarding."