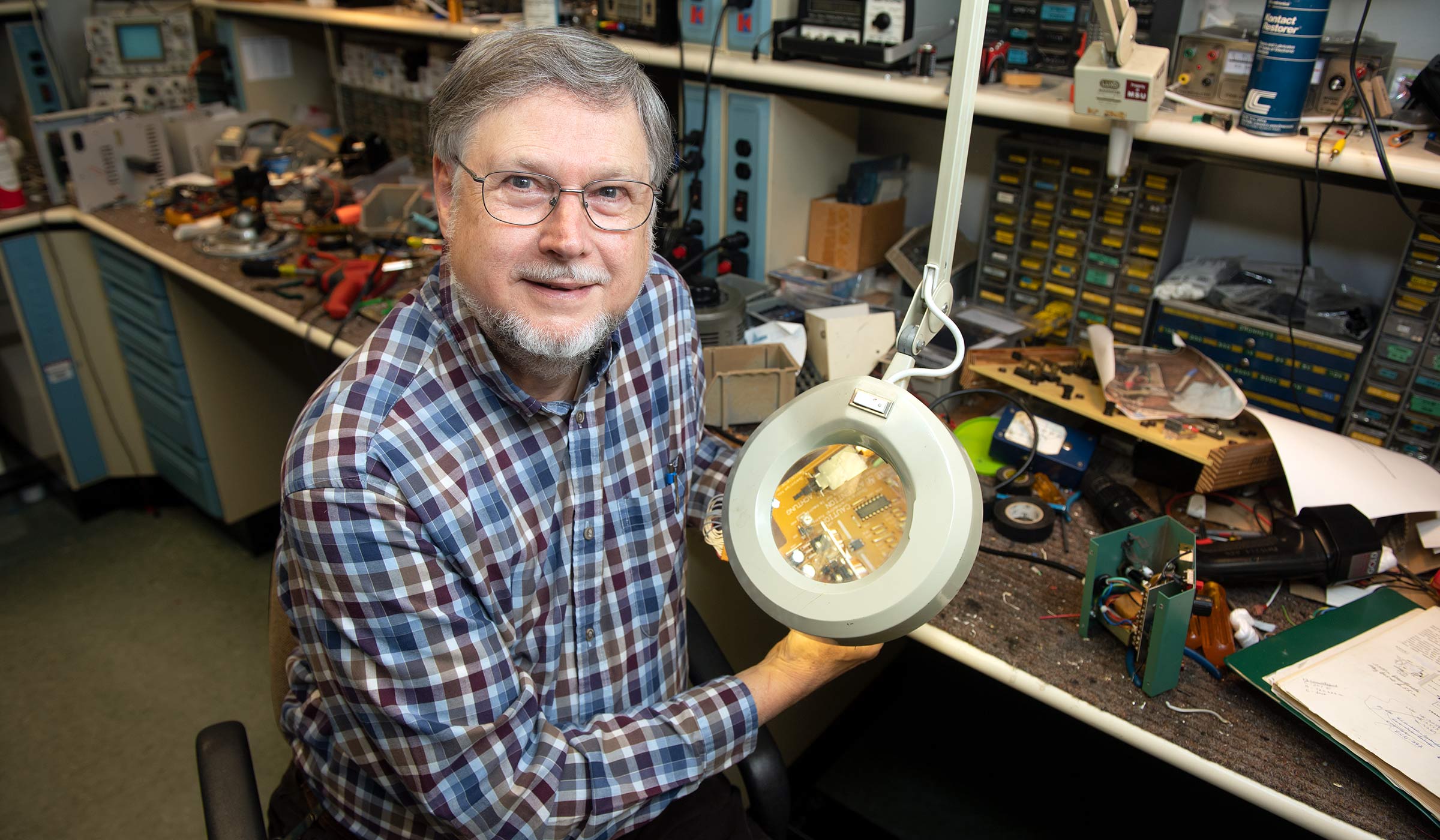 "Every day is an opportunity to learn something new and solve some problems," said Ben E. Ardahl, whose more than 45 years of expertise as a lab operations supervisor has saved the university from countless equipment expenses.
Though technically an electronics technician for the physics department, Ardahl has been repairing teaching and research lab equipment for 13 departments in a cross-section of MSU colleges since he became an employee in 1975.
"Looking back, I can see I was being prepared for this job for most of my life," Ardahl said. "My father was an electrical engineer and he got me interested, coaching me along the way. Also, a neighbor of ours in Vicksburg, who was a parts manager for a local automobile dealer, used to let me wander over to his garage when I was quite young, and he explained to me many things about automobiles and how they work. In high school and college, I worked for a lawnmower shop where I learned the discipline of hard work and the mechanics of engines."
While a student at MSU in the 1970s, earning his bachelor's degree in electronic engineering technology, Ardahl said instructor Martin Jue taught him "truly invaluable" lessons that helped shape his future career.
"Mr. Jue was just beginning his own company, MFJ Enterprises, a local Starkville company and manufacturer of many types of ham radio equipment. We not only got the theory in class, but were also able to see how to apply it in the real world."
After graduating from MSU in 1975, Ardahl did not intend to return to Starkville, but a conversation between his younger sister and a physics faculty member led Ardahl to apply for an open position for a department electronics technician.
"I came for a Saturday morning interview and stayed Friday night in the Alumni House for $9," Ardahl said. "By the end of that interview, I realized the job could fit me really well."
"Something I did not realize before working at MSU is that work is supposed to be fun!  Not that it is always easy or doesn't involve some non-fun things, but overall, work should be enjoyable. I really enjoy troubleshooting and repairing equipment—always looking for a way to make something better or more useful."
"I have especially enjoyed being headquartered in the Department of Physics and Astronomy because it puts me right in the center of learning about the physical properties of the amazing world we live in—light, heat, mechanics, electricity, nuclear activity and astronomy to name a few," Ardahl said.
In his spare time, Ardahl enjoys volunteering at his local church, Grace Presbyterian, an organization he helped establish in 1978. "I have been privileged to participate in ongoing ministry at the church," Ardahl said.
On a daily basis, he enjoys interacting with MSU faculty, staff and students.
"I enjoy the atmosphere in the beauty of a well-kept campus….and MSU football," Ardahl said.