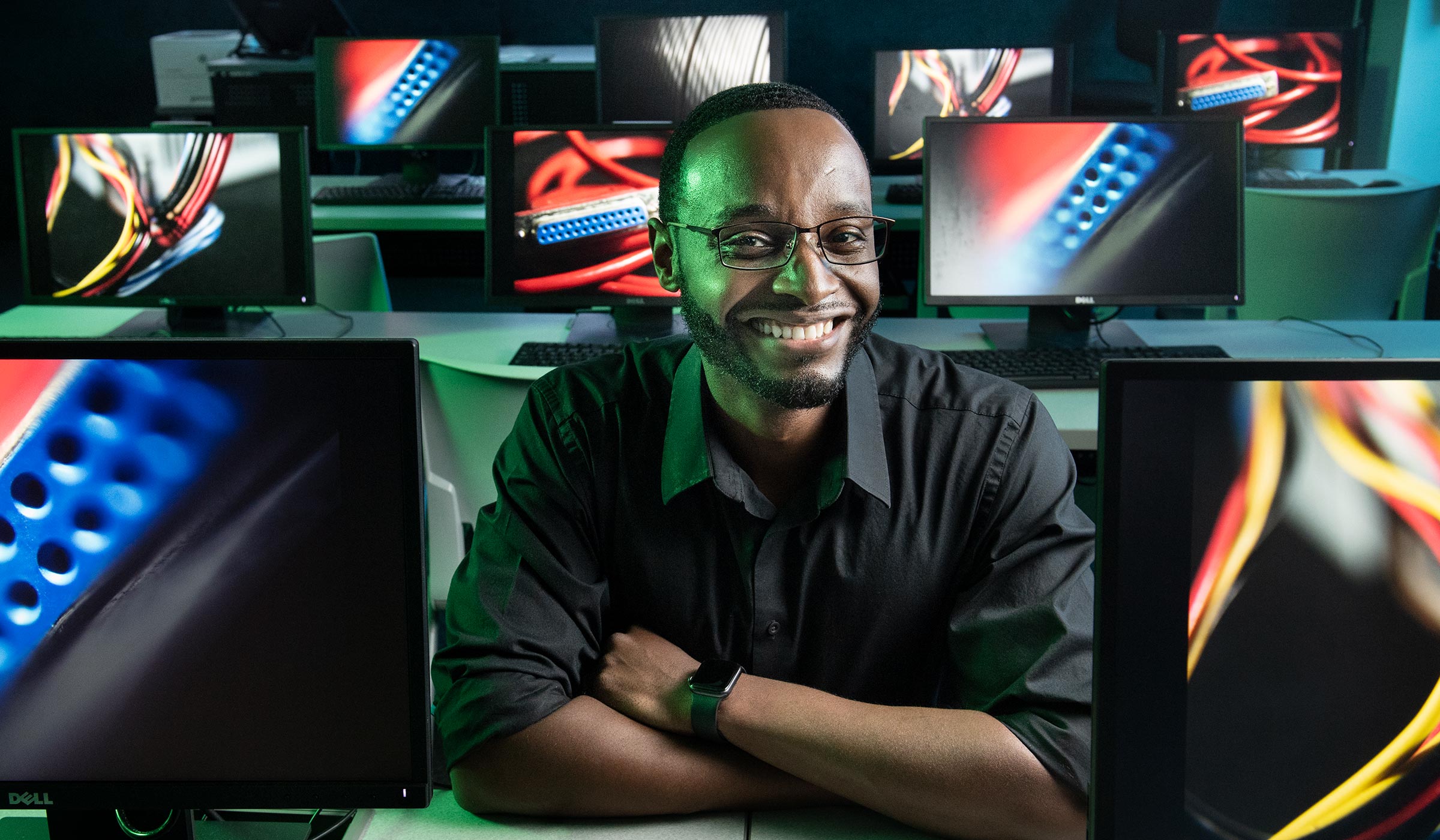 Even in times of crisis, Mississippi State's Marq Greenlee has proven he can maintain focus and be a productive asset to the university.
Greenlee is a desktop support specialist I for User and Desktop Services within MSU's Information Technology Services. He and his ITS co-workers have been the backbone of campus technology, especially in times of uncertainty due to COVID-19.
During the summer of 2020 and leading up to students' fall return to campus for the first time since the start of the COVID-19 pandemic, Greenlee and many other ITS staff were deemed essential workers as they collaborated in a campus-wide effort to convert hundreds of traditional classrooms in preparation for online and hybrid course formats. To accomplish this, ITS designed portable "PODs" with technology to connect to a variety of systems and pulled nearly 30,000 feet of network cable to ready the learning spaces.
Greenlee recalls the experience as challenging yet rewarding. He said ITS staff and student workers operated tirelessly—even on weekends—to make sure MSU students, faculty and staff would be able to attend the university safely and do their work effectively. This involved going into numerous buildings and setting up projectors, lecterns and PODs, as well as ensuring all devices were correctly imaged and installed with appropriate software.
ITS also ordered cameras to outfit 154 classrooms for livestreaming and lecture recording. However, supply chain issues and global demand delayed the arrival of cameras and other key equipment only days prior to the start of classes, but ITS personnel worked around the clock to prepare the installations for the first day of the semester.
"It was chaos, but we somehow made it," Greenlee said. "I'm thankful for that because people have been beyond appreciative. Working together, we were able to accomplish something crazy."
Greenlee, a self-proclaimed "army brat," claims Eupora as his primary childhood home, but he also spent stints in Oklahoma, Texas and California. Greenlee credits his familiarity of different places with his lack of a regional accent.
Greenlee said his grandmother earned her master's degree from MSU, but he is the first in his family to ever work for the university. He enrolled as a freshman in 2007 alongside his sister who began the year prior. To Greenlee, he was simply carrying on a family tradition.
His inspiration to pursue his career in computer technology stemmed from a student position he had as a worker for Information Technology Infrastructure Manager David Mixon.
"Basically, I was the guinea pig," Greenlee said. "I was able to pull wire, terminate cable and work with telephone jacks and ports. It was a jack-of-all-trades job."
Now as a desktop support specialist, Greenlee said a normal day for him includes sifting through requests for technological assistance that consume his Outlook email, Microsoft Teams chat and text messages.
"It's always fun making sure I prioritize the people who have the most urgent issues while also making sure everyone else still receives my attention until their issue is heard and resolved," he said.
Greenlee met his wife Savannah when they were both students, and she now works as business coordinator in the Athletic Business Office. In his free time, Greenlee enjoys hanging out with friends to unwind, but since COVID-19, he finds peace in reading and gaming. In the future, Greenlee said he plans to further his education by attending graduate school at MSU. No other choice has crossed his mind but home.
"At MSU, you are not just a number or statistic. You are a person, and you are valued as such when you are here," Greenlee said.