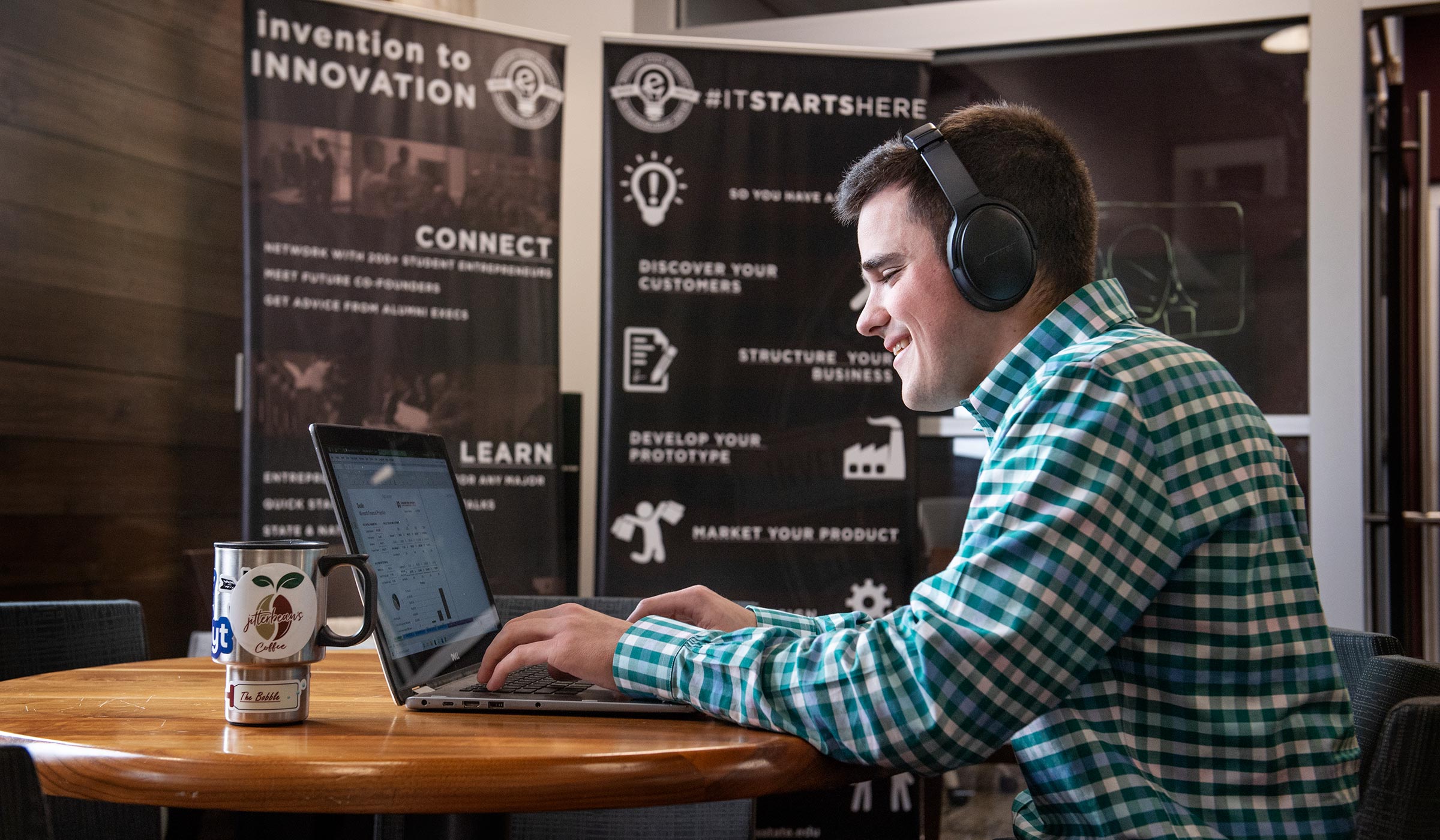 A graduate student in Mississippi State's accounting school, Cameron Maddox has an acumen for business and finance that he combines with a love for entrepreneurship. Lately, he's been itching to tell people exactly what his deal is.
Maddox is not a first-time entrepreneur, but he has a new venture called Dealio, a subscription-based text message service that alerts subscribers to daily bargains from local partners in their communities. Based in Starkville, the business has expanded to Memphis, Tuscaloosa and Birmingham. Maddox leads the finance and accounting roles for the business, while senior marketing major Jake Cox of Collierville, Tennessee, assumes responsibility for creativity and marketing, and Patrick Bell, a two-time MSU computer science graduate from Starkville, handles technology for the venture.
Dealio offers a free trial of receiving the full list of deals for new subscribers. After the trial, users can continue receiving Dealio's premium version for only $2 per month. A free service consists of one deal per text, three days per week.
"Close to 85% of our subscribers say that they use a Dealio deal at least once per week. Some utilize our deals every day. If people are doing that, this means they're utilizing it 4-10 times a month," said Maddox. "The majority of our texts feature local establishments. Dealio is helping push their word out on offers that are impossible to find unless someone is following all of these businesses' accounts on social media."
Maddox moved from St. Louis, Missouri, to Starkville with his family when he was 8 years old and has grown up a Bulldog, becoming the first MSU graduate in the family. He said his inclination toward business was first inspired by his father.
At MSU, Maddox joined Phi Delta Theta fraternity, where he met others who helped him grow as a student and businessman. The fraternity brothers aligned forces to help create Maddox's first big venture—Cowbell Carts, a transportation service that provided students safe rides around the university and Cotton District.
"One of my frat brothers came to me with the idea for Cowbell Carts and asked me to interpret a financial forecast that he had," said Maddox. "I handled the logistics and finances, and in six months we went from the idea of having a golf-cart taxi service to owning golf carts, running the business and eventually making revenue."
Part of Maddox's success in business he credits to the Center for Entrepreneurship and Outreach in MSU's College of Business. The center runs a venture catalyst program to walk students through the business-building process. Maddox said the program helps students turn concepts into something tangible and feasible, while also helping them accrue funding along the way.
Maddox is awaiting an IT auditing position at Deloitte, a professional services company in Memphis, Tennessee, upon his graduation. His fiancée Madison Grant will move with him after their wedding to work as a financial analyst for FedEx. Grant founded the company Jitterbean's Coffee during her time at MSU, and the couple met in McCool Hall at the entrepreneurship center.
When Maddox isn't "keeping his nose to the grindstone," he enjoys golfing, video-gaming with friends, spending time with his fiancée, playing board games and volunteering with a weekly "Stark Kids" program for children at First Baptist Church of Starkville.