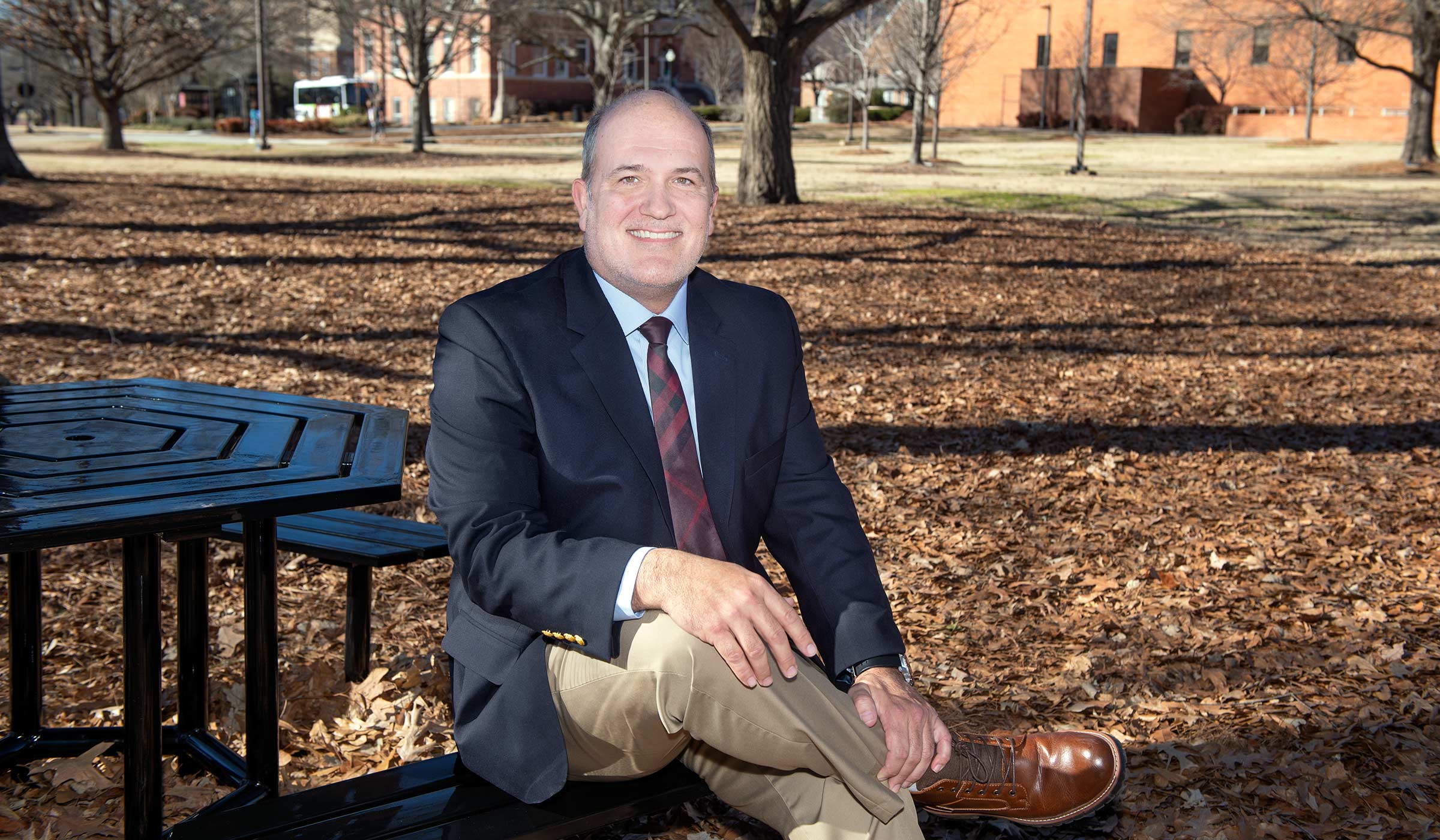 Tommy Anderson left two feet of snow and zero-degree temperatures in New Hampshire the day he traveled to Starkville to interview for an English position at Mississippi State. After experiencing a Mississippi winter day—50 degrees and plenty of sunshine—he said the choice was clear.
"I was coming to MSU if offered the job."
Since the day he joined MSU's faculty in 2005, Anderson's work has included multiple roles at the land-grant university.
The English professor, who specializes in all things Shakespeare, also serves as the associate dean for academic affairs in the College of Arts and Sciences, and this summer will step into the role of interim dean of the Shackouls Honors College.
Anderson, a Franklin, Tennessee native, said his position as associate dean of academic affairs provides an opportunity to help students navigate the university system, finding a path to success and a degree.
"I continue to be excited about student success," he said. "At its core, student success means seeing a student leave MSU transformed and filled with a sense of possibility about what's next for them."
"Often students come to our office feeling exhausted and without a way forward to continue their studies at MSU or to find new opportunities for success. My office is able to help students solve that puzzle so that they are able to graduate."
"I love introducing students to ideas and opportunities that have the power to change their lives. This can happen in the classroom if I can teach Shakespeare well enough with enthusiasm and insight, or this can happen through mentorship and advising if I can mentor a student over time to think of themselves as a future Rhodes Scholar, Truman Scholar or Goldwater Scholar."
Last spring, COVID-19 ushered in a new opportunity for Anderson to support the library's faculty and staff during the pandemic through his position as interim dean of libraries.
"My colleagues in the library provided critical support to faculty and students across the university during the transition to online learning last spring and summer. I have been inspired and humbled being a part of this committed professional community."
"I have always loved the on-campus experience," Anderson said. "It's hard to imagine working in another environment. Conversations about ideas that take place in the classrooms across campus echo in the hallways of buildings, my colleagues share ideas in office hours with each other about teaching and research, visiting scholars talk about the most pressing problems of the day, and I know that a road map to solve these problems is housed in the library in the center of campus—what more can anyone want!"
In addition to publishing two books about literary legend William Shakespeare, "Shakespeare's Fugitive Politics" (Edinburgh University Press, 2016) and "Performing Early Modern Trauma from Shakespeare to Milton" (Ashgate, 2006), Anderson has received the Phil and Kari Oldham Outstanding Mentor Award and the Dean's Eminent Scholar Award in MSU's College of Arts and Sciences. He also has been recognized with the Mississippi Humanities Council Humanities Teacher of the Year Award and the Humanities Researcher of the Year Award, as well as the Shackouls Honors College Outstanding Faculty Award.
When he's not on campus, Anderson enjoys watching his two daughters play soccer. His wife, Michele, who works on campus as program coordinator for the agricultural and biological engineering department in the College of Agriculture and Life Sciences, also is involved with the Starkville-Oktibbeha County Humane Society and Animal Shelter. "On a regular basis, I find myself at home surrounded by animals that I don't know," Anderson said.
Whether guiding students, interacting with coworkers or wearing his hat as an administrator, Anderson said he loves "being surrounded by really smart colleagues every day who push me to think about how I might do my job differently and better. This is one of the best parts about working at a university—so many smart people doing really interesting work and pushing you to do the same."