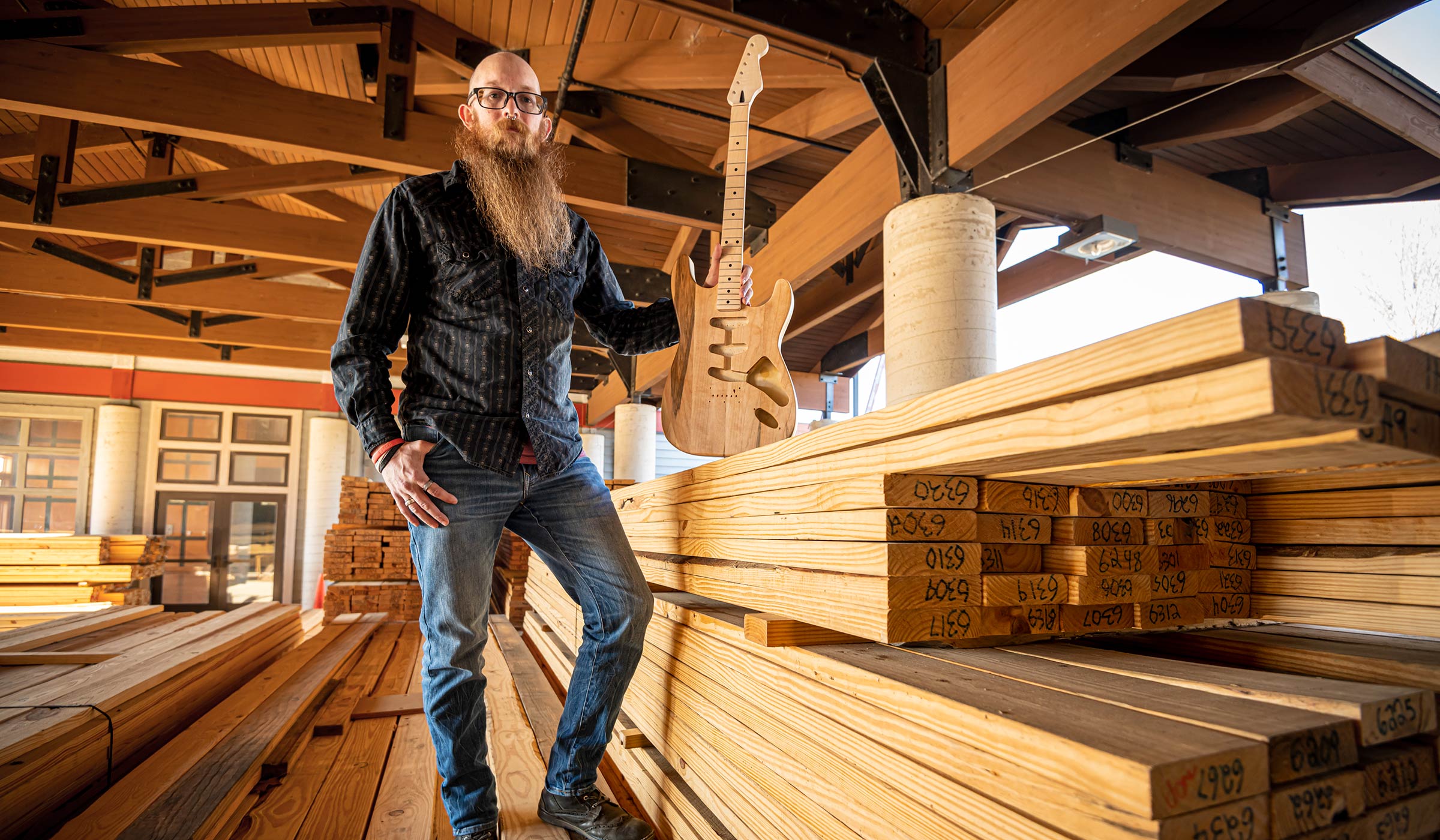 By day, Adam Wade is finding better ways to identify wood species using artificial intelligence as a sustainable bioproducts doctoral student. At night, he's crafting a custom guitar out of poplar and maple.
"The guitar design I'm working on replicates a Fender Stratocaster. I'm making everything from scratch using rough-sawn lumber. The guitar's body is made of poplar with a soft maple top. The neck and fretboard are hard maple. I'm using poplar and maple because they are lightweight and considered good tone woods, known to carry sound waves better than other species," Wade said.
Understanding the anatomy of wood is central to both Wade's woodworking hobby and his MSU doctoral research. He wants to make a difference in the wood products industry while also learning more about the material to become a better woodworker.
Wade's doctoral project, under the direction of Assistant Professor Frank Owens, aims to improve machine learning and artificial intelligence capabilities in the field of wood identification to help combat illegal logging.
"I'm training and testing models for the Xylotron device, developed by scientists at the USDA Forest Service's Forest Products Laboratory. The Xylotron uses computer vision and artificial intelligence to accurately identify wood specimens," Wade said.
He said most wood identification currently is done by a manual process.
"Right now, someone trained in wood anatomy must identify imported wood species with a hand lens, and that's subject to human error, how well they've been trained, and how they interpret the data," Wade said.
He hopes his research will make the process easier and faster.
"Ideally, this system will allow you to train someone who knows nothing about wood anatomy in a short period of time to accurately and rapidly identify a wood specimen," he said.
The Scooba native grew up with the woods as his backyard and he always had a career in forestry or wood products in mind. It wasn't until 2016 at age 36, however, that he saw the chance to finally take the leap.
"I have two kids, so returning to school was always daunting," Wade said. "When the electric supply warehouse where I worked downsized and I was laid off, I knew I had to start over somewhere. I figured it was a good time to go back to school," he said.
He attended East Mississippi Community College to work toward an associate degree in forestry.
"When I arrived at EMCC, I fell in love with forestry and the management of trees. My instructors there told me about MSU and the bachelor's degree in forestry here. I made up my mind to go for it," Wade said.
After transferring to MSU, he completed his bachelor's degree in forestry in May 2020. In June, he began work as a graduate student in the Department of Sustainable Bioproducts. He said two consecutive summers in the forestry summer field program—first  as a student and then as a teaching assistant—affirmed his love of the field, while an undergraduate research project and wood anatomy class ignited his desire to pursue graduate school.
"Going through the forestry program, especially the summer field program, gave me a greater respect for forestry and inspired me to continue on because I had more questions I wanted to answer. On the wood products side, I'm fascinated about learning about different species, the different cells, their functions and locations, and how all of that affects how you manipulate wood to make a certain product," Wade said.