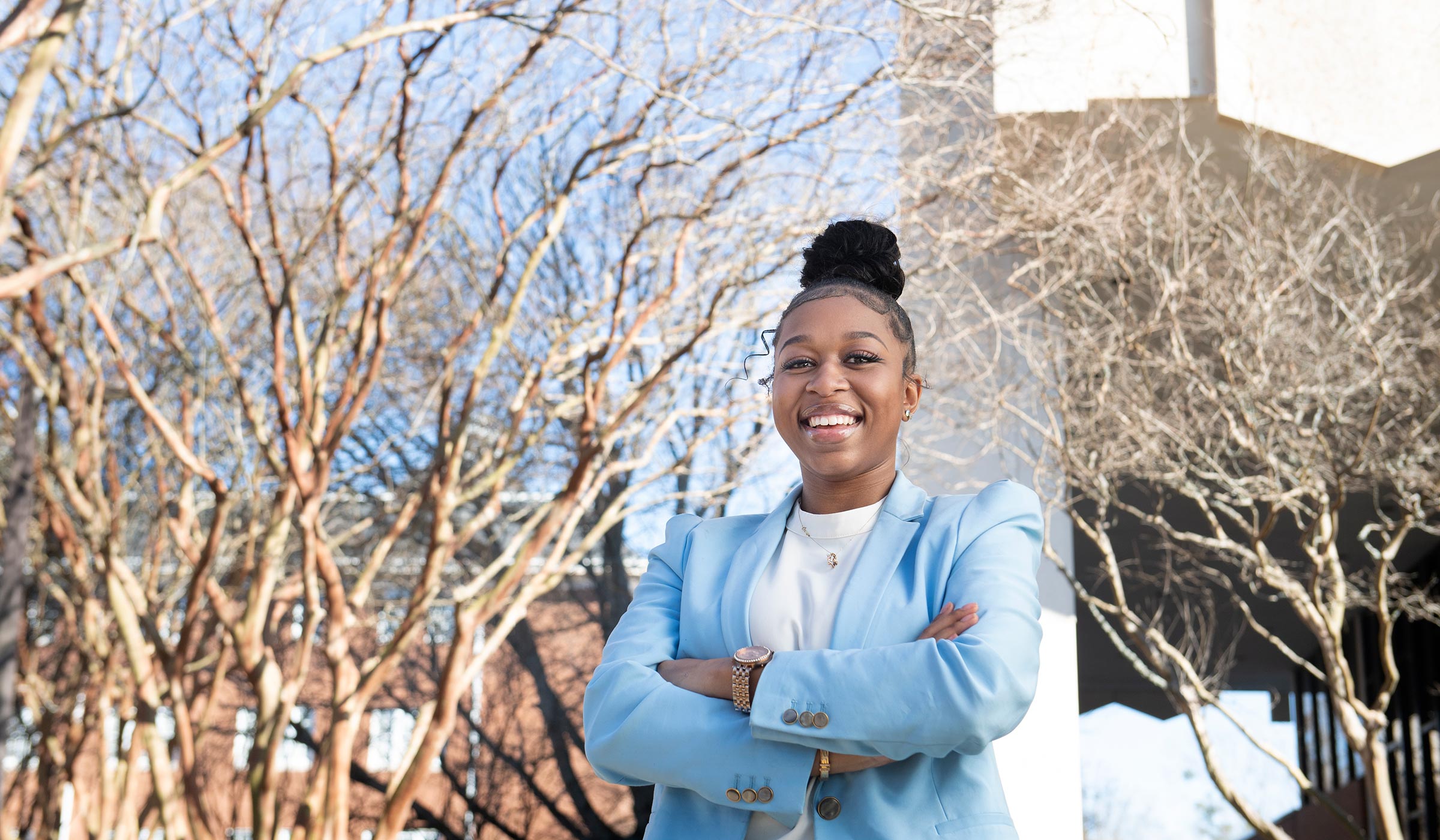 When Alexis Jackson visited Mississippi State as a prospective graduate student in 2019, she experienced a warm welcome and felt that both the campus and community exuded hospitality. Now finishing her second year of a five-year dual degree master's and doctoral program in clinical mental health counseling/counselor education, she describes MSU as her new home away from home.
Jackson, who was born in Georgia but primarily grew up in Spanaway, Washington, was drawn to consider MSU for graduate studies through her status as a national McNair Scholar. The prestigious scholarship program memorializes Ronald E. McNair, a physicist who became the second African American to fly in space before being killed in the 1986 Challenger Space Shuttle accident. Since joining the Bulldog family, the Washington State University psychology graduate has earned additional scholarships and accolades, being named to the MSU Dr. Harold Grier Doctoral Scholar's Program and receiving the accompanying Southern Regional Educational Board institutional fellowship.
She also has been recognized as a finalist in the university's Three Minute Thesis research competition. Her research has included in-depth studies of trauma in natural disaster victims, issues related to breast cancer and interventions for women and their families, sexual assault, and the benefits of therapeutic art interventions for children and adults.
This year, Jackson is working with Baptist Behavioral Health, part of Baptist Memorial Hospital in Columbus. She has completed a 100-hour practicum and currently is working to complete a 600-hour internship. She said the first-hand experience with patients has been a tremendous learning opportunity and a good preview into the type of career she plans. At Baptist, she works with individuals who have been diagnosed with a range of clinical conditions, including bipolar or personality disorders, schizophrenia, drug and alcohol addictions, suicidal ideations, anxiety and depression.
"We do group therapy, family and individual counseling sessions, as well as some social work," Jackson said. "I like the synergy in the room during group therapy. It's a special time because you have different people from all different backgrounds who come together and help one another."
She explained that she finds helping people with mental health issues to be very rewarding, especially since these individuals often are misunderstood. Jackson would like to one day open her own professional practice or work in an acute psychiatric care facility, but she also hopes to become a professor.
"I love the counseling work, but I also want to go further in the field by contributing to new research," she said. Jackson also speaks highly of her professors because not only have they shown her support and encouragement, but also "each of them model what it's like to research and grow as professionals, continually learning and doing self-reflection, which is a huge part of being a good counselor."
Jackson said her decision to come to MSU has been validated many times. "This is a really nice place to go to school and feel supported. The faculty and staff appreciate their students and are open to hearing their research ideas."